2022 start
September
Polymers for Advanced Technologies
Department of Chemistry, Faculty of Science

On this specialist course in polymer science and engineering, you'll learn how polymers are made and behave, how important polymer-based products are developed and how to use cutting-edge techniques to create new advanced materials.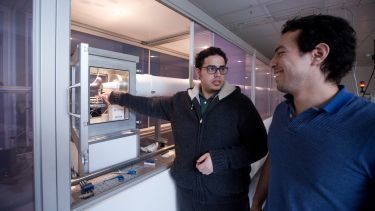 Course description
This specialist course in polymer science is designed to train and expose you to the most modern aspects of polymer science. This course is excellent preparation for a career in industry or continued academic studies at the forefront of polymer science.
Laboratory training covers a range of polymer synthesis methods and analytical techniques including size-exclusion chromatography, viscosity analysis, and IR and NMR spectroscopy. Other modules highlight how polymer chemistry overlaps with other areas of science, by focusing on concepts from physics that explain polymers' unique physical properties, and engineering principles to look at the effects that polymer microstructures have on polymer performance.
You will also take part in a research training programme and complete your own research project, which will take up around a third of your course. Some students work on projects with an industry partner.
Facilities
We have state-of-the-art research laboratories and we're home to several multimillion pound research facilities. These facilities include the Lord Porter Laser Laboratory, which has three laser stations that can be used in studies ranging from energy transport in molecules and materials to artificial photosynthesis, and our Soft Matter Analytical Laboratory, where scientists can study samples that are 100 times smaller than a human hair.
Modules
Core modules:
Fundamental Polymer Chemistry

This unit covers the fundamentals of polymer structure, polymer synthesis and the chemical behaviours of polymers, both natural and synthetic. Topics covered include polymer microstructure, chain-reaction and step-reaction routes to polymers, living polymerizations, copolymerization, molecular weight distributions, chemical reactions on polymers, and polymer degradation and stability.

15 credits

Design and Synthesis of Polymers of Controlled Structure

An optional unit covering recent developments in the synthesis and selected properties of polymers, especially functional polymers, with controlled chemical microstructures, and hence morphologies and chemical and physical properties. The unit concentrates particularly on recent developments in living polymerizations and sequential step-reaction methodologies and their use to prepare polymers with narrow molecular weight distributions, block and graft copolymers, dendrimers and hyperbranched polymers, and supramolecular assemblies of various types.

15 credits

Polymer Characterization and Analysis

An optional unit covering major instrumental methods for identifying polymers and determining polymer molecular weight, molecular weight distribution, stereochemistry, sequence distribution in copolymers, transition temperatures, surface features, etc. The unit includes examples of the use of chemical analysis, colligative properties, chromatographic techniques, nuclear magnetic resonance, vibrational and electronic spectroscopy, microscopy, and thermal and dynamic mechanical methods.

15 credits

Polymer Materials Science and Engineering

The aim of the module is to demonstrate the relationship between chemical structure, molecular organisation, microstructure and physical properties of polymers in the solid state, to draw parallels between synthetic polymers and biopolymers, to introduce the types of high-strength high-modulus polymers, their processing, properties and application, and to introduce liquid crystals and LC polymers.

15 credits

Smart Polymers and Polymeric Materials

An optional unit examining the syntheses, structures, behaviours of polymers and polymeric materials that are responsive to external stimuli such as heat, light, electric potential, pH and ionic strength. The unit will examine polymers with applications, potential and real, in such areas as sensors, auxetics, viscous couplings, vibration damping, optical amplifiers, and nano-machines.

15 credits

The Physics of Polymers

The aim of the module is to introduce the general properties of thermoplastics: their molecular structures, their physical and mechanical properties, and how these properties can be modified by means e.g. of chemistry, additives and processing condition for engineering applications. The module also introduces the fundamentals of amorphous polymer solids and their behaviour under deformation. Topics covered include conformations of polymer chains, rubber elasticity, viscoelasticity, time-temperature superposition, glass-transition, yield, craze etc. After this module you are expected to understand the mechanical properties of typical polymers, as well as their dependence on temperature, time scale, and molecular structures.

15 credits

Polymer Laboratory

This unit covers the fundamentals of practical polymer construction and analysis. Topics covered include polymer synthesis via a number of methods (including chain- and step-reaction routes). A range of analytical techniques will also be introduced. These will include size-exclusion chromatography, viscosity analysis, and spectroscopy (IR and NMR). Experiments involving the modification and application of polymers will also be studied.

15 credits

Research and Presentation Skills

This unit aims to introduce students to a range of transferable skills important for successful communication in science, research and in other professional areas. The students will develop a wider understanding of the context in which research takes place through critical reading and evaluation of a wide range of literature. The students will be required to read and assimilate, and will produce a critical report of the literature in a specific research area. In addition, the course will develop oral and poster presentation skills.

15 credits

Polymer Research Project

A core unit in which the candidate undertakes an extended research project in an area of polymer science or engineering under the guidance of a member of staff from the Faculty of Science or the Faculty of Engineering. The project usually takes place in laboratories at the University of Sheffield, but may also be carried out externally. A dissertation based on the project is submitted towards the end of the summer over which the project is undertaken.

60 credits
The content of our courses is reviewed annually to make sure it's up-to-date and relevant. Individual modules are occasionally updated or withdrawn. This is in response to discoveries through our world-leading research; funding changes; professional accreditation requirements; student or employer feedback; outcomes of reviews; and variations in staff or student numbers. In the event of any change we'll consult and inform students in good time and take reasonable steps to minimise disruption. We are no longer offering unrestricted module choice. If your course included unrestricted modules, your department will provide a list of modules from their own and other subject areas that you can choose from.
Teaching
Lectures

Workshops

Laboratory practicals

Individual research projects
Assessment
Examinations

Coursework

Assessed workshops

Dissertation (15,000 words) and viva
Duration
1 year full-time
Your career
Graduates from this course apply their polymer chemistry expertise in many different industries – from oils, paints and coatings, to food, cleaning agents and cosmetics, to medical, agricultural and aerospace technologies.
This course is also great preparation for a PhD and a career in chemistry research. It's led by the experts behind the Polymer Centre – the UK's largest polymer research network within a single institution, made up of 48 research groups at the University of Sheffield, which has fostered many collaborations with businesses.
You can apply for postgraduate study using our Postgraduate Online Application Form. It's a quick and easy process.
Any supervisors and research areas listed are indicative and may change before the start of the course.
Recognition of professional qualifications: from 1 January 2021, in order to have any UK professional qualifications recognised for work in an EU country across a number of regulated and other professions you need to apply to the host country for recognition. Read information from the UK government and the EU Regulated Professions Database.