2022 start
September
Quantum Photonics and Nanomaterials
Department of Physics and Astronomy, Faculty of Science

Quantum information and nanotechnology promise to revolutionise the modern world. This course is designed to teach you the concepts behind the next generation of technology, and the lab skills that will help to make it a reality.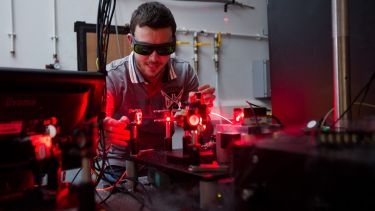 Course description
This course teaches you about aspects of quantum physics that are paving the way for quantum technologies. You will study the fundamental properties of light and matter, and how they interact with each other. This includes learning how semiconductors are used in electronic and optoelectronic devices, ranging from nanophotonic circuits, and micro- and nano-sources of quantum light, to photovoltaic solar cells.
By formulating complex equations that describe the theory, and seeing how it's put into practice with experiments in the lab, you'll develop expertise that can be applied to some of the biggest challenges in science and technology, from new semiconductor nanostructures and 2D materials to building an optical quantum computer. You'll learn how your specialist knowledge can be applied in the computing, electronics and telecommunications industries.
The biggest part of your degree is your research project. Possible topics include:
theory of quantum optical information processing
spin phenomena in semiconductor nanostructures
integrated photonic structures for QIP
novel atomically thin 2D materials for optoelectronic applications
nonlinear and hybrid-light matter phases in photonic geometries
perovskites and organic semiconductor for photovoltaics
organic sensor devices
physics of polymer crystallisation
You will also complete a research training programme, and there are optional modules to choose from including quantum mechanics, magnetic resonance, soft condensed matter, biological physics and statistical physics.
Modules
Core modules:
Advanced Electrodynamics

This module gives a detailed mathematical foundation for modern electrodynamics, starting from Maxwell's equations, charge conservation and the wave equation, to gauge invariance, waveguides, cavities and antennas. After a brief recap of vector calculus, we explore the role of the scalar and vector potential, the multi-pole expansion of the field, the Poisson and Laplace equations, energy and momentum conservation of the fields, and Green's functions. We conclude with a relativistic treatment of the fields.

10 credits

Optical Properties of Solids

This course covers the optical physics of solid state materials. It begins with the classical description of optical propagation. It then covers the treatment of absorption and luminescence by quantum theory, and the modifications caused by excitonic effects. The phenomena are illustrated by discussing the optical properties of insulators, semiconductors, and metals. The infrared properties of ionic systems are then discussed, and the course concludes with a brief introduction to nonlinear crystals.

10 credits

Semiconductor Physics and Technology

This module builds on the core solid state physics modules to provide an introduction to semiconductor electronic and opto-electronic devices and modern developments in crystal growth to produce low dimensional semiconductor structures (quantum wells, wires and dots). Band structure engineering, the main physical properties and a number of applications of low dimensional semiconductor structures are covered.

10 credits

Solid State Physics

This is the solid-state physics module for students on the Physics MRes programmes. It covers the classification of solids into the three types - metals, semiconductors and insulators, the free electron model, the origin of electronic band structure, the fundamental properties of conductors and semiconductors, carrier statistics, experimental techniques used to study carriers in a solid, the classification and physics of the principal types of magnetism.

10 credits

Physics Research Skills

This 30-credit module is to enhance and support the Physics MRes course. It is designed to allow students to explicitly reflect on various aspects of the research process and its communication.Students will be required to keep a diary of their project and reflect on their progress; write a literature review of the project area reflecting on how and why they chose their sources; reflect on the process of learning a new skill for their project; communicate what their research is about and why it is important to a general audience; consider how to teach what they are researching at UG level.

30 credits

Research Project in Physics

This is a project based module that gives students an opportunity to apply their scientific knowledge to a  research problem. Students will develop skills in time management, project planning, scientific record keeping,

information retrieval and analysis of scientific information sources.

Students will choose a project of relevance to their programme of study and will work closely with an academic supervisor who is an expert in the field. The project will involve analysing the literature relevant to the problem and then developing skills relevant to tackling the problem.  Projects maybe experimental, theoretical, analytical or computational in nature but will involve a substantial component of new work. The research will culminate with a written dissertation.



Teaching will be through weekly supervisions with academic staff and interactions with research group members. In the supervisions students will develop research plans, practise applying the scientific method by developing and testing hypotheses, discuss findings from both the literature and from laboratory or simulation based experiments, present results and discuss potential conclusions. Plans will be adapted based on these discussions. Specific experimental and/or simulation based skills will be learnt through a combination of supervised activities and self teaching - building on basic skills learnt in earlier modules in the programme.



Weekly seminars and workshops will teach students good practice in terms of searching the literature, research ethics and keeping research records.

90 credits
Optional modules - two from:
Advanced Quantum Mechanics

This module presents modern quantum mechanics with applications in quantum information and particle physics. After introducing the basic postulates, the theory of mixed states is developed, and we discuss composite systems and entanglement. Quantum teleportation is used as an example to illustrate these concepts. Next, we develop the theory of angular momentum, examples of which include spin and isospin, and the method for calculating Clebsch-Gordan coefficients is presented. Next, we discuss the relativistic extension of quantum mechanics. The Klein-Gordon and Dirac equations are derived and solved, and we give the equation of motion of a relativistic electron in a classical electromagnetic field. Finally, we explore some topics in quantum field theory, such as the Lagrangian formalism, scattering and Feynman diagrams, and modern gauge field theory.

10 credits

Biological Physics

This module will introduce students to biological physics, that is, the application of principles and tools from physics to biological systems. Biological materials are often soft condensed matter with properties between those of simple liquids and solids. In addition biological matter is usually out of equilibrium due to internal biochemical sources of energy. Students will begin to explore the world of biological cells and biopolymer macromolecules, such as DNA. They will see how physics can help understand biological systems through mathematical models and experimental imaging techniques and how this can lead to new physics and applications in biology.

10 credits

Further Quantum Mechanics

This module builds on the quantum mechanics learned in the prequisites PHY250 and PHY251. The Heisenberg matrix formulation of the theory is developed from the Schrodinger wave picture. Approximate methods (perturbation theory and variational method) are derived and applied. Methods for solving time dependent problems are developed. Problems involving magnetic fields and spin are treated. Many particle wavefunctions for fermions and bosons are introduced. Some current research literature on Quantum Mechanics is explored through a directed reading exercise.

10 credits

Magnetic Resonance: Principles and Applications

The module will provide an overview of the basics of magnetic resonance, and then consider its applications in systems ranging from macroscopic living organisms, as in magnetic resonance imaging (MRI) widely used in hospitals, to nano-scale systems where control of single or a few spins is now possible and can also be used for nano-imaging. Special attention will be paid to recent advances in solid-state nano-NMR and the control of single electron spins in solid state nano-systems using spin resonance techniques.

10 credits

Physics in an Enterprise Culture

This is a seminar and workshop based course with a high level of student centred learning. The unit will introduce students to the methods and skills associated with innovation, business planning, costing and marketing. It will broaden students understanding of the mechanics of project planning and research commercialisation. The course is divided into two components:

Part 1: Coming up with ideas. Students will take part in guest lectures and workshop classes to explore different ideas for business. They will learn about the innovation process and what makes a sucessful business. They will finish part 1 by submitting a draft business proposal that will be reviewed by academic staff and student peers and feedback will be given.

Part 2: Armed with the feedback from part 1 students will refine thier ideas and work towards a final pitch for thier business. Further support will be given to students to develop a costing of the idea.

10 credits

Statistical Physics

Statistical Physics is the derivation of the thermal properties of matter using the under-lying microscopic Hamiltonians. The aims of this course are to introduce the techniques of Statistical Mechanics, and to use them to describe a wide variety of phenomena from physics, chemistry and astronomy. Current research literature is explored through a directed reading exercise.

10 credits

The Physics of Soft Condensed Matter

Soft condensed matter is a generic name for a class of materials that play a crucial role in technology as well as providing fascinating and timely scientific problems. These complex materials are typified by polymers, gels and colloidal dispersions, whose properties often seem intermediate between ordinary liquids and solids. Familiar examples from everyday life include plastics, soaps and detergents, foodstuffs, and indeed the material from which living organisms are constructed. Only relatively recently has it been realised that despite the complexity of these materials elegant and simple physical principles often underlie their behaviour; this course provides an introduction to these principles.

10 credits
The content of our courses is reviewed annually to make sure it's up-to-date and relevant. Individual modules are occasionally updated or withdrawn. This is in response to discoveries through our world-leading research; funding changes; professional accreditation requirements; student or employer feedback; outcomes of reviews; and variations in staff or student numbers. In the event of any change we'll consult and inform students in good time and take reasonable steps to minimise disruption. We are no longer offering unrestricted module choice. If your course included unrestricted modules, your department will provide a list of modules from their own and other subject areas that you can choose from.
An open day gives you the best opportunity to hear first-hand from our current students and staff about our courses. You'll find out what makes us special.
Duration
1 year full-time
Teaching
One year individual programme of research. Taught material is complemented by a 12-month research project in one of our world-leading research groups.
Your training will cover optical experiments and fabrication of devices in our state-of-the-art laboratories as well as numerical methods and more.
Assessment
You'll be assessed by examinations, coursework, essays and other written work, presentations and a dissertation and viva.
Your career
The advanced topics covered and the extensive research training make this course great preparation for a PhD. Alternatively, the specialist expertise you'll gain can be applied in the computing, electronics and telecommunications industries – from manufacturing new devices with advanced materials, to improving computer processing and data security systems. You can also develop numerical, problem solving and data analysis skills that are useful in many careers, from software engineering to finance.
Our laboratories include a dedicated facility for studying the optical properties of structures based on 2D materials, such as MoS2, MoSe2, WSe2, WS2, NbSe2, gallium and indium chalcogenides. We're one of the leaders in research of complex heterostructures based on 2D materials, which is based on our expertise in photonics and magneto-optics of nanostructured semiconductors.
Student profiles
My project was experimental as well as computational, so I learned a range of new skills. Aside from all the experimental work done in the lab, I got to learn how to simulate light confinement and mode propagation in various photonic crystals.

Klaudia Wawrowska
Masters student in the Department of Physics and Astronomy
Entry requirements
We usually ask for a first-class degree, or equivalent, in physics.
Overall IELTS score of 6.5 with a minimum of 6.0 in each component, or equivalent.
You can apply for postgraduate study using our Postgraduate Online Application Form. It's a quick and easy process.
Any supervisors and research areas listed are indicative and may change before the start of the course.
Recognition of professional qualifications: from 1 January 2021, in order to have any UK professional qualifications recognised for work in an EU country across a number of regulated and other professions you need to apply to the host country for recognition. Read information from the UK government and the EU Regulated Professions Database.