2022 start
September
Sociology
Department of Sociological Studies, Faculty of Social Sciences

Extend and develop your knowledge of core areas of sociological scholarship and research methods. Immerse yourself in established and emergent ideas in the discipline and engage in debates around the most pressing sociological challenges in the social world.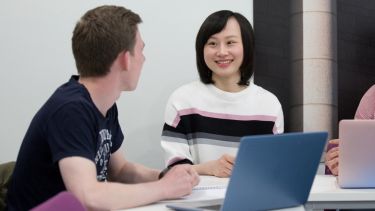 Course description
This course offers the opportunity to immerse yourself in established and emergent ideas and debates around the most pressing sociological challenges in the social world. 
The course is driven by the research of academics on the masters team, with a mix of core and optional modules designed exclusively for masters students. In your core modules, you will cover topics including advanced sociological thinking, engaging current sociology, and advanced qualitative and quantitative methods.
You can also explore areas of sociological research that interest you through a range of optional modules. These are likely to include the sociologies of digital worlds; intimacies and everyday life; social division and interaction; and advanced qualitative or quantitative methods.
Modules
Students complete 180 credits in total.
Core modules:
Current Sociology

This module introduces students to current and emerging sociological frameworks for thinking about the nature of social relationships, divisions, practices, identities and inequalities, in micro/macro local/global contexts. It will cover central theoretical approaches for conceptualising current sociological concerns (social identities and stratifications, diversities, post-colonialism, mobilities, securitisation, globalisation, consumption, urban and rural divides, gentrification, community, conflict, conviviality, the human/non-human) and social inequalities, and the intersectional relationships between these. In order to explore how various social processes, practices, identities and inequalities manifest themselves, change and interrelate, specific empirical contexts will be addressed.

30 credits

Concepts and Ideas in Sociological Theory

The module explores concepts, arguments, and ideas that have decisively shaped and advanced social and sociological theory. After revisiting influential works in classical social thought (e.g. Marx), the module focuses on key interventions in critical theory (e.g. Horkheimer), feminist theory (e.g. Irigaray), postmodern theory (e.g. Lyotard), and poststructuralist theory (e.g. Foucault). The module aims to guide students in understanding, analysing, and evaluating the contributions of these theoretical frameworks to the critical examination of social relations and conditions and to the conception of sociology as the study of social conditions. The module involves close readings and discussions of primary theoretical texts.

30 credits

MA in Sociology Dissertation

This module is concerned with enabling students to undertake an in-depth study on a topic of their own choice, guided by one-to-one academic supervision, relevant to sociology. It aims to enable students to develop and demonstrate skills in the planning, definition and management of a substantial piece of sociological enquiry. The dissertation may take the form of a theoretical and literature based analysis of a topic relevant to the course, or it may additionally involve an empirical exploration, either through primary or secondary research, of a sociological topic.

60 credits
Optional modules - one or two from:
Innovations in Qualitative Research

This unit introduces students to a variety of advanced and innovative qualitative research techniques common to sociology and the social sciences more widely. The module provides students with a philosophical introduction to qualitative methodology, and covers a range of innovative research techniques including creative interviewing, sensory ethnography, mobile methods, longitudinal research, memory work, re-using qualitative data and participatory approaches such as the use of diaries and drawings. The module will also introduce students to a range of analytical techniques and covers innovative approaches to writing and communicating with qualitative data. Finally, the module will also introduce students to a range of ethical issues arising from creative and innovative approaches to qualitative research.

15 credits

Introduction to Quantitative Research

The course will introduce uses of quantitative research in the social sciences. This unit introduces basic statistical concepts such as sampling, distributions, hypothesis testing and descriptive statistics. It then goes on to bivariate statistics such as correlation and cross-tabulation along with relevant statistical tests. Students then move on to multivariate statistical analysis using regression based techniques. Students will become familiar with the key role that secondary data analysis now plays in the social sciences. Students will gain proficiency in using the statistical software package SPSS.

15 credits
Optional modules - two or three from:
Contemporary Challenges: Refugees and Asylum  

Contemporary Challenges explores a key contemporary challenge in depth and applies key concepts in Sociology (e.g. class, race, nationalism, democracy) in analysing it. The focus of the challenge will change on a 3-4 yearly basis.
In its first iteration, the module focuses on Brexit: ideas of class and 'the left behind', English nationalism, nostalgia for empire, the media, and some of the impacts of Brexit in relation to everyday life. In doing so the module will develop a deeper understanding of the reasons behind the vote for the UK to leave the EU, as well as some of its consequences.

15 credits

Sociologies of the everyday

This module will explore theoretical and empirical insights into the mundane, personal and everyday. Beginning with an exploration of theoretical approaches to making sense of everyday, personal and mundane facets of the social world, the module goes on to explore key areas of everyday life including personal relationships; belonging in time, space and place; interactions between politics and personal life and everyday racisms. The module will also consider the challenges involved in attempting to 'capture' the everyday in empirical sociological research.

15 credits

Sociology of Genders, Sexualities and the Bodies

Why are gender, sexuality and the body important areas for sociological study? How can these domains be seen to be political as well as personal? How have understanding around gender, sexuality and the body changed across time and cultures? How might experiences and practices of gender, sexuality and the body be impacted by intersectional factors such as race and ethnicity, ability and disability, faith, social class, age, and space and place? These are some of the key questions explored on this module, which will consider the diverse ways in which gender, sexuality and the body are understood and practiced at individual, collective and structural levels.

15 credits

Digital Media in a Datafied Society

This unit examines the social consequences of widespread use of social media, a key characteristic of digital society. It explores what happens as a result of the digitised and networked sharing of personal information and life experiences of all kinds, in times of datafication (that is, the transformation into data, numbers and statistics aspects of social life which formerly did not exist in such forms). The unit reviews theoretical literature on social media, data and society and addresses specific debates and issues, including: social media data mining; social media surveillance; the economic value of social media data; data tracking, privacy, rights and data subjects; governing social media data mining; data activism and open data; data visualisation; new forms of data work; data and everyday life.

15 credits

Digital Health

This module looks at the social implications of digital technologies in health, considering what these mean for our experiences of health and illness as patients and as citizens, for the work of health care professionals, and for the provision of health care. The module will consider a range of contemporary areas such as self-tracking and gamifying health, telemedicine and care at a distance, health information on the net, electronic patient records, illness death and dying on the web, and health activism and online patient groups. Drawing across these, the module will consider questions about changing representations and cultures of health and illness, whether we can all be medical experts now, who has responsibility for health, how we relate to health care professionals, the commodification of health data and the relative benefits for state and industry.

15 credits

Principles of Research Design I

This unit addresses the foundations of research: what needs to be established before a research project can be conducted. It has three main focuses, which are the philosophical foundations upon which social scientific research are based, the process of establishing the current state of the art in a given field of social science, and establishing which study design is most appropriate for a given research question. In this way, it combines both conceptual and practical issues in the social sciences. It precedes Principles of Research Design II, which addresses the principles to be applied while a research project is underway.

15 credits

Principles of Research Design II

This unit follows SMI607 in introducing students to research design, with a focus on what happens during and after the process of conducting research, and the relevant professional skills required by researchers. It addresses issues of research ethics, sampling and recruitment, reflexivity, project management, collaboration with other researchers, different approaches and techniques for analysing data, and the process of presenting, publishing, and disseminating research to a range of different audiences. In this way, in combination with SMI607, it provides students with a toolkit to conduct an entire research project independently from a range of different philosophical and methodological perspectives.

15 credits

Advanced Quantitative Methods for Social Research

The course will introduce more advanced uses of multivariable statistics in the social sciences. This unit then covers several methods that are often employed across the social sciences. These will include: Multiple Regression (including Ordinary Least Squares and Logistic Regression) and more advanced extensions such as multilevel models and longitudinal techniques. Students will undertake a small secondary data analysis project of their own devising for assessment.



15 credits
The content of our courses is reviewed annually to make sure it's up-to-date and relevant. Individual modules are occasionally updated or withdrawn. This is in response to discoveries through our world-leading research; funding changes; professional accreditation requirements; student or employer feedback; outcomes of reviews; and variations in staff or student numbers. In the event of any change we'll consult and inform students in good time and take reasonable steps to minimise disruption. We are no longer offering unrestricted module choice. If your course included unrestricted modules, your department will provide a list of modules from their own and other subject areas that you can choose from.
An open day gives you the best opportunity to hear first-hand from our current students and staff about our courses. You'll find out what makes us special.
Duration
1 year full-time
Teaching
Teaching is conducted through a combination of lectures, tutorials, seminars, and small-group work. Emphasis is placed on the individual aspects of learning.
Entry requirements
2:1 honours degree, or equivalent, in a relevant social science discipline, such as sociology, social policy, politics, anthropology, international relations, or development studies.
Overall IELTS score of 6.5 with no less than 6.0 in each component, or equivalent.
You can apply for postgraduate study using our Postgraduate Online Application Form. It's a quick and easy process.
Any supervisors and research areas listed are indicative and may change before the start of the course.
Recognition of professional qualifications: from 1 January 2021, in order to have any UK professional qualifications recognised for work in an EU country across a number of regulated and other professions you need to apply to the host country for recognition. Read information from the UK government and the EU Regulated Professions Database.