2022 start
September
Stem Cell and Regenerative Medicine
School of Biosciences, Faculty of Science

Receive training in the latest human embryonic stem cell techniques on this unique research-led masters course.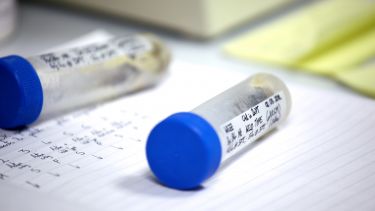 Course description
Stem cell and regenerative medicine is at the forefront of future therapies to repair disease and damaged organs. As the academic research base broadens and industry begins to adopt new technologies, the demand for specialists has increased substantially. As such, this unique research-led course offers high-level employment opportunities.
On this masters course, experts from our Centre for Stem Cell Biology will train you in the latest human embryonic stem cell techniques.
Intercalation
We accept medical students who wish to intercalate their studies. Find out more on the Medical School website.
Modules
Core modules:
Literature Review

This unit involves an in-depth survey of the current literature relevant to the student's laboratory research project. It runs before the practical laboratory commences in order to give the student the academic background necessary to complete the laboratory work successfully. Students will carry out an exhaustive search of material relevant to their project using the resources of the University, including appropriate databases and specialist search engines, as well as paper-based resources in the University Library. The unit involves primarily private study by the student under the direction of the project supervisor who will meet the student at regular intervals to ensure satisfactory progress.

30 credits

Research Project

The module aims to provide students with experience of conducting a research project, and develop analytical and organisational skills required for a career in science. Students undertake a research project which reflects the research activities in the Department/Faculty/University. Projects will be supervised by a member of the academic staff, although students may have additional contact with various staff contributing to their training. Students will gain experience of experimental design, and in execution, collation, interpretation and presentation of scientific data.
Assessment of the project will be based on a written dissertation, an evaluation of the research skills developed during the tenure of the project, including keeping a lab book, and delivery of an individual poster presentation.


60 credits

Critical Analysis of Current Science

This module is designed to develop the student's ability to read and understand the scientific literature relating to their own research area and also enable them to integrate their own work into the wider scientific field. The module consists of the following components; a seminar and seminar analysis programme designed to develop student skills in listening, understanding and appraising scientific research presented by external invited speakers; contribution, preparation and presentation of journal clubs reporting on the literature published in the field of biomedical science. In the latter component, students will be expected to demonstrate critical analysis skills, which will be encouraged through questions and discussions in classes. Each component is assessed through formal examination and oral presentation.

15 credits

Ethics and Public Awareness of Science

Those working within public health need to be familiar with secondary data sources that support research, management and practice. This module will consider the main types of secondary data - relating to demography, epidemiology, clinical effectiveness and cost-effectiveness. Strengths, uses, interpretation and limitations of secondary data sources will be examined, assessing these with regard to completeness, accuracy, relevance and timeliness. Students will explore these issues in connection with a case study for a specific country. Scenario planning, confidentiality and the use of computers are other key topics that are illustrated and explored within the module.The module will begin with an introduction to the areas in which legislation impinges on biomedical research. We will then proceed to analyse the processes by which such legislation is made including, especially, the ethical bases for such legislation. To do this we will introduce the students to the philosophical bases of ethical thought and get them to analyse existing laws to discover the ethics that underlies these laws. The students will then be asked to discuss the ethics of specific topics in the form of a formal debate. In addition, we examine how society perceives science and how the process of science itself works and how this influences scientists' abilities to present their work to the wider community. 

15 credits

Human Embryonic Stem Culture Techniques

The unit will be a practical, laboratory based course in which students will learn to culture human embryonic stem (hES) cells and their malignant equivalent, embryonal carcinoma cells. The course will be an intensive two week programme in which students will maintain cultures of hES cells, and carry out experiments to determine the expression of marker antigens and genes used to identify the stem cells and monitor their differentiation. They will learn and apply techniques for genetic manipulation of hES cells, and methods for inducing their differentiation. The practical work will be supplemented by lectures directly linked to specific practical sessions.

15 credits

Practical Cell Biology

The practical unit will provide students with experience of practical cell biology. Students will be given the opportunity to establish and optimise ELISA-based assays for fundamental cellular processes, specifically the endocytic pathway. Particular emphasis will be placed on the development, execution and interpretation of experimental protocols as is standard practice in a research laboratory.

15 credits
Optional modules - two from:
Modelling Human Disease and Dysfunction

The module will provide students with an understanding of how post-genomic biology impacts on our ability to understand, and treat, chronic diseases of the body. Students will be introduced to major experimental systems and approaches that are pertinent to disease modelling. These include genetically-tractable animal model and in vitro cellular systems (including stem cells). We will explore the principles involved in how these systems are exploited to develop new strategies for intervention, including new therapeutics. Critical evaluation of research papers will allow students to gain experience of analysing experimental work, data presentation and interpretation of results.

15 credits

Stem Cell Biology

This lecture course will provide a thorough grounding in the biology of stem cells and regenerative medicine, with special reference to the molecular and genetic control of cell fate specification and differentiation. Students will also be enouraged to consider the clinical use of stem cells and their derivatives as well as the ethical issues that these raise. As this is a rapidly developing field, strong emphasis will be placed on understanding the current controversies in the literature.

15 credits

Principles of Regenerative Medicine and Tissue Engineering

This unit will provide students with an overview of the multidisciplinary concepts underpinning tissue engineering. Through detailed examples of tissue engineering strategies for replacing specific organs and tissues, students will be introduced to the key steps of the tissue engineering process from bench to bedside. The course will present topical research in tissue engineering and enable students to critically assess the current limitations and potential applications of tissue engineering for medical applications, drug discovery and food manufacturing.The unit will provide an overview of the central topics of tissue engineering, including cell sourcing for tissue engineering, biomaterial properties and design, and cell-material interactions. Particular emphasis will be given to the recent cutting-edge examples of applying tissue engineering to restore function of various organ systems.

15 credits
The content of our courses is reviewed annually to make sure it's up-to-date and relevant. Individual modules are occasionally updated or withdrawn. This is in response to discoveries through our world-leading research; funding changes; professional accreditation requirements; student or employer feedback; outcomes of reviews; and variations in staff or student numbers. In the event of any change we'll consult and inform students in good time and take reasonable steps to minimise disruption. We are no longer offering unrestricted module choice. If your course included unrestricted modules, your department will provide a list of modules from their own and other subject areas that you can choose from.
Teaching
Throughout your degree, you'll be taught through lectures, practical sessions, lab placements, tutorials and seminars. In small group teaching classes you'll discuss, debate and present on scientific and ethical topics. The biggest part of the course will be your individual research project, working alongside professional scientists.
Our teaching covers ethics, practical scientific skills and an overview of the current literature. You'll also develop useful career skills such as presentation, communication and time management.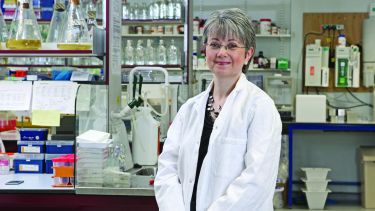 I work on the disease cystic fibrosis (CF), which is one of the most common inherited diseases in caucasians, with an incidence of 1 in 2,500 live births. In CF a faulty gene means that the protein CFTR does not work properly. My research is looking at how CFTR is regulated normally, and what happens with faulty CFTR. In addition I am in the process of setting up a new diagnostic tool, with the aim of helping our CF clinic in the early diagnosis of children suffering from CF.

Dr Louise Robson
Assessment
Assessment is by formal examinations, coursework assignments, debates, poster presentations and a dissertation.
Duration
1 year full-time
Student profiles
The best part of this course is the Lab Research Project, which gives a good opportunity for real lab experience and also the stem cell technique lab module is one of the best you can ask for. I loved all other modules as well, which gave me a deep insight into current research.

Chandreshkumar Jain
MSc Stem Cell and Regenerative Medicine
You can apply for postgraduate study using our Postgraduate Online Application Form. It's a quick and easy process.
Contact
Any supervisors and research areas listed are indicative and may change before the start of the course.
Recognition of professional qualifications: from 1 January 2021, in order to have any UK professional qualifications recognised for work in an EU country across a number of regulated and other professions you need to apply to the host country for recognition. Read information from the UK government and the EU Regulated Professions Database.