2023 start
September
Ecology and Environment
School of Biosciences, Faculty of Science

Further your understanding of how we maintain ecosystems in the face of environmental change with our uniquely research-focussed course.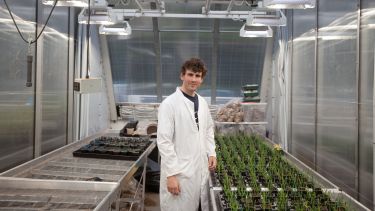 Course description
Biodiversity is threatened by climate change and other consequences of the growing human population. To solve this, and some of the other global challenges facing humanity, we need researchers with an in-depth understanding of how we maintain ecosystems in the face of environmental change.
Our world-class research in this area spans topics including global change ecology, biodiversity science, tropical forest conservation, palaeoecology and palynology, urban ecology, environmental pollution, and agricultural ecology, giving students on this course the opportunity to carry out cutting-edge research in their chosen area.
Research experience
This research-focused course allows you to spend an academic year embedded in one of our research groups, working alongside students and staff who are at the forefront of their research field.
Throughout your course, you'll develop your research skills, giving you the opportunity to contribute new knowledge in your chosen area.
Whether you complete your research in the field, the lab or in industry, in the UK or abroad, you'll be provided with a research budget for your project. Previous students have conducted fieldwork in locations including Brazil, South Africa and Sweden as well as closer to home in the wonderful Peak District National Park on our doorstep.
Example research projects include:
Impacts of selective logging on the morphology of neotropical butterflies
A DNA-based assessment of Eurasian otter, Lutra lutra, numbers and seasonal movement in the Peak District
Partitioning the effects of vertical relief and refuge on coral reef fish community structure
How to apply
Because of the research-intensive nature of this course, we ask you to include a short supporting statement of 500-700 words with your application. This should:
Explain how your interests and experience relate to the ecology and environment research we do in the School of Biosciences.
Explain why you want to do a research-intensive masters degree and how this fits with your career plans.
Include which particular supervisors or research groups you would be most interested in working with and why. If you have already been in contact with a prospective supervisor, please let us know.
Please submit your application by 15 August if you require a student visa and by 31 August if you do not require a visa.
Potential supervisors
Choose a subject area:
Evolutionary ecology

Macroecology

Ecological modelling

Dr Lyla Taylor - Process-based modelling of plant-mineral interactions at a variety of spatial and temporal scales
Dr Maria Val Martin - Atmospheric composition, air pollution and atmosphere-biosphere-climate interactions;  land-based CO2 strategies to mitigate climate change and reach net zero emissions
Dr Holly Croft - Remote sensing of terrestrial ecosystems, from the leaf to the globe. Drones; plant physiology and plant-environment interactions
Professor Dylan Childs - How demographic processes and environmental factors interact to shape population-level processes. Combines mathematical and statistical modelling with lab and field data population dynamics and natural selection in a wide range of laboratory and free-living animal and plant populations
Professor Rob Freckleton - My research focuses on modelling population and community dynamics. I am particularly interested in large scale population dynamics, although have a range of interests, including plant population ecology, evolutionary ecology, phylogenetic comparative methodology and theoretical ecology

Soil and microbial ecology

Professor Tim Daniell - Plant interaction with soil communities including mycorrhiza and impacts on soil nitrogen cycling.  Linking soil function and community dynamics
Professor Katie Field - Evolution, diversity and ecophysiology of plant-fungal symbioses (mycorrhizas) and responses to global change; applications in sustainable agriculture
Dr Ellie Harrison - Ecology and evolution of plant associated microbial communities. Specifically, how communities are shaped by mobile genetic elements and horizontal gene transfer
Dr Helen Hipperson - Applying genomic techniques to answer questions in plant and soil biology, ecology, evolution, conservation and population genomics
Professor Jonathan R Leake - Plant-soil functioning in sustainable agriculture, including management options to improve soil biology, soil structure, carbon sequestration and crop performance and guide agri-environmental policy for soil sustainability

Urban ecology

Dr Jill Edmondson - Soil and vegetation carbon budgeting including black carbon, urban soil quality, soil-to-crop pollutant transfer in urban agriculture, interactions between urban land management and ecosystem service delivery
Dr Deborah Dawson - Conservation genetics of otters and salmon; reproductive genetics and genomics; molecular ecology including eDNA analysis
Dr Karl Evans - Pathways through which human activity degrades ecosystems, their biodiversity and ecosystem services, and devising solutions. Interdisciplinary approach drawing on ecological and social sciences. Focused on urban systems, climate change, protected areas and the environmental impacts of development policies
Modules
Core modules:
Research Project

This module allows students to develop skills relevant to a career in biological research. It will consist of a laboratory, field-based or computational research project where each student will work under the supervision of a member of academic staff. The student will formulate the hypotheses and questions to be addressed and plan and carry out experiments to test these hypotheses. The project will be written up in the form of a scientific paper and the student will keep a notebook of the research.

120 credits

Literature Review

The literature review requires the student to write a critical review of a biological topic of choice. The literature review will involve extensive reading of original research papers, reviews and books together with information extracted from other media. The student will be required to critically analyse hypotheses in the field and critically analyse the quality of the evidence used to support them. Where controversies exist the student should be prepared to indicate which side has the stronger case. The literature review should also identify gaps in our current knowledge and understanding and make suggestions for the future developments in the field.

15 credits

Scientific Skills and Project Management

The aim of this module is to provide students with advanced training in the use of statistical methods and computers to visualise and analyse biological data which is necessary to pursue a research career in whole organism biology. Advanced principles of programming for data analysis, data interpretation and statistical analysis, and graphical presentation are stressed. The course is based on the statistical programming language R and the Integrated Development Environment RStudio. The course is comprised of eight introductory sessions delivered in Semester 1, and then a choice of two out of six specialist modules selected to support student-specific requirements in research. Semester 1 content is delivered as a mix of online recorded videos (watch this), a set of readings (read this) and a practical exercise (do this). This is supported by a weekly live mini-review lecture and Q andamp; A, and a help session. Semester 2 content is delivered live via three to four 3-hour practical computing sessions (1 specialist module/week, 3-4 sessions per week).

30 credits

Science Communication for Researchers

This module provides training in the skills and approaches necessary to effectively communicate science. The module has three main components:
1. An intensive science communication workshop focusing on interactions with the print and broadcast media;
2. A poster presentation, where students design and produce a poster to communicate their research project to a target audience (e.g. general public,
research audience);
3. A formal oral presentation, where students present their research results to their peers.


15 credits
The content of our courses is reviewed annually to make sure it's up-to-date and relevant. Individual modules are occasionally updated or withdrawn. This is in response to discoveries through our world-leading research; funding changes; professional accreditation requirements; student or employer feedback; outcomes of reviews; and variations in staff or student numbers. In the event of any change we'll consult and inform students in good time and take reasonable steps to minimise disruption. We are no longer offering unrestricted module choice. If your course included unrestricted modules, your department will provide a list of modules from their own and other subject areas that you can choose from.
An open day gives you the best opportunity to hear first-hand from our current students and staff about our courses. You'll find out what makes us special.
Duration
1 academic year full-time
Teaching
You'll learn through a mixture of working in a research laboratory or on a field-based research project, tutorials, discussion groups, seminars, and statistics and other workshops.
Assessment
Most assessment is through coursework. Your assessment includes, but is not limited to, a project report, literature review, poster presentations, oral presentations, written grant proposals and online statistics exams.
Your career
This degree provides an ideal springboard for a research career in your chosen field, including crop and soil science, evolutionary and behavioural research, genomics and related technologies, and ecological and environmental research. Past students have gone on to study for PhDs, as well as taking up positions in government science, environmental consultancy, and industry.
Department
The School of Biosciences brings together more than 100 years of teaching and research expertise across the breadth of biology.
It's home to over 120 lecturers who are actively involved in research at the cutting edge of their field, sharing their knowledge with more than 1,500 undergraduate and 300 postgraduate students. 
We carry out world-leading research to address the most important global challenges such as food security, disease, health and medicine, ageing, energy, and mitigating the biodiversity and climate crises.
Our expertise spans the breadth and depth of bioscience, including molecular and cell biology, genetics, development, human physiology and pharmacology through to evolution, ecology, biodiversity conservation and sustainability. This makes us one of the broadest and largest groupings of the discipline and allows us to train the next generation of biologists in the latest research techniques and discoveries.
Entry requirements
Minimum 2:1 BSc honours degree in biology or a closely related quantitative subject.
In addition, you should be able to demonstrate evidence of aptitude and enthusiasm for research eg an undergraduate research project.
Overall IELTS score of 6.5 with a minimum of 6.0 in each component, or equivalent.
Because of the research-intensive nature of this course, we ask you to include a short supporting statement with your application. Please see the course description above for more details.
Any supervisors and research areas listed are indicative and may change before the start of the course.
Recognition of professional qualifications: from 1 January 2021, in order to have any UK professional qualifications recognised for work in an EU country across a number of regulated and other professions you need to apply to the host country for recognition. Read information from the UK government and the EU Regulated Professions Database.