2023 start
September
Human Osteology and Funerary Archaeology
Department of Archaeology, Faculty of Arts and Humanities

Receive advanced training in the analysis of human skeletal remains through practical lab-based tuition.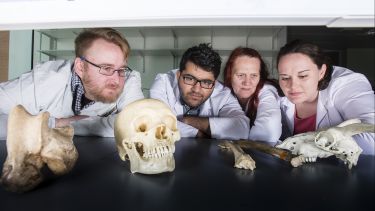 Course description
Working in specialist labs, you'll get advanced training in the analysis of human remains. Through advanced anatomy practicals using plastinated prosections (preserved limbs and other human body parts), you'll gain a detailed understanding of skeletal and soft tissue anatomy. Lectures in funerary archaeology put the subject in context.
As a member of a vibrant research community, you will also develop core skills in research project development and statistical data analysis. You'll put these skills to work over the summer on an original, independent research project.
Graduates from this course have pursued careers in academia, commercial archaeology, heritage management and museums. Many go on to PhDs.
Modules
Core modules:
Research Design: Planning, Execution and Presentation

This module provides students with the advanced understanding they need to design an effective research project that addresses a question relevant to current debate in archaeology, and in particular to plan a successful MA/MSc dissertation. It comprises six group seminar sessions and three seminars in which students from different courses are streamed to be taught and guided on subject-specific material by experts in the field. The module culminates in a research day during which students present their dissertation plans to their peers and staff assessors. Assessment is in two parts: a succinct Powerpoint presentation of the dissertation proposal and outline and a written dissertation outline and proposal.

Students wishing to undertake a work placement will also find this module useful for planning their placement aims and objectives.



15 credits

Biological Anthropology I

The module provides a theoretical background to the study of human skeletal remains as well as essential practical skills in the osteological analysis of human bone.

15 credits

Dissertation

This module requires students to plan, execute and write up an original research project. This dissertation project is chosen with, and approved by, the designated supervisor, who may or may not be the programme director. Dissertation topics must be based on original research and on the students' own ideas: they must be worthwhile, affordable, manageable within time limits, be capable of supervision within the Department and related to the subject matter on the appropriate Masters.

60 credits

Dissertation (Journal Paper Style)

This module requires students to plan, execute and write up an original research project. This dissertation project is chosen with, and approved by, the designated supervisor, who may or may not be the programme director. Dissertation topics must be based on original research and on the students' own ideas: they must be worthwhile, affordable, manageable within time limits, be capable of supervision within the Department and related to the subject matter on the appropriate Masters. Students who choose this particular type of dissertation will place particular emphasis on synthetic writing and an ability to familiarise themselves with journal publication submission and style. With the exception of the word count the students will follow the editorial guidelines of the Journal of Archaeological Science.

60 credits

Funerary Archaeology

This module provides an advanced level exploration of human responses to death in societies around the world from the earliest burials of our hominin ancestors to the present day. Delivered through a series of chronologically-themed lectures and thematic seminars, case studies focus on the nature and interpretation of the burial record, and survey the methods of analysis, theoretical underpinnings and material residues of funerary ritual helping the student to develop a broad knowledge of world-wide burial rites and a nuanced understanding of the discipline of funerary archaeology.

15 credits

Biological Anthropology II

These classes expand on the core material covered in AAP680 Biological Anthropology 1 and cover the application of biological anthropology to broad research questions that are of fundamental importance in the study of past communities and societies. Half of the module explores the principal approaches by which analysis of the human skeleton can be contextualised. The other half of the module explores palaeopathological lesions and their interpretation as evidence of health and disease in the past. 

15 credits

Quantitative methods in anthropology and archaeology

This module introduces learners to current research methods for the analysis of archaeological and anthropological data using advanded statistical and computational methods. The module includes lectures and practical classes which explore a series of examples of the application of statistics and numerical methods to quantitative problems in the archaeological sciences including biological anthropology, palaeoanthropology and environmental archaeology.

15 credits

Human Anatomy

This module familiarises students with the human musculoskeletal system, providing knowledge of the head, neck and appendicular skeleton and its muscles and nerves, as well as insights into functional, developmental and comparative aspects of human morphology

15 credits

Human Osteology

In this module the students are introduced to the human skeleton, both adult and immature, and comparative primate skeletons. They are provided with in depth information on how to recognise individual bones, how to side elements by being familiar with all pertinent landmarks. They will be introduced to the size and shape variation present in the skeleton of Homo sapiens, including variations due to sex, ethnic affinity, and temporal changes.

15 credits
Optional modules:
You can take 15 credits of modules from across the Department.
The content of our courses is reviewed annually to make sure it's up-to-date and relevant. Individual modules are occasionally updated or withdrawn. This is in response to discoveries through our world-leading research; funding changes; professional accreditation requirements; student or employer feedback; outcomes of reviews; and variations in staff or student numbers. In the event of any change we'll consult and inform students in good time and take reasonable steps to minimise disruption. We are no longer offering unrestricted module choice. If your course included unrestricted modules, your department will provide a list of modules from their own and other subject areas that you can choose from.
An open day gives you the best opportunity to hear first-hand from our current students and staff about our courses. You'll find out what makes us special.
Duration
1 year full-time
2 years part-time
Teaching
You can expect a balanced timetable of lectures, seminars and practicals. You'll have access to specialist labs and world-class reference collections. Many of our masters courses include a fieldwork or project-based component.
We integrate humanities and science-based approaches to nurture a deeper understanding. You'll have the opportunity to explore different viewpoints and make up your own mind about their strengths and weaknesses.
We'll help you to develop your critical thinking as well as your practical skills. What we ask of you, as a member of our lively academic community, is that you challenge, question, and explore.
Fieldwork
All our masters  students have the option to get involved in research projects – in the UK, Europe and elsewhere – even if fieldwork isn't part of your course.
Department
The Department of Archaeology at the University of Sheffield is ranked top 50 in the world (QS World University Rankings 2023), 8th in the UK for Archaeology (QS World University Rankings by Subject 2023).
You'll be taught by experts in their field who are at the forefront of their research. Our research-led teaching draws directly on the work of our inspirational academics who are experts in the specialist fields of bioarchaeology, medieval archaeology, cultural materials, funerary archaeology, Mediterranean archaeology and landscape archaeology.
We take an interdisciplinary approach to teaching, bringing science, the humanities and other related areas to your studies. Our multidisciplinary teaching helps you develop a strong set of skills. Our graduates are articulate, analytical and creative. They are also adaptable, curious and culturally aware. We have alumni working all over the world in a diverse range of fields, including archiving, archaeology, teaching, museums, charities, publishing, and national and local government.
Our staff and students play an important role in the life of the city through projects and partnerships with heritage groups, commercial archaeologists and heritage providers. You'll share your understanding with others, and by doing this you'll help local communities make sense of their origins, and get a sense of their place in the wider world.
Student profiles
I find my MSc exciting mostly because it lies between the scientific and humanistic fields of research, therefore it invites the students to learn how to think outside the box and link all the information together to solve a greater puzzle.
MSc Human Osteology and Funerary Archaeology
Entry requirements
Minimum 2:1 undergraduate honours degree in an arts, humanities or science subject.
Your interest in and understanding of archaeology is more important than what you studied at undergraduate level: we may consider degrees in other subjects if you display an interest in archaeology in your application.
Overall IELTS score of 6.5 with a minimum of 6.0 in each component, or equivalent.
Fees and funding
Studentships
If you accept a place on a course, you may be eligible to apply for White Rose College of the Arts and Humanities (WRoCAH) and University of Sheffield studentships. We also offer a number of department and course-specific scholarships. See the department's fees and funding page for more information.
You can apply for postgraduate study using our Postgraduate Online Application Form. It's a quick and easy process.
Any supervisors and research areas listed are indicative and may change before the start of the course.
Recognition of professional qualifications: from 1 January 2021, in order to have any UK professional qualifications recognised for work in an EU country across a number of regulated and other professions you need to apply to the host country for recognition. Read information from the UK government and the EU Regulated Professions Database.