2023 start
September
Midwifery (with registration as a midwife)
Division of Nursing and Midwifery, Health Sciences School, Faculty of Medicine, Dentistry and Health

Qualify as a midwife and provide pregnancy, childbirth and postpartum care to women and their families. This three-year course is accredited by the Nursing and Midwifery Council.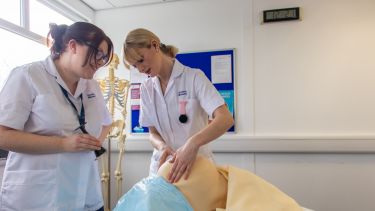 Course description
Our training programme will empower you to become a highly-skilled, autonomous midwife. You'll learn how to support, advise and advocate for women, their partners, and their families. When you graduate, you'll be qualified to provide holistic, evidence-based care to women throughout their pregnancy and the postpartum period.
You will be taught by experienced midwives and healthcare professionals, who will give you a grounding in the latest midwifery theory and research. You'll develop your critical thinking skills, taking time to reflect on your placement experiences to make sure you graduate as a confident, caring and responsive midwife.
Unique continuity of care placements
Half of your training will be spent on hands-on placements in NHS Foundations Trusts in Sheffield, Doncaster, Barnsley, Rotherham or Chesterfield. Our placements are the first of their kind in that they follow the latest NHS guidance on continuity of care. Working under the supervision of qualified midwives, you'll be given a caseload of patients and follow them through their pregnancy journey - from the community to the hospital delivery room. 
You will also have access to our state-of-the-art Clinical Skills Centre at the Northern General Hospital in Sheffield. Here, you can practise your clinical skills in mock wards in a safe and supportive environment.
Enhanced training
Our course will equip you for life as a newly qualified midwife. We're the only university to fully integrate the Professional Midwifery Advocate (PMA) post-qualification course into our teaching. PMAs offer extra well-being and supervisory support to midwives. This title is recognised by all NHS trusts and will help you stand out when applying for your first midwifery post.
We also offer "preparing to prescribe" training to help you understand the fundamentals of prescribing. This means you'll have the knowledge needed to complete the full Non-medical Prescribing qualification after you start practice.
NHS Learning Support Fund
As a Midwifery student, you can apply for the NHS Learning Support Fund to help support your studies, which you won't need to pay back. This includes a training grant of £5,000 per academic year, money back for clinical placement travel costs, as well as extra funding for students with dependent children or those facing hardship.
Accreditation
This course is accredited by the Nursing and Midwifery Council (NMC). It will give you the skills and knowledge you need to register as a midwife.
The content of this course meets the UNICEF-UK Baby Friendly Initiative Standards.
Modules
Core modules
Year 1 
Foundations of Health in Practice 
Foundations of Evidence for Midwifery Practice 
Introduction to professional midwifery practice 
Introduction to concepts of public health in childbearing
Year 2
Professional Midwifery Practice - The Midwife as a Leader 
Management of complex care and obstetric emergencies during pregnancy and childbirth
Developing concepts of public health for women and infants with complex and additional needs
Year 3
Professional Midwifery Practice – transition from student to qualified midwife
Management of Public Health and Infant Feeding 
Research Skills for Professional Midwifery Practice
The content of our courses is reviewed annually to make sure it's up-to-date and relevant. Individual modules are occasionally updated or withdrawn. This is in response to discoveries through our world-leading research; funding changes; professional accreditation requirements; student or employer feedback; outcomes of reviews; and variations in staff or student numbers. In the event of any change we'll consult and inform students in good time and take reasonable steps to minimise disruption. We are no longer offering unrestricted module choice. If your course included unrestricted modules, your department will provide a list of modules from their own and other subject areas that you can choose from.
An open day gives you the best opportunity to hear first-hand from our current students and staff about our courses. You'll find out what makes us special.
Duration
3 years full-time
Teaching
Your programme is 50 per cent theory and 50 per cent practice.
Modules show you how to apply theory to practice so you can learn how to be a safe and effective midwife. Once registered, you'll be ready to assume the responsibilities and accountability of a registered midwife.
We use a range of learning and teaching strategies so that you progressively acquire subject-specific knowledge, understanding and skills, as well as wider generic and postgraduate skills. You'll develop your skills through a variety of learning and teaching activities, including high-fidelity patient simulation training.
Teaching methods include lectures, skills workshops, seminars, group and individual tutorials, and independent learning and reflection.
We also use supervised clinical practice. This develops your practice through supervision and assessment of the required clinical skills, which you'll record as part of your portfolio.
We often invite guest speakers, including service users and carers. In addition to these visits, we use videos, patient stories and narratives and reports as teaching material.
Assessment
We use a variety of assessment methods, including examinations, essays, task-based assignments, presentations, clinical skills and a clinical practice portfolio.
Your career
After successfully completing this course, you'll have the skills needed to progress into a range of management, leadership, education or research roles.
As a qualified Professional Midwifery Advocate, you can go on to practise in the NHS, independently or in a private maternity hospital. The knowledge and skills you gain in our course would make you suitable for a role such as midwifery manager, consultant midwife, practice development midwife, or specialist clinical midwife. 
You might decide to continue your education by studying for a PhD. If you have an interest in teaching there are also opportunities to progress within higher education and teach the next generation of midwives.
Our Clinical Skills Centre is based at the Northern General Hospital, one of the largest hospitals in the country. The centre contains mock clinical wards, resuscitation suites, simulated theatres and teaching rooms with high-fidelity patient simulation training – a perfect facility for training the midwives of tomorrow.
Entry requirements
Minimum 2:1 undergraduate honours degree in a related subject. A minimum grade of 4/C in GCSE English Language and Science is also required.
We may also consider your application if you do not meet the standard academic requirements but have relevant professional experience and good academic potential.
Please note that the course does not accept international students.
IELTS grade 7 with minimum of 7.0 in speaking, reading and listening and 6.5 in writing or equivalent.
Fees and funding
Scholarships
Eligible English domiciled students can access the undergraduate financial support package from Student Finance England. You can access this support even if you have received loans to study an undergraduate or postgraduate course before.
NHS Learning Support Fund
Eligible students may also be able to apply to the NHS Learning Support Fund.
Bursaries
Depending on your household income you may also be eligible to receive support from the University of Sheffield Bursary Scheme.
You can apply for postgraduate study using our Postgraduate Online Application Form. It's a quick and easy process.
Any supervisors and research areas listed are indicative and may change before the start of the course.
Recognition of professional qualifications: from 1 January 2021, in order to have any UK professional qualifications recognised for work in an EU country across a number of regulated and other professions you need to apply to the host country for recognition. Read information from the UK government and the EU Regulated Professions Database.