2023 start
September
Periodontics
School of Clinical Dentistry, Faculty of Medicine, Dentistry and Health

In your second and third years you'll specialise in periodontics and gain extensive practical experience as you work with patients. This course prepares you for the specialty membership examinations in periodontics of the Faculty of Dental Surgery of the Royal College of Surgeons of Edinburgh (RCSEd).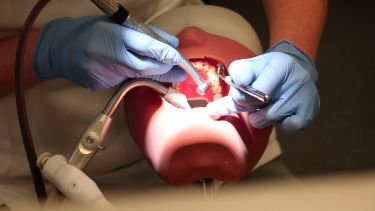 Course description
The DClinDent is suited to all dentists who wish to pursue specialist training in one of the restorative mono-specialities and wish to prepare for the speciality membership examinations in endodontics, periodontology and prosthodontics of the Faculty of Dental Surgery of the Royal College of Surgeons of Edinburgh (RCSEd).
This is a three-year full-time clinical taught postgraduate course delivered by specialists.  All three monospecialites run simultaneously with a common first year for all students across the three disciplines.  This enables a strong multi-disciplinary grounding across all aspects of restorative dentistry.  The second and third years are speciality-specific (Periodontics) and you will study and develop your knowledge and skills in close collaboration and interaction with students in the other two specialities.  This model fosters a broad learning experience, beyond that of your chosen speciality. A 1:4 clinical tutor-student ratio supports excellent clinical teaching, feedback/reflection and mentoring.
You'll have the opportunity to acquire knowledge and critical awareness of the issues that determine successful outcomes, informed by the latest research in restorative dentistry, in accordance with the requirements of the UK's GDC specialist curricula. We'll foster your ability to make sound judgements in complex and unpredictable situations, so you can plan and implement tasks at a professional level. You'll learn how to communicate clearly and professionally to specialist and non-specialist audiences
Distinct and carefully mapped opportunities to work and interact with colleagues in the other two restorative disciplines and other hospital trainees will give doctorate students the opportunity to develop their skills in a multidisciplinary environment.
The first year of the course gives you a solid grounding in endodontic, periodontal and prosthodontic treatments. You'll develop your clinical skills in our first-rate facilities and attend treatment planning clinics with course tutors. You'll also carry out the literature review component of the research project.
In the second and third years, you'll treat patients and focus on your specialism of periodontics. You'll carry out the experimental component of the research project and complete a thesis of publication standard.
The University of Sheffield has a memorandum of agreement with RCSEd on conjoint examinations in periodontics. This memorandum recognises this three-year programme as providing sufficient equivalence that the RCSEd will permit registered candidates to sit the Membership Examination in Periodontics. If successful, they will be granted the RCSEd Membership in Periodontics (the "MPerio RCSEd") and the DClinDent (Periodontics) from the University of Sheffield.  
Modules
Core modules
Year 1
Principles of Periodontal Treatment
Principles of Endodontic Treatment
Principles of Conservative Dentistry
Management of the Partially Dentate Patient
Research Project: Literature Review
Clinical Practice Programme: New Patient I
Year 2
Research Methods in Clinical Dentistry
Principles of Clinical Management
Clinical Practice Programme: New Patient II
Research Project: Experimental Work Data Collection
Clinical Practice Programme: Treatment of Own Patients
Speciality Programme in Periodontics
Year 3
Clinical Practice Programme: New Patient 3
Research Project: Completion and Write Up
Clinical Practice Programme: Treatment of Own Patients
Speciality Programme in Periodontics
The content of our courses is reviewed annually to make sure it's up-to-date and relevant. Individual modules are occasionally updated or withdrawn. This is in response to discoveries through our world-leading research; funding changes; professional accreditation requirements; student or employer feedback; outcomes of reviews; and variations in staff or student numbers. In the event of any change we'll consult and inform students in good time and take reasonable steps to minimise disruption. We are no longer offering unrestricted module choice. If your course included unrestricted modules, your department will provide a list of modules from their own and other subject areas that you can choose from.
An open day gives you the best opportunity to hear first-hand from our current students and staff about our courses. You'll find out what makes us special.
Duration
3 years full-time
Teaching
Lectures
Tutorials
Seminars
Demonstrations
Clinical skills laboratory sessions
Case-based discussion
Extensive practical clinical experience
Assessment
Competency-based continuous clinical assessments
Formal examinations
Oral presentations
Written assignments
Research project
Entry requirements
A university-accredited degree in dental surgery that enables the practice of dentistry and a minimum of two years of post-qualification experience in any sphere of restorative dentistry, including general dental practice.
You must also meet our health and Disclosure and Barring Service requirements for clinical courses.
Overall IELTS score of 7.0 with a minimum of 6.5 in each component, or equivalent.
Fees and funding
Additional costs
The following costs aren't included in your course fees:
dissertation binding
registration, travel and accommodation expenses for external conferences and meetings
examination fees and related expenses for the conjoint examination (if you decide to sit this) and any other external examinations such as the MRD, MFDS or ORE
Any supervisors and research areas listed are indicative and may change before the start of the course.
Recognition of professional qualifications: from 1 January 2021, in order to have any UK professional qualifications recognised for work in an EU country across a number of regulated and other professions you need to apply to the host country for recognition. Read information from the UK government and the EU Regulated Professions Database.