2024 start
September
Dental Public Health
School of Clinical Dentistry, Faculty of Health

Find out how oral health is protected around the world. Examine strategies for planning dental services, preventing disease and promoting healthy living.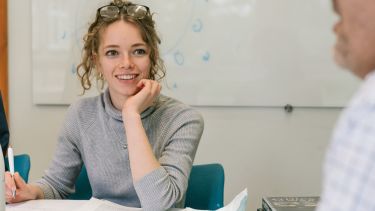 Course description
This course explains how oral health can be promoted and protected across society. You will learn how dental public health services are planned, delivered and managed, and how to find practical solutions to public health challenges.
You will study key concepts in public health, such as how environments and lifestyles can contribute to disease, and social attitudes towards health. You will also focus on specific topics in dentistry, including the epidemiology of oral diseases, strategies for promoting good oral health, and how to design a population's dental services. 
Examples from around the world will help you to understand how dental public health interventions work in practice. You will cover the economics of delivering public health services, the statistical techniques that are used to measure their impact, and policy issues such as affordable healthcare and social inequality.
The biggest part of the degree will be your dissertation project, where you will examine the latest research on a topic in dental public health, and consider the impact these findings could have on dental services or oral health.
Do you have a question? Talk to us
Book a 15-minute online meeting with our course leader to find out more information and ask further questions.
Accreditation
This course is accredited by the Royal College of Surgeons and recognised as excellent preparation for the internationally recognised Royal College of Surgeons Diploma in Dental Public Health.
Modules
Core modules:
Introduction to Public Health

This module will provide a foundation to Masters courses in Public Health and Dental Public Health providing an introduction to public health principles and practice. The module contrasts individualised and population approaches to improving health, discusses the relative influences of environmental and lifestyle determinants of disease. Individual sessions will provide highlights of other modules on the course illustrating how research methods, needs assessment, planning, evaluation, health protection, health promotion knowledge of organisations etc remain as important as they were in addressing 19th century poor housing and sanitation. The module will also consider international aspects of public health as well as the threats and opportunities posed by globalisation.

15 credits

Dental Public Health - Foundations and Theory

Dental Public Health involves the application of generic public health principles to the field of oral health. This unit will consider the theory of dental public health including oral epidemiology, oral health promotion and public health planning of dental services. Specific topics to be considered include: epidemiology of, and trends in,oral diseases and conditions, patterns of care, the theory of dental health education and oral health promotion and models of delivering care. The unit aims to provide a foundation of knowledge that will be applied in the second Dental Public Health unit where its practical application will be explored.

15 credits

Health Promotion

The module seeks to elaborate on the theoretical background of health promotion with the aim of developing a critical awareness of the key concepts, debates and methods. The module also aims to evaluate a range of health promotion strategies in different fields. Teaching will be presented through a series of lectures and workshops that will also include group discussion, case studies and examples, to develop the lecture themes, and problem-solving skills.

15 credits

Dental Public Health - Application and Critique

Dental public health involves preventing oral diseases, promoting oral health and improving quality of life through the organised efforts of society. The emphasis of the unit will be to develop students' analytical skills and application of theory to practical examples. This unit will cover health economics, screening, oral health promotion, international dental public health considerations and oral health needs assessment.

15 credits

Research Methods in Clinical Dentistry

Research methods are a key part of clinical dentistry. This unit will aim to introduce students to patient-centred research methods and will include evidence-based dentistry, critical appraisal, research governance and ethics, quantitative and qualitative research methods, statistical appraisal of research reports.

15 credits

The Sociology of Health and Illness

The sociology of health and illness module involves studying how society is structured by looking at the patterns of relationships that have an existence over and above individuals. In this respect it looks at how health is distributed as a consequence of how people are related to each other in a number of ways. This involves looking at how, for example social class, and gender relations result in varying patterns and experiences of health.

The module goes well beyond this however. In this module you will also undertake a journey to study social organisation. What this means is that you will be looking at how the collective ideas of, for example health, can shape what we think is good and bad about health. We will be exploring how our very ideas about health can be controlled and manipulated, and how these ideas are historically located.

Beyond this sociology is also the study of what things mean to people. A large part of the sociology of health involves understanding how people relate to each other both rationally and emotionally through what things mean for them. Not only this but we will explore how the meaning of health can shape encounters with various health professionals including doctors, health promoters, dentists and various different therapists.

15 credits

Introduction to Statistics and Critical Appraisal

The unit introduces students to basic concepts and techniques such as hypothesis testing and confidence interval estimation in statistics. Students will learn some simple statistical methods and the principles behind some advanced methods such as regression. It will equip students with the knowledge and skills necessary to understand and critically appraise statistics in research literature.The course is not aimed at 'doers' of statistics, that is, students who are going to design their own studies to collect and analyse their own data. It will not teach you how to analyse, present and report your own data.

15 credits

Health and Social Justice

A knowledge of ethical aspects of international health policy forms a basic tenet of a sound understanding of social science and health. This module aims to cover the common ethical concepts/theoretical frameworks of international health policy including social justice in relation to communities and the individual;affordable access; and accounting for inequalities. Students will be provided with the opportunity to engage in developing critical and reflective skills as they relate to major international public health issues.

15 credits

Dissertation

The aim of this module is to enable students to develop an understanding of both the process and skills required to undertake a supervised project. They will be required to identify relevant information on a topic and critically review the research of others. A range of approaches should be used to assess the impact this information will have on either the planning of services or improving health. The dissertation should demonstrate at least 2 of the four competencies which students must demonstrate in professional examinations. These are: Critically appraising and interpreting published literature, using epidemiological approaches to describe health status, obtaining and using relevant information in health service planning and, fourth, assessing the effectiveness and efficiency of health services.

60 credits
The content of our courses is reviewed annually to make sure it's up-to-date and relevant. Individual modules are occasionally updated or withdrawn. This is in response to discoveries through our world-leading research; funding changes; professional accreditation requirements; student or employer feedback; outcomes of reviews; and variations in staff or student numbers. In the event of any change we'll consult and inform students in good time and take reasonable steps to minimise disruption.
Open days
An open day gives you the best opportunity to hear first-hand from our current students and staff about our courses. You'll find out what makes us special.
You may also be able to pre-book a department visit as part of a campus tour.Open days and campus tours
Duration
1 year full-time
2 years part-time
Teaching
You will learn through lectures, small group work and independent study.
Assessment
You will be assessed through exams, coursework and a dissertation.
Your career
This course is great preparation for a PhD and a career in dental public health research. Lots of University of Sheffield graduates work as researchers at top universities and research institutes.
You could also go on to an international role advising NGOs on how to deliver their oral health programmes more effectively, and how to support individual nations.
Entry requirements
A dental or health-related degree or evidence of professional experience with at least one year's postgraduate experience.
Overall IELTS score of 6.5 with a minimum of 6.0 in each component, or equivalent.
Apply
You can apply now using our Postgraduate Online Application Form. It's a quick and easy process.
Any supervisors and research areas listed are indicative and may change before the start of the course.
Recognition of professional qualifications: from 1 January 2021, in order to have any UK professional qualifications recognised for work in an EU country across a number of regulated and other professions you need to apply to the host country for recognition. Read information from the UK government and the EU Regulated Professions Database.