2024 start
September
English Studies (online)
School of English, Faculty of Arts and Humanities

Taught entirely online, our MA in English Studies allows you to develop your knowledge of literature and literary linguistics from wherever you are in the world.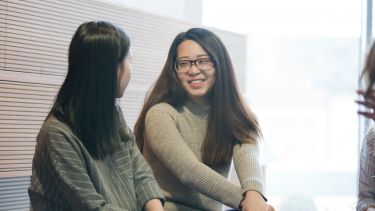 Course description
The English Studies MA course is taught completely online, so you can study while working, wherever you live. It's one of the only distance learning MA courses to be offered by a leading Russell Group institution.
You'll be supported by our expertise in areas including Renaissance literature, contemporary literatures and literary linguistics, deepening your knowledge of the field and preparing you for research study at PhD level, if that is your goal.
To support your learning you'll have access to a range of electronic resources, including scholarly journals, ebooks, the online Oxford English Dictionary, Oxford Dictionary of National Biography and Early English Books Online. Most class texts can be accessed electronically through the University libraries.
You'll complete one 30-credit core module, optional modules worth 90 credits and a dissertation worth 60 credits.
The transferable skills you will develop through this MA will give you a wide variety of career options when you graduate. Many students on the MA English Studies have used the programme to help them develop in their existing careers, such as education.
Modules
Core modules:
Research Methods In English Studies

This, the core module for the MA in English Studies, will combine an introduction to electronic, microfilm, and paper tools with an in-depth exposure to the way in which close reading can be aided by consideration of reception history, literary theory, historical backgrounds, and stage history. Students will learn by way of and demonstrate skills in online discussions. Students who complete this module will have developed skills that are transferable to various employment situations, especially publishing. The module will be very useful for and interesting to secondary and post-16 English teachers, particularly those whose degrees are not recent.

30 credits

Dissertation (MA in English Literature)

The Dissertation is an independent research essay equivalent to around 15,000 words on a topic chosen by the student relating to their programme of study on either the MA in English Literature, MA in Creative Writing or the MA English Studies. It will be supervised by a member of staff with an academic interest in the topic, and student and supervisor will meet approximately three times. The dissertation should present an argument that develops over a series of chapters/sections. It should demonstrate an ability to carry out effective research using appropriate methods of enquiry, as well as expertise in writing and the communication of research discoveries, and in organisation.

60 credits
Optional modules may include:
Writing Identities: Nation, Race, Empire

This module explores literature from the nineteenth to the twenty-first centuries with a focus on the role that nation, race and imperialism have in constructing individual and shared identities. We will look at texts that foreground relations between the local and the global from the height of the colonial age to the current period of neo-colonial (or postcolonial) relations. Students will encounter writing from a range of geographical locations and across a broad spectrum of styles, themes and voices. By making use of relevant concepts from literary and cultural theory we will consider issues including citizenship, community and migration, gaining an understanding of how concepts of nationhood, racial identity and imperialism have shaped modern culture.

30 credits

Shakespeare and Early Women Dramatists

This module will deal with the literary dialogue that developed as Shakespeare pondered drama written by women (such as the Countess of Pembroke) and women dramatists (such as Margaret Cavendish) transformed what they found in Shakespeare's plays. Not surprisingly, women dramatists (such as Elizabeth Cary) sometimes deal with topics that are not explicitly discussed by Shakespeare, as with inability of wives to divorce their husbands and what grounds there might be for divorce. The module will be very useful for and interesting to secondary and post-16 English teachers, particularly those whose degrees are not recent.

30 credits

Introduction to Literary Linguistics

This module will introduce students to some of the ways in which linguistic analysis can be used to explore the language of literary texts. Topics covered will include: nouns and verbs; sentence structure; vocabulary and register; narrative and point of view; reporting speech and thought. The emphasis will be upon a practical approach, and texts studied will be predominantly drawn from contemporary literature. Students will also be introduced to some of the recent debates about the value of literary linguistics. Students who complete this module will have gained a good understanding of the language of literature.

30 credits
All MA students can take optional modules from the online course, with the agreement of their course tutor.
The content of our courses is reviewed annually to make sure it's up-to-date and relevant. Individual modules are occasionally updated or withdrawn. This is in response to discoveries through our world-leading research; funding changes; professional accreditation requirements; student or employer feedback; outcomes of reviews; and variations in staff or student numbers. In the event of any change we'll consult and inform students in good time and take reasonable steps to minimise disruption.
Duration
2 years part-time
Teaching
This course is taught entirely online.
As part of the teaching component you'll be set regular study tasks, which you'll discuss online with your tutors and peers. You can post to discussion boards at any time within the duration of a task and tutors will give you regular feedback on your ideas.
Assessment
This MA uses a range of assessment types, including:
Short written pieces derived from your online discussions
Longer essays and projects
Project proposals
Reflective writing
Dissertation
Your career
Department
School of English
We're a research-intensive school with an international perspective on English studies. Students can specialise in their chosen subject, while taking modules from other programmes, forging interdisciplinary connections. We encourage you to get involved and to apply your academic learning, working in partnership with external organisations both within the city of Sheffield and beyond.
Our staff are researchers, critics, and writers. They're also passionate, dedicated teachers who work tirelessly to ensure their students are inspired.
We keep seminar groups small because we believe that's the best way to stimulate discussion and debate. Our modules use a range of innovative assessments and can include designing websites, writing blog posts, and working with publishing software, in addition to writing essays and delivering presentations.
We're committed to providing you with the pastoral support you need in order to thrive on your degree. You'll be assigned a personal tutor with whom you'll have regular meetings. You're welcome to see any of our academic staff in their regular student consultations if there's anything you want to ask.
Entry requirements
Minimum 2:1 undergraduate honours degree in English literature, linguistics or a related subject (eg history, philosophy, modern languages).
Overall IELTS score of 7.5 with a minimum of 7.0 in each component, or equivalent.
Fees and funding
There are a number of studentships and fee bursaries available, funded by the University. Deadlines for funding applications are usually in winter/early spring.
Apply
You can apply now using our Postgraduate Online Application Form. It's a quick and easy process.
Any supervisors and research areas listed are indicative and may change before the start of the course.
Recognition of professional qualifications: from 1 January 2021, in order to have any UK professional qualifications recognised for work in an EU country across a number of regulated and other professions you need to apply to the host country for recognition. Read information from the UK government and the EU Regulated Professions Database.