2024 start
September
Logistics and Supply Chain Management
Management School, Faculty of Social Sciences

Give yourself a competitive professional edge by learning how to identify the most efficient strategy to manage and improve international supply chains on our Logistics and Supply Chain Management programme, accredited by the Chartered Institute of Logistics and Transport and the Chartered Institute of Procurement and Supply.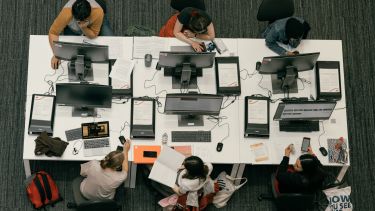 Course description
The modern supply chain is ubiquitous, reaching into many aspects of consumers' daily lives, and becoming increasingly important for companies. On our Logistics and Supply Chain Management MSc programme, you'll develop the skills to manage and improve international supply chains.
We will show you how the right technology and strategy can give you a competitive edge. We use case studies, practical software, industry links and company visits to enhance our teaching. 
By exploring operations, supply chain and green logistics and core sub-disciplines, you'll acquire expertise to make contributions in these systems and the skills necessary to become a future leader in the low carbon area. Green skills have been identified as a major gap by many governments and industry leaders. This programme will give you an important skill set in an area, likely to be key for future business and organisational leaders.
For the project dissertations, you can apply to do a company-based dissertation, working with an external organisation and getting experience. Recent dissertations include working with a large logistics company to reduce their fleet's carbon footprint and a report for an electrical company on the supply chain and market structure of their industry.
Accreditation
This course is accredited by the Chartered Institute of Logistics and Transport and the Chartered Institute of Procurement and Supply
Modules
Core modules
Sustainable Logistics and Supply Chain Management

Green logistics and supply chain management enables students to learn the latest development in this field, anchoring on the issues of sustainability and low carbon futures. Practices and challenges in decarbonisation of logistics and supply chain will be debated. The degree of success and failure of greening interventions will also be critically discussed. Future trends and direction in this area will be presented providing students with up to date knowledge and understanding of the subject area.

15 credits

Supply Chain Technology

Supply chain technology relates to various technology (e.g. Radio Frequency Identification (RFID)) used for logistics and supply chain to make it more efficient, productive and cost effective. This module will introduce students with a range of technology (e.g. RFID, Bar code etc.) and related practices within the logistics and supply chain operations. It will demonstrate the theories and principles underpinning supply chain technologies and give demonstration of the modern implementations in real life scenarios. This module will enrich the practical skills and knowledge relating to supply chain technology of students, in turn enabling them to immediately and effectively contribute towards a supply chain and logistics-related role.

15 credits

Logistics System

In broad terms, Logistics systems enable the right material to the right place in the right time. This module will introduce students with three major activities of logistics system including order processing, inventory management and freight transportation. It will demonstrate the theories and principles underpinning logistics systems and logistics managerial issues with real life scenarios. It will highlight the decision support methods and emerging trends in the global logistics. This module will enrich the practical skills and knowledge of students relating to logistics system, enabling them to immediately and effectively contribute towards a logistics and supply chain related role.

15 credits

Operations Management for Logistics and Supply Chain Management

Operations Management (OM) deals with the production of goods and services and relates closely to other business functions. It is concerned with the effective and efficient marshalling of the organisations resources to meet its objectives. OM is the business function that generates income and is therefore central to all commercial businesses. Operational Research (OR) is introduced on this module to support OM decision-making processes. It is a systematic and logical approach involving the construction and manipulation of mathematical models. The aim of this module is to take a general view of OM in all sectors of business and to provide a wider experience of OM and OR for the MSc in Logistics and Supply Chain Management.

15 credits

Supply Chain Accounting and Finance

The unit focuses on developments in supply chain accounting and finance. New organisational forms demand new approaches to accounting and finance in order to maximise opportunities arising out of collaborative forms of engagement. Firms compete with each other on the relative merits of their respective supply chains and therefore accounting and finance practices must support this reality rather than being rooted in traditional organisational settings. The unit will critically evaluate accounting and finance in this context and identify developing tools and techniques in the area.

15 credits

Global Supply Chain Leadership

Global Supply Chain Leadership is a module designed to enable students to learn the latest strategic thinking and issues in developing a strong leadership to manage a global supply chain. Some theories from strategic management, organisations, international business, HR and leadership will be used. This is a multi-disciplinary module that prepares students with the relevant knowledge and skill sets required in order to successfully manage a global supply chain.

15 credits

Supply Networks Management

This unit will enable students to understand the complexities of managing supply networks across different industries. It will introduce students to the relevant principles and management frameworks to effectively identify and analyze the problems associated with network management. The unit will highlight the importance of supply networks in successfully managing the businesses, and will enable students to evaluate emerging trends in current and future industry landscape. Practical examples and case studies will be discussed to provide practitioners' perspectives over various issues in supply networks management.

15 credits

Research Methods

The unit provides an introduction to a wide range of research methods used in management research. It prepares students for their dissertation by helping them to make an informed choice of objectives and methods (design, data collection and analysis) for thier own research. It also prepared students to review the literature and critically evaluate the methods used by others, to consider ethical issues around research and to prepare a plan for their dissertation research.

15 credits

Project Dissertation

This unit requires the student to research a topic appropriate to the field of management. The topic chosen by the student must receive approval from a supervisor. A dissertation written by the student should be delivered to the School at the conclusion of the study. The study, and the resulting dissertation, may take the form of an academic research or of a managerial problem-solving exercise. In either case, it requires the student to apply critical analysis and to set the issues within the context of appropriate management literature.

45 credits
You will take one of the following:
Strategic Supply Chain Management

This module focuses on critical topics in strategic supply chain management (such as corporate strategy-supply chain strategy interface, supply chain environment analysis, supply chain resources and capabilities, strategic supply chain choices, and sustainable supply chain strategy in action) that interest diverse business leaders (e.g. top executives, logistics and supply chain management professionals, purchasing and procurement managers, operations managers, and IT managers) in different industries and sectors.

The module starts by laying out the theoretical foundations of strategic supply chain management concepts and then uses industry examples and case analysis to demonstrate how strategic supply chain management that meets sustainability requirements works in practice. The module combines lectures, tutorials, and seminars to deliver learning outcomes. In addition, students will be presented with real-world business issues and work as a team of managers to propose appropriate supply chain strategies for managing their chosen business issue.

Ultimately, you will better appreciate the strategic nature and roles of supply chain management in contemporary business organisations. You will be able to analyse major strategic management concepts, theories, tools, and cases in supply chain contexts. The knowledge and analytical skills you acquire from the module will enable you to develop, resource, implement, and evaluate supply chain strategies that drive competitive advantage and sustainable performance.

15 credits

International Business Strategy

This unit introduces key theories of international business strategy - those concerning the rationales for international expansion, the choice of foreign market entry strategy and the impact on the economies of host countries. This theoretical understanding will then be illustrated and examined by reference to the way particular companies in contrasting industries have developed and implemented their international strategies. Particular attention will be devoted to the role played by the international business environment and its institutions, understanding and critique of various theories of the multinational enterprise, evaluating key strategic issues facing the multinational enterprise, and exploring inter-relationship between host government policies and multinational company strategies.

15 credits
The content of our courses is reviewed annually to make sure it's up-to-date and relevant. Individual modules are occasionally updated or withdrawn. This is in response to discoveries through our world-leading research; funding changes; professional accreditation requirements; student or employer feedback; outcomes of reviews; and variations in staff or student numbers. In the event of any change we'll consult and inform students in good time and take reasonable steps to minimise disruption.
Open days
An open day gives you the best opportunity to hear first-hand from our current students and staff about our courses. You'll find out what makes us special.
You may also be able to pre-book a department visit as part of a campus tour.Open days and campus tours
Duration
1 year full-time
Teaching
Lectures
Seminars
Case studies
Group work for collaborative learning
Web-based discussion groups
Assessment
Individual assignments
Group projects
Group presentations
End-of-semester examinations
Dissertation
Department
Management School
We have an international reputation for practical and real-world economics.
We are a leading business school with Triple Crown accreditation (AACSB, AMBA and EQUIS). These awards have been achieved through the outstanding quality of our programmes, research output, support for students and alumni, and links with industry. We have a world-class reputation for high quality teaching, ground-breaking research and cutting-edge thinking.
You'll be part of a dynamic and engaging business school that puts you and your future at the heart of everything it does. We balance a rigorous academic foundation with practical skills to ensure you are ready for the world of work.
We want you to develop skills so you can apply course content in a company setting. Our close links with organisations keep us in tune with the changing demands of the workplace. We know what employers are looking for.
You'll learn from experts - many are former industry professionals and they work closely with businesses. Because our academics are world-leading researchers, your education will draw on the most current management theories.
We want you to engage with the academic content, be conscientious and take an independent approach to study. We want you to be informed, innovative and proactive and do everything we can to support and enhance your career, steering you in the right direction with all the knowledge and skills you require.
You'll benefit from tailored on-site and online professional careers support, dedicated skills sessions and events with experts from world-leading organisations and professional bodies. These activities will help guide your personal and professional development to help you secure your dream placement, internship or graduate role.
Entry requirements
Minimum 2:1 undergraduate honours degree or an approved professional qualification.
Overall IELTS score of 6.5 with a minimum of 6.0 in each component, or equivalent.
Apply
We use a staged admissions process to assess applications for this course. You'll still apply for this course in the usual way, using our Postgraduate Online Application Form.
Any supervisors and research areas listed are indicative and may change before the start of the course.
Recognition of professional qualifications: from 1 January 2021, in order to have any UK professional qualifications recognised for work in an EU country across a number of regulated and other professions you need to apply to the host country for recognition. Read information from the UK government and the EU Regulated Professions Database.