Applications for 2024 entry are now open. Register your interest to hear about postgraduate study and events at the University of Sheffield.
2024 start
September
Molecular Medicine
School of Medicine and Population Health, Faculty of Health

Explore the molecular and genetic factors behind a range of human diseases. You'll carry out a five-month research project, which will give you invaluable laboratory experience. Our graduates go on to PhD study or work in related industries.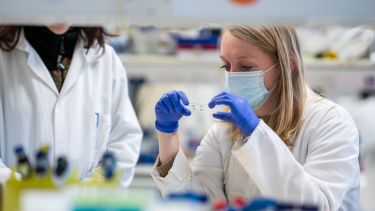 Course description
Lead academic: Dr Martin Nicklin
Designed for both animal and human biology and clinical graduates, this course focuses on the molecular and genetic factors of human diseases. Understanding these factors is crucial to the development of therapies.
The course will
provide you with an understanding of both the background and the current technical and scientific advances in biomedical science and therapeutic design
teach you how to use the latest technology to answer research questions
emphasise how experiments and experimental programmes are designed and interpreted
provide you with an experience of a hypothesis-driven laboratory research project alongside experts in the field
All the above will increase your employability in both industry and academia, as well as being an excellent route to a PhD. It will also provide valuable transferable skills that you can use in whatever career path you choose.
Do you have a question? Talk to us
Book a 15-minute online meeting with our course tutor to find out more information and ask further questions.
Modules
We're making some changes to this course and we're in the process of confirming the modules. The information on this page gives you an idea of the areas we expect the course to cover. There may be changes before you start your course. From May of the year of entry, formal programme regulations will be available in our Programme Regulations Finder.
Topics covered in this course include:
Molecular and cellular pathogenesis of human diseases.
Immunology of human diseases.
Mining bioinformatic data.
Mechanisms in chronic and age-related diseases.
Biologic therapy.
Small drugs for chronic disorders.
Molecular basis of cancer and cancer diagnosis.
The content of our courses is reviewed annually to make sure it's up-to-date and relevant. Individual modules are occasionally updated or withdrawn. This is in response to discoveries through our world-leading research; funding changes; professional accreditation requirements; student or employer feedback; outcomes of reviews; and variations in staff or student numbers. In the event of any change we'll consult and inform students in good time and take reasonable steps to minimise disruption.
Open days
An open day gives you the best opportunity to hear first-hand from our current students and staff about our courses. You'll find out what makes us special.
Duration
1 year full-time. We are unable to offer a part-time or distance learning study option for this course at present.
Our expertise
The impactful, high-quality research that we undertake influences how we teach across all of our postgraduate courses. In many areas, our research activity spans the spectrum from basic science up to practical clinical applications. We pride ourselves on collaboration between  clinicians and non-clinicians, and many of our courses include teaching from practising clinicians as well as research-active academics.
Why study molecular medicine with us?
Learn about the latest developments

Molecular biology has proved to be a rich source of new therapeutic agents in the last three decades. Recombinant proteins continue to be developed as successful drugs that principally target extracellular proteins such as cytokines and cell-surface receptors. Protein drugs are almost always injected. Bioinformatic data can now be used to identify new intracellular target proteins and investigate the networks of interactions that the target proteins participate in. It is becoming increasingly possible to model the surfaces of target proteins and use this information to model the interaction of low molecular weight, orally available drugs and even design drugs from scratch.

The completed Human Genome Project revolutionised the ways that we can consider human diseases. Single gene defects that cause rare genetic disorders took man-centuries to discover only 20 years ago. Now, because of next generation sequencing (NGS), single, novel gene defects can sometimes be identified in individual patients with only man-weeks of effort.

It will soon be economically plausible to sequence all of an individual's genes in the clinic. Common diseases, though, are not caused by single gene defects. Many clearly involve the interaction of many susceptibility genes with the environment.

An important part of the environment is the microbiome, the collective of microorganisms that inhabit an individual human. These organisms have strong interactions, many beneficial, with the immune system of the host and are fundamental to the understanding of common inflammatory diseases. It is now relatively simply to determine the composition of a microbiome, again by NGS.

Changes that do not alter DNA sequence, known as epigenetic changes, can modulate the activity of genes too. Genes can be regulated by micro-RNA transcripts. All of these changes can increasingly be analysed by dedicated NGS methods that will be used in clinics of the future to investigate common diseases and to identify the multiple defects that drive individual patients' cancers.

Our course aims to give you insights into all of these new developments and training in how to be a modern biomedical researcher.

A recent external examiner report praised the quality of this course:

This course provides an excellent training in a wide area of biomedical sciences. This explicitly includes soft skills such as critical thinking and processing of information that equips its graduates with the tools for successful careers in both academic and non-academic environments.
Teaching
Teaching consists of lectures supported by interactive tutorials, seminars, practical classes and simulations. You will attend departmental seminars and Research in Progress meetings as well as research group meetings once your project has started.
Our teaching covers practical scientific skills, data analysis skills, and an overview of the current literature. You'll also develop useful career skills such as presentation, communication, and time management. Practising clinical colleagues from the Medical School also contribute to this course.
Assessment
Modules are assessed by written assignments, oral presentations, and/or written exams.  The research project is assessed by an oral presentation and written dissertation. You may also have an oral examination of your research project.
Your career
A high proportion of students from this course progress to study for a PhD, while others go on to work in the biotechnology or pharmaceutical industries. Our graduates have gone on to work for many prestigious institutions throughout the world, including Cambridge Bioscience, Covance and ADC Biotechnology.
There are a wide variety of roles you can pursue, including:
PhD Studentship in Medical Science
Research work in Pharmaceutical/Biotech Industry
Laboratory management
Clinical trials management
Laboratory Research Assistant
Medicine
Clinical Scientist
Teacher of Science
Scientific Writer
Student profiles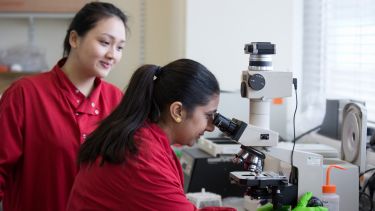 The medical school where my department is based is one of the best in the UK. This combined with the guest lecturers from the best academics and researchers in their respective fields made University of Sheffield my best choice for pursuing my master's degree.

My understanding of the molecular mechanisms of various diseases and disorders combined with the knowledge of emerging technologies in medicine would enable me to improve the understanding of various disease which would help in development of novel therapies in the field of medicine.

Amanpreet Kaur Bains

MSc Molecular Medicine
Entry requirements
You'll need at least a 2:1 undergraduate honours degree including a substantial element of human or animal biology.
We also accept medical students who wish to intercalate their studies.
Clinical applications pathway:
Overall IELTS score of 7.0 with a minimum of 6.5 in each component, or equivalent.
All other pathways:
Overall IELTS score of 6.5 with a minimum of 6.0 in each component, or equivalent.
Fees and funding
For the Clinical pathway use our course fee lookup tool.
The fees below are applicable to the Genetic Mechanisms, Microbes and infection, Experimental Medicine and Cancer pathways.
Apply
You can apply for postgraduate study using our Postgraduate Online Application Form. It's a quick and easy process.
If you're interested in the clinical applications pathway, please make preliminary contact with the pathway leader Dr Paul Collini.
More
information
Interested in the student perspective?
You can email our current students about their experiences of postgraduate study at Sheffield and our graduates are often available during open days.
Any supervisors and research areas listed are indicative and may change before the start of the course.
Recognition of professional qualifications: from 1 January 2021, in order to have any UK professional qualifications recognised for work in an EU country across a number of regulated and other professions you need to apply to the host country for recognition. Read information from the UK government and the EU Regulated Professions Database.