2024 start
November
Nursing Studies
School of Allied Health Professions, Nursing and Midwifery, Faculty of Health

Gain the clinical skills, knowledge and confidence needed to register as an Adult Nurse and deliver exceptional care to patients. This course is designed for students with an undergraduate degree and relevant work experience.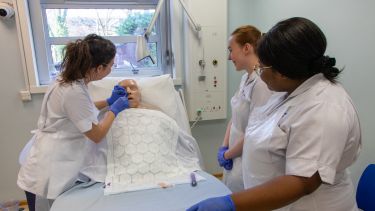 Course description
This two-year course is designed for passionate graduates who want to start a rewarding career in nursing. 
You will learn how to address the complex care needs of today's patients. The programme is led by a team of experienced healthcare professionals who will support you in developing the clinical knowledge and practical skills to practise safely and effectively.
We will also nurture your leadership, teamwork, communication, problem-solving and resilience skills – crucial for becoming a capable and compassionate nurse.
Clinical placements
Half of the course is spent on clinical placements in either hospitals or community settings in our region. Each student's placements are based in the same geographical area for the whole course so you will work under the supervision of experienced nurses in Barnsley, Chesterfield, Doncaster, Rotherham or Sheffield.
These real-world experiences run alongside sessions at our state-of-the-art Clinical Skills Centre at the Northern General Hospital in Sheffield. Here, you will practise clinical skills including venepuncture, catheterisation and NG tube insertion in a safe and supportive simulated hospital ward environment.
NHS Learning Support Fund
As an MMedSci Nursing Studies student, you can apply for the NHS Learning Support Fund to help support your studies. This includes a training grant of £5,000 per academic year, which you don't need to pay back, plus money back for clinical placement travel costs and extra funding for students with dependent children or those facing hardship.
Accreditation
This course is accredited by the Nursing and Midwifery Council (NMC). It will give you the knowledge, skills and experience you need to join the NMC register and practise as an adult nurse.
Modules
The course is 50 per cent theory and 50 per cent practice, based on four core units of study:
Foundations in Health & Nursing

This unit provides graduates from a related discipline with the opportunity to build upon their graduate skills to lay the foundations of a professional nursing career. Problem based learning is used to develop masterly skills of critical analysis which can be transferred to a supervised clinical placement, enabling students to critically engage with nursing theory and clinical practice in the contemporary health care setting. This unit includes an online Numeracy examination.
Foundations in Health and Nursing (Unit 1) plus Critical Analysis of Professional Practice Part 1A constitute Part One of this Programme and must be successfully completed to progress further.

30 credits

Developing Nursing Practice: Caring for people with acute and short-term needs

This Unit is designed to enable the students to develop their understanding of the evidence based principles which underpin contemporary nursing practice through focusing specifically on people with short-term acute and critical care needs. It offers a critical examination of the fundamental and specialist knowledge, skills and values required of the professional nurse and examines the nature of the nurse's contribution in ensuring safe and effective multi-disciplinary/multi-agency practice.

60 credits

Developing Nursing Practice: Caring for people with long term and complex care needs

This unit enables students to critically analyse the evidence based principles which underpin long term and complex care nursing interventions in the hospital or community setting. Academic assessment within this unit includes a Triple Jump Examination where students are allowed supervised, staged preparation prior to writing a care plan for a patient with a specific long term or complex care need under examination conditions and submission of a 3000 word assignment of critical reflection focussed on student engagement with people from different fields of nursing practice encountered in the context of adult nursing services: mental health, learning disability, child, maternal health/ mother and child.
Students must also submit a log of 16 exposures relating to the four fields of nursing (four exposures for each field) to demonstrate achievement of EU standards for Fields of Nursing Practice within an Adult Nursing Programme. Students are also required to complete a formative Numeracy Examination.
The following units constitute Part Two of this Programme and must be successfully completed to progress further:
Developing Nursing Practice: Caring for people with acute and short term care needs
Developing Nursing Practice: Caring for people with long term and complex care needs
Critical Analysis of Professional Practice Part 2B
Critical Analysis of Professional Practice Part 3C

30 credits

Transition to Professional Nursing Practice: Managing and Organising Care

This final unit of the programme prepares the student for transition to clinical practice as an autonomous and accountable registered nurse. Academic assessment for this unit includes the development and presentation of an academic poster focusing on an aspect of improvement in patient safety or quality of care. Additionally, students will deliver a small group teaching session on the planned implementation of their practice improvement, including a critical discussion of change management theories and leadership styles that can influence successful implementation. This unit also includes practice assessor online learning in preparation for registration. Transition to Professional Nursing Practice: Managing and Organising Care (Unit 4) and Critical Analysis of Professional Practice Part 4D constitute Part 3 of this programme

30 credits
The content of our courses is reviewed annually to make sure it's up-to-date and relevant. Individual modules are occasionally updated or withdrawn. This is in response to discoveries through our world-leading research; funding changes; professional accreditation requirements; student or employer feedback; outcomes of reviews; and variations in staff or student numbers. In the event of any change we'll consult and inform students in good time and take reasonable steps to minimise disruption.
Open days
An open day gives you the best opportunity to hear first-hand from our current students and staff about our courses. You'll find out what makes us special.
Teaching
This course uses problem-based learning to help you think about real clinical scenarios that nurses face. You will learn through classroom sessions, group work, student-led seminars, practical skills workshops, clinical placements, and independent study and reflection.
Assessment
You will be assessed through exams, presentations, written assignments and clinical assessments while on placement.
Your career
After successfully completing this course, you will be able to join the Nursing and Midwifery Council register and practise as an adult nurse.
Our graduates support adults with a range of needs. You'll be prepared for roles within general practice, hospitals, hospices and community settings.
Previous graduates have gone on to successful careers in NHS Foundation Trusts and charities, or more senior roles as Advanced Nursing Practitioners and managers. Others work in policy, research and education.
Student profiles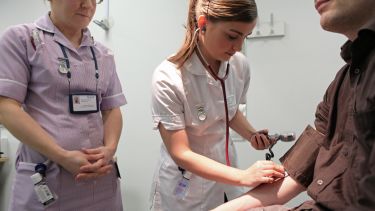 Being on placement is one of my favourite parts of the course. While on placement I feel really well supported both by the academic staff at the University and my mentor.

Samantha Treloar

PG Dip Nursing Studies
Entry requirements
This course is not presently open to international applicants. We are unable to accept international applications, as clinical placement capacity is confined by local staffing requirements.
You'll need a minimum 2:2 undergraduate honours degree in a relevant subject (eg social sciences, human sciences, biomedical sciences, public services). You'll also need GCSE Mathematics, English and Science.
You must meet the entry requirements for the programme prior to the course start date in November each year.
MMedSci work experience requirements

The MMedSci Nursing Studies (Adult) programme is designed specifically for graduates with a degree in a relevant subject and at least 650 hours of relevant experience. The course is similar to the last two years of the BMedSci course – think of your existing degree and experience as equivalent to the first year.

The 650 hours can comprise a range of experiences. We are looking for you to demonstrate experience working with the public in a 'helping' capacity, through paid employment, voluntary work, or a mixture of the two. The following list includes some examples, but isn't exhaustive:

Working as a healthcare assistant
Working as a support worker
Working as an advisor or teacher
Volunteering or working with homeless people or as a befriender to older adults
Supporting children or people with mental health problems or disabilities
Caring for a family member

If you are shortlisted we will ask you to provide verifiable proof of this experience. If you have cared for a relative or friend, you will need to ask a registered practitioner - such as a nurse, GP or social worker - to confirm your hours for them to be counted towards the 650-hour requirement.

If you have any questions about your experience please contact the admissions tutor using the details at the bottom of the page.
All students will require a Disclosure and Barring Service (DBS) check and health screening.
You'll be required to demonstrate an awareness of and commitment to the core values of the NHS which aspires to provide the highest standards of excellence, professionalism and public accountability, and gives priority to the interests of patients. We base our selection decisions on these values and how well you are able to express them on your application and performance on our selection day.
While we value your caring experience it is still important that you meet the academic entry requirements of the programme. If you are currently studying towards meeting the entry requirements then you are welcome to apply. If you meet first-degree requirements but aren't sure if your GCSE/equivalent qualifications are sufficient then please contact us to discuss this. To apply for the programme you must be able to demonstrate that you have a good standard of secondary education.
---
Overall IELTS score of 7.0 with a minimum of 7.0 in Listening, Speaking and Reading and 6.5 in Writing, or equivalent.
Fees and funding
Additional costs
You'll receive an occupational health screening, immunisations and a DBS check on our professional programmes. These will be covered by your tuition fee. We recommend that you subscribe to the DBS update service within 30 days of your disclosure being issued (which you would need to pay for). You would need to pay for any additional DBS checks that may be required if you do not subscribe to the DBS update service.
Clinical placements are a compulsory element of the degree, which means that there will be an additional expense for travel and accommodation (where applicable).
If you are a UK student you will be able to apply for reimbursement for excess travel expenses and dual accommodation costs for placements (i.e. in order to claim, the total cost of your daily return travel from your normal accommodation to your practice placement site must exceed the cost of your usual daily return travel to university).
If you travel to placement in your own motor vehicle, it is your responsibility to ensure that you have adequate insurance cover for all risks associated with its use (i.e. this includes obtaining business use on your insurance policy). This cannot be reimbursed.
For EU and international students the additional placement costs will be self-funded.
Any supervisors and research areas listed are indicative and may change before the start of the course.
Recognition of professional qualifications: from 1 January 2021, in order to have any UK professional qualifications recognised for work in an EU country across a number of regulated and other professions you need to apply to the host country for recognition. Read information from the UK government and the EU Regulated Professions Database.