2024 start
September
Polymer Chemistry
Department of Chemistry, Faculty of Science

On this specialist course in polymer science and engineering, learn how polymers are made and behave, how important polymer-based products are developed and how to use cutting-edge techniques to create new advanced materials. You'll develop specialist knowledge you can apply across many industries.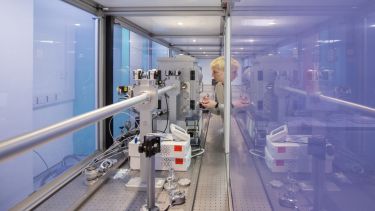 Course description
This specialist course in polymer science is designed to train and expose you to the most modern aspects of polymer science. This course is excellent preparation for a career in industry or continued academic studies at the forefront of polymer science.
Laboratory training covers a range of polymer synthesis methods and analytical techniques including size-exclusion chromatography, viscosity analysis, and IR and NMR spectroscopy. Other modules cover polymer design in a wide variety of industries, how polymer science can support sustainability, radical polymerisation, and biopolymers ranging from proteins and DNA to innovative drug delivery systems.
You will also take part in a research training programme and complete your own research project, which will take up a third of your course. Some students work on projects with an industry partner.
Modules
Core modules:
Essential Polymer Chemistry

This module introduces essential chemistry of polymers include polymer structure, synthesis of polymers, their characterisation and physicochemical behaviours. Topics include structural features of polymers and how these affect properties, synthesis of polymers via step and chain growth routes, determination of molar mass, and thermal characterisation.

15 credits

Polymer Laboratory

This unit covers the fundamentals of practical polymer construction and analysis. Topics covered include polymer synthesis via a number of methods (including chain- and step-reaction routes). A range of analytical techniques will also be introduced. These will include size-exclusion chromatography, viscosity analysis, and spectroscopy (IR and NMR). Experiments involving the modification and application of polymers will also be studied.

15 credits

Polymer Materials Science and Engineering

The aim of the module is to demonstrate the relationship between chemical structure, molecular organisation, microstructure and physical properties of polymers in the solid state, to draw parallels between synthetic polymers and biopolymers, to introduce the types of high-strength high-modulus polymers, their processing, properties and application, and to introduce liquid crystals and LC polymers.

15 credits

Technologies for Sustainability

Our current manufacturing technologies for chemicals, plastics and construction materials, are carbon intensive technologies and in order to maintain our living standards we need to decarbonise those technologies. In order to achieve this overarching aim, we need to make better use of fossil-based and renewable resources, and move towards a circular economy. Topics include the current status of the industry, life-cycle analysis, non-fossil fuel and feedstocks, and reuse reforming and recycling. This will be focused to the following main areas: Fine chemicals and commodities. This module will discuss the current state-of-the-art of fine chemicals and commodities manufacturing and how to minimize their impact to the environment. Plastic and polymers. Plastic waste is a growing problem and this course will discuss the challenges associated with current plastics, what the alternatives are and whether they will be feasible.

15 credits

Biopolymers and Biomaterials

Biopolymers and biomaterials encompass materials from proteins, DNA, and carbohydrates to natural or synthetic materials that have been engineered to interact with biological systems for medical purposes. The synthesis, assembly and function of various biomolecules is initially presented, along with details about how these molecules interact with other natural and synthetic materials. The module builds on these ideas to discuss specific uses, with an emphasis on biological and medicinal applications.  These include concepts such as biocompatibility, polymer based implants, bio-sensors, drug delivery, magnetic materials and medical devices.  At the end of this module you will be equipped to investigate more advanced concepts techniques involved in biopolymer and biomaterials research.

15 credits

Application Led Polymer Design

Polymers can be made with a wide range of properties that allows them to be used in a huge range of applications. In this module, you will undertake a series of case studies looking at how to design polymers for specific applications such as coatings, adhesives, and medical devices.

15 credits

Research, Presentation and Professional Skills

This module  aims to prepare students to become professional scientific researchers ready to conduct a research project.  Students will be taught how to retrieve and critically assess the existing literature on a particular research topic and to communicate this as a scientific review. They will learn about the attributes of an ethical researcher, scientific method and how to undertake research safely and responsibly and how to manage data. In addition, students will acquire professional skills relevant to their future employability and learn how to present scientific information. Students will undertake a training needs analysis supported by an experienced researcher so that they can take charge of their own development. This will allow them to tailor their subsequent training to the project they are about to undertake and to their wider individual professional and researcher development. On completion of the module students will have produced a portfolio of work that will form the  foundations of their training as a professional researcher.

30 credits

Polymer Research Project

A core unit in which the candidate undertakes an extended research project in an area of polymer chemistry  under thesupervisionthe supervision  of a member of academic staff. Projects use state -of-the-art research facilities. Students undertake a thorough literature search, receive a viva, and present a thesis

60 credits
The content of our courses is reviewed annually to make sure it's up-to-date and relevant. Individual modules are occasionally updated or withdrawn. This is in response to discoveries through our world-leading research; funding changes; professional accreditation requirements; student or employer feedback; outcomes of reviews; and variations in staff or student numbers. In the event of any change we'll consult and inform students in good time and take reasonable steps to minimise disruption.
Open days
An open day gives you the best opportunity to hear first-hand from our current students and staff about our courses. You'll find out what makes us special.
You may also be able to pre-book a department visit as part of a campus tour.Open days and campus tours
Duration
1 year full-time
Teaching
You'll be taught by our academics and research experts in a multi-disciplinary approach, to boost your expertise in a range of settings; through lectures, group workshops, laboratory practicals and by individual research projects.
12 weeks of your masters will typically be spent working on an individual research project alongside PhD students and experienced postdoctoral researchers. Here you'll gain first-hand experience as a researcher, and will have access to the outstanding research facilities in Sheffield.
Assessment
Our assessment methods are designed to support the achievement of learning outcomes and develop your professional skills, giving you confidence and experience in a range of activities . This includes coursework, examinations, assessed workshops, dissertation and viva.
Regular feedback is also provided, so you can understand your own development throughout the course.
Your career
Polymer chemistry is central to many different products – from oils, paints and coatings, to food, cleaning agents and cosmetics, to medical, agricultural and aerospace technologies.
University of Sheffield graduates have been hired by many companies in the polymer industry, including AkzoNobel, Infineum, Lubrizol and Scott Bader. Other employers of Sheffield chemistry graduates include consumer goods companies such as Unilever and Reckitt, pharmaceutical companies such as AstraZeneca and GSK, and chemical companies such as Croda and Dow.
This course is also excellent training for a PhD in polymer science. Sheffield chemistry graduates have secured postgraduate research positions at many of the world's top 100 universities.
Department
Department of Chemistry
The Department of Chemistry was one of the University's first departments when it was founded in 1905. Since then, four Nobel Prize winners have been Sheffield chemistry researchers or students. Several of our academics have been named Fellows of the Royal Society or been awarded prizes from other prestigious organisations such as the Royal Society of Chemistry.
Our chemistry researchers work on many of society's most pressing challenges, from antimicrobial resistance to environmental sustainability, and they collaborate closely with industry to find solutions and develop innovative new technologies.
Many of our academics bring first-hand industrial and business experience to their teaching, with many involved in current spin-out companies and collaboration with industrial partners.
In the Research Excellence Framework 2021, 95 per cent of our research was rated in the highest two categories as world-leading or internationally excellent.
We're home to state-of-the-art chemistry laboratories and several multi-million pound materials science facilities.
These include the Lord Porter Ultrafast Laser Spectroscopy Laboratory, which is used in studies ranging from energy transport in molecules and materials to artificial photosynthesis, the Soft Matter Analytical Laboratory, where scientists can study samples that are 100 times smaller than a human hair, and an array of state-of-the-art instrumentation in Sheffield Surface Analysis Centre.
Entry requirements
Minimum 2:1 undergraduate honours degree in chemistry, chemical physics, chemical engineering, materials or a related subject.
Overall IELTS score of 6.5 with a minimum of 6.0 in each component, or equivalent.
Apply
You can apply now using our Postgraduate Online Application Form. It's a quick and easy process.
Any supervisors and research areas listed are indicative and may change before the start of the course.
Recognition of professional qualifications: from 1 January 2021, in order to have any UK professional qualifications recognised for work in an EU country across a number of regulated and other professions you need to apply to the host country for recognition. Read information from the UK government and the EU Regulated Professions Database.