2024 start
September
Polymers and Composites
Department of Materials Science and Engineering, Faculty of Engineering

We bring together expertise from the Department of Materials Science and Engineering and the Department of Chemistry to teach you advanced topics on polymer and composite science and engineering.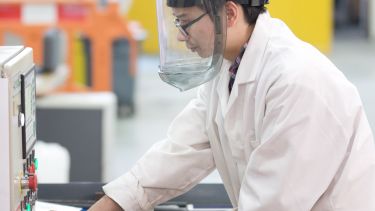 Course description
Polymers and polymer composites are increasingly important in our everyday life and can be found all around us. Recent advances include biodegradable plastics, 3D printing, plastic electronics, high-performance aerospace applications and many more.
Bringing together expertise from the Department of Materials Science and Engineering and the Department of Chemistry, and further supported by the Polymer Centre, the UK's largest single-university academic network in the field of polymers, this course will provide you with a thorough understanding of advanced topics on polymer and composite science and engineering.
Accreditation
Fully accredited by the Institute of Materials, Minerals and Mining (IoM3). Graduates will have the underpinning knowledge for later professional registration as a Chartered Engineer (CEng).
Modules
Core modules:
Essential Polymer Chemistry

This module introduces essential chemistry of polymers include polymer structure, synthesis of polymers, their characterisation and physicochemical behaviours. Topics include structural features of polymers and how these affect properties, synthesis of polymers via step and chain growth routes, determination of molar mass, and thermal characterisation.

15 credits

Polymer Laboratory

This unit covers the fundamentals of practical polymer construction and analysis. Topics covered include polymer synthesis via a number of methods (including chain- and step-reaction routes). A range of analytical techniques will also be introduced. These will include size-exclusion chromatography, viscosity analysis, and spectroscopy (IR and NMR). Experiments involving the modification and application of polymers will also be studied.

15 credits

The Physics of Polymers

The aim of the module is to introduce the general properties of thermoplastics: their molecular structures, their physical and mechanical properties, and how these properties can be modified by means e.g. of chemistry, additives and processing condition for engineering applications. The module also introduces the fundamentals of amorphous polymer solids and their behaviour under deformation. Topics covered include conformations of polymer chains, rubber elasticity, viscoelasticity, time-temperature superposition, glass-transition, yield, craze etc. After this module you are expected to understand the mechanical properties of typical polymers, as well as their dependence on temperature, time scale, and molecular structures.

15 credits

Composite Materials and Micromechanics

This course starts with an introduction to the different types of composite that exist in nature (e.g., bone, wood and shells) or are man-made (e.g., fibre or particulate reinforced composites; metal-matrix, ceramic-matrix orpolymer-matrix composites).  The course then moves on to discuss the reinforcing theories and examines the strengths and weaknesses of composite materials.  Its aim is to acquaint students with the constituents of composite materials, and to their modes of failure.  Matrix materials including thermoplastic and thermosetting polymers will be discussed in terms of their chemistry and physical properties.  Reinforcement types including fibres (e.g., carbon, glass and polymers) and particulate/nanoscale reinforcements (e.g., clay and graphene) will also be discussed in detail.  Finally, the failure modes of composites under impact and fatigue loading will be examined from a micromechanical view point and then globally as final component failure occurs

 

15 credits

Polymer Materials Science and Engineering

The aim of the module is to demonstrate the relationship between chemical structure, molecular organisation, microstructure and physical properties of polymers in the solid state, to draw parallels between synthetic polymers and biopolymers, to introduce the types of high-strength high-modulus polymers, their processing, properties and application, and to introduce liquid crystals and LC polymers.

15 credits

Design and Manufacture of Composites

This module is designed to provide you with an understanding of both the design and manufacture of polymer composites and is presented in two sections. First, design of composites is taught via tutorials and practicals on classical laminate theory and ESAComp software. An extended series of worked examples provides you with the basic tools you need to design effective composite parts. Second, manufacture of composites is taught via lectures. You will learn multiple routes for making composite parts alongside practical issues such as defects, machining/joints, failure, testing and non destructive testing, repair and SMART composites. 

15 credits

Polymer Processing

This module provides you with a detailed description of advanced polymer processing as applied to modern industrial applications. The fundamental concepts behind polymer melt dynamics and solidification will be explored and will provide the theoretical basis for the forming processes. The manufacturing processes themselves will be described giving you the ability to choose between them allowing informed decisions regarding commercial applications. The use of real-world case studies and reverse engineering examples in dedicated problem classes will provide practical experience of decision making in polymer processing.

15 credits

Technologies for Sustainability

Our current manufacturing technologies for chemicals, plastics and construction materials, are carbon intensive technologies and in order to maintain our living standards we need to decarbonise those technologies. In order to achieve this overarching aim, we need to make better use of fossil-based and renewable resources, and move towards a circular economy. Topics include the current status of the industry, life-cycle analysis, non-fossil fuel and feedstocks, and reuse reforming and recycling. This will be focused to the following main areas: Fine chemicals and commodities. This module will discuss the current state-of-the-art of fine chemicals and commodities manufacturing and how to minimize their impact to the environment. Plastic and polymers. Plastic waste is a growing problem and this course will discuss the challenges associated with current plastics, what the alternatives are and whether they will be feasible.

15 credits

Project

Students undertake a project on a topic agreed with their allocated academic supervisor; supervisor allocation takes into accounts students' specific interests. The project is an original research investigation carried out within a research group in the Department; to develop students' abilities to interact within a research group a defined piece of group work is undertaken early in the project. All projects include a literature survey involving students reading original papers and review articles from the scientific and technical literature. Most projects involve extensive laboratory work although some may be based primarily on a survey of the published literature or computational studies. The assessment of the project includes assessment of the group work, an interim report and final report along with a presentation on the work to staff and other students and an oral examination. Conduct throughout the project is also assessed.

60 credits
The content of our courses is reviewed annually to make sure it's up-to-date and relevant. Individual modules are occasionally updated or withdrawn. This is in response to discoveries through our world-leading research; funding changes; professional accreditation requirements; student or employer feedback; outcomes of reviews; and variations in staff or student numbers. In the event of any change we'll consult and inform students in good time and take reasonable steps to minimise disruption.
Open days
An open day gives you the best opportunity to hear first-hand from our current students and staff about our courses. You'll find out what makes us special.
You may also be able to pre-book a department visit as part of a campus tour.Open days and campus tours
Duration
1 year full-time
Teaching
Working alongside students and staff from across the globe, you'll tackle real-world projects, and attend lectures, seminars and laboratory classes.
Assessment
You'll be assessed by formal examinations, coursework assignments and a dissertation.
Department
Department of Materials Science and Engineering
Materials science and engineering is an extraordinarily interdisciplinary subject that underpins so many aspects of our society and has a huge impact in pretty much all engineering sectors from aerospace, to automotive, to the biomedical sciences, the energy sector and beyond.
Sheffield has long been a centre of materials innovation. With a history of research excellence that can be traced back more than 135 years, this department was one of the foundation stones of the University.
Being at the centre of such a diverse subject area, our researchers at Sheffield are solving some of the most pressing challenges faced by society.
Our work covers solutions across all sustainability challenges from biodegradable polymers, to clean energy, to recyclability and decarbonisation within the foundation industries, to novel low-energy methods for the manufacture of materials for energy. For example we are champions of atomic energy leading the way towards effective solutions for nuclear waste immobilisation as well as designing the materials to enable atomic fusion thus providing solutions to green energy.
We strive to give you a valuable and unforgettable university experience. By accessing state-of-the-art multidisciplinary engineering laboratories, direct contact with industrial partners, and excellent learning resources, you will be given the opportunity and support to develop the skills you need to succeed at university and flourish in your career once you graduate.
Student profiles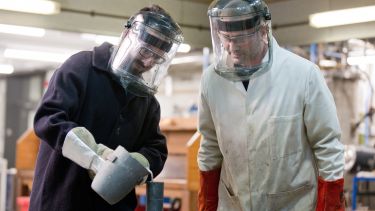 I came from Mexico to study my masters degree at the University of Sheffield because it has one of the best materials science departments in the UK. As the University is a member of the Russell Group, I also knew that employers everywhere in the world would recognise the quality of my degree.

Jorge Luis Vazquez Olavarrieta

MSc (Eng) Polymers and Polymer Composites Science and Engineering
Entry requirements
Minimum 2:1 undergraduate honours degree in materials, a physical science (chemistry or physics) or a related engineering subject.
It will be an advantage if applicants have a background in polymers and/or composites.
Overall IELTS score of 6.5 with a minimum of 6.0 in each component, or equivalent.
Apply
You can apply now using our Postgraduate Online Application Form. It's a quick and easy process.
Any supervisors and research areas listed are indicative and may change before the start of the course.
Recognition of professional qualifications: from 1 January 2021, in order to have any UK professional qualifications recognised for work in an EU country across a number of regulated and other professions you need to apply to the host country for recognition. Read information from the UK government and the EU Regulated Professions Database.