Applications for 2024 entry are now open. Register your interest to hear about postgraduate study and events at the University of Sheffield.
MPH
PG Certificate
PG Diploma
2024 start
September
Public Health (Management and Leadership)
School of Medicine and Population Health, Faculty of Health

This course is ideal for those who aspire to be leaders in their healthcare organisations. You'll study health needs and inequalities, and you'll explore the principles of management and organisation theory in terms of public health and health policy and systems.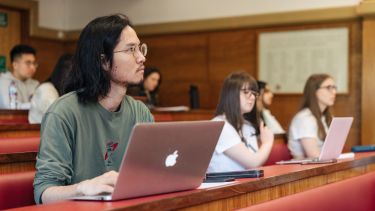 Course description
This course provides a combination of public health knowledge and management science.
On the course, you'll study health needs and inequalities and be introduced to gathering and appraising evidence through research and needs assessment, as well as economic evaluation and healthcare financing. You'll explore the principles of management and organisation theory and specific challenges relating to public health, as well as health policy and health systems.
We combine public health, management, health services research and health economics, which is not available on an MBA or a pure MPH or MSc programme.
Intercalation
We accept medical students who wish to intercalate their studies. Find out more on the Medical School's website.
Continuing Professional Development
All modules on this course can be studied as standalone CPD modules. It is possible to complete standalone modules and then apply to transfer to an MSc/PGDip/PGCert qualification. Any time spent on the CPD route counts toward the time-limit a student has to complete their chosen qualification.
Accreditation
Accredited by the Agency for Public Health Education Accreditation (APHEA)
Modules
Core modules:
Dissertation

The unit enables students to develop an understanding of the processes and the skills required to undertake a supervised research project in public health. Having successfully completed the unit, a student will be able to: demonstrate researcher skills commensurate with the achievement of a Master's degree; demonstrate independence of inquiry; produce a cogently argued piece of writing that demonstrates researcher competence and the ability to operate independently; address issues of research design, methodology, ethics and theoretical arguments, and locate their own research in relation to these issues.

45 credits

Health Needs Assessment, Planning and Evaluation

Assessing health needs and tackling health inequalities are key aspects of public health work at the local, national and international level. This module will provide students with an understanding of the main approaches to, and methodologies for, conducting Health Needs Assessments and will equip them with an understanding of programme planning, and the monitoring and evaluation of programmes.

15 credits

Introduction to Research Methods

This module is offered across several programmes. Learning activities for the module are tailored to your individual specialist areas to provide learning that is relevant and specific to your chosen degree programme.



This module provides students with an introduction to quantitative and qualitative research methods; it covers all stages of the research process from planning and design and research ethics and public and patient involvement, through to data collection and analysis and dissemination stages. It is specifically designed for students who do not have prior research experience and would be suitable for students from a range of backgrounds, but is particularly relevant to those interested in applied health related research. The course also provides a foundation for further learning in specific research methods.

15 credits

Knowledge Mobilisation in Healthcare

Knowledge mobilisation is a generic term used for a number of activities that involve the use, production and knowledge management. Although the need for effective implementation of evidence-based interventions has been well documented, little is understood about how this is best achieved. The module will equip students with an understanding of the practical and theoretical challenges of mobilising knowledge and its consequences for healthcare delivery focused on problem solving and critical thinking. The focus will be on the distinction between how to mobilize (do) and how to understand (study) knowledge to action, through a critical appraisal of both approaches.

15 credits

Economic Evaluation and Healthcare Financing

This module introduces the basic principles of economic evaluation as applied to healthcare interventions and health care financing. The core part of the course focuses on economic evaluation and covers the different types of evaluations that are available and the various stages and techniques that need to be applied to generate results. As alternative techniques are described, the strength and weakness of each will be highlighted, with the students being encouraged to critically appraise their appropriateness to different contexts. The course also introduces the concepts of markets and market failure, models of health care financing and objectives of health care systems. These topics draw on economic theory and use it to identify possible solutions to health system problems. Health system performance measurement will also be covered, linking the economic and health system content to empirical studies.

15 credits

Leading and Managing Health Services

This module, which is delivered face-to-face, integrates the principles of managing public health care services, quality improvement and leadership on rapid changes and advances in regional, national and international contexts. Principles of public health management will be demonstrated through case-based teaching, in order to enable students to understand how to solve common managerial and improvement project related problems. Cases will be used to illustrate the complexity of the operating environment for public health and health care services. Students will be supported in developing critical thinking about the relative effectiveness of different approaches to management and improvement by analysing their own health care services (or another service) within a broader cultural, political and policy context. Over the course of the module students will work in small groups in class to gain practical understanding of how to apply management and leadership theories and styles in different health care contexts.

15 credits

Using Policy to Strengthen Health Systems

The module seeks to build on students' own experiences and knowledge of policy and public health systems. During the module, you will work individually and also in groups to develop a critical understanding of policy within particular public health systems. You will consider how policy to strengthen public health systems is developed and how improvements might be targeted at any combination of the regional, national, district, and community levels.

In the module, policy is interpreted broadly as 'purposeful and deliberate actions' through which efforts can be made to reshape or address issues within public health systems and is about power and politics (cf. Gilson, 2012). Public health systems are understood both as public health systems (covering, for example, health protection, health promotion and health care public health) and, more narrowly, as health care systems. The module is suitable for students with a broad public health and health care knowledge, but also for those with more limited experience.

15 credits
Optional modules:
Epidemiology

Epidemiology is the discipline underpinning both effective public health practice and research into the causes, control and prevention of disease. Knowledge and understanding of epidemiological concepts and methods is a basic requirement for effective public health practice.

This module will provide an introduction to epidemiology covering key epidemiological concepts; measures of disease; association and causation; confounding and bias. It will also introduce research designs including cross-sectional, ecological, cohort, case-control and intervention studies and introduce population health measures such as screening.

15 credits

Key Issues in Global Public Health

This module introduces contemporary and historical public health discourses, policies and practices, before critically examining their practical and theoretical underpinnings. The module goes on to explore the role and actions of key global health players (e.g. individual governments, United Nations organisations, bilateral and multilateral partnerships, local and international non-governmental organisations and health care industries), and discusses the social determinants of health, considering how they might be tackled for improved health equity and social justice. The module then provides an introduction to major public health challenges in the contemporary world, illustrated through health issues (e.g. malnutrition, maternal and child health, mental health, sexual and reproductive health), socio-political issues (e.g. gender equity, trade, conflict, famine), and environmental issues (e.g. climate change, urbanisation, food security, waste management). Lastly, the module concludes by looking forward, in light of contemporary trends, whilst reflecting on lessons learnt, in order to sustainably improve global health in the future.

15 credits

Introduction to Statistics and Critical Appraisal

The unit introduces students to basic concepts and techniques such as hypothesis testing and confidence interval estimation in statistics. Students will learn some simple statistical methods and the principles behind some advanced methods such as regression. It will equip students with the knowledge and skills necessary to understand and critically appraise statistics in research literature.The course is not aimed at 'doers' of statistics, that is, students who are going to design their own studies to collect and analyse their own data. It will not teach you how to analyse, present and report your own data.

15 credits

Disaster and Emergency Management

Disasters and emergencies can strike any community. It is not a question of whether a disaster will occur but when. However, the likelihood, scale and impact of a disaster can be minimized through appropriate emergency planning, preparation and response by the community, governmental and non-governmental organisations. This module will cover the key concepts of disaster and emergency management, explore some of the contemporary issues and develop students' knowledge and skills in this field.

15 credits

Communicable Disease Control

Health protection is one of the cornerstones of public health. The control of communicable diseases is one of the major functions of health protection. This module will cover the principles of surveillance, outbreak management, immunisation programmes, and prevention and control of infectious diseases. It will also present a broad range of common infectious disease topics including HIV, tuberculosis, meningitis, diarrhoeal illnesses and hospital acquired infections. This module would provide the essential foundations for students intending to undertake the Faculty of Public Health Part A/Diploma examination.

15 credits

Health Promotion

The module seeks to elaborate on the theoretical background of health promotion with the aim of developing a critical awareness of the key concepts, debates and methods. The module also aims to evaluate a range of health promotion strategies in different fields. Teaching will be presented through a series of lectures and workshops that will also include group discussion, case studies and examples, to develop the lecture themes, and problem-solving skills.

15 credits

Public Health Informatics

Public Health Informatics is a module designed to look at how informatics and information technology can be used to help address some of the major issues in public health. Public health informatics was traditionally defined as the systematic application of information and computer science and technology to public health practice, research, and learning (Yasnoff, 2000). In this module, we examine this rapidly changing field, using a combination of lectures, individual and group exercises and self directed learning. Key issues around the local, national and international contributions that technology can make to public health are critically examined and students are given a theoretical and practical grounding in this increasingly important discipline.

15 credits

Managing People in Organisations

This module aims to introduce students to the core aspects of Human Resource Management (HRM), using research-informed teaching to critically assess HR tools and techniques, engage with current debates in the field, and provide a reflective analysis of HRM today. Supporting aims of the module are to enable participants deepen their knowledge and understanding of HRM issues, to develop insights into the changing role of HRM practitioners in the context of ongoing organisational change, and to think about the issues involved in 'live' HRM problems in organisational contexts. The module covers some core building blocks in HRM to introduce concepts to students, moving on to examine some thematic themes, with the overall aim of introducing students to key issues and debates in HRM today. This module relates to the CIPD 'People Management and Development' standard.

15 credits

Systematic Reviews and Critical Appraisal Techniques

To familiarise students with principles of systematic reviews and critical appraisal and the acquisition of skills necessary to undertake such work. The unit includes an introduction to information systems; principles of systematic literature reviews and critical appraisal; search strategies; computer-assisted search methods; practicalities of writing up the results of a systematic review; introduction to Meta- analysis; and dissemination of findings.

15 credits
The content of our courses is reviewed annually to make sure it's up-to-date and relevant. Individual modules are occasionally updated or withdrawn. This is in response to discoveries through our world-leading research; funding changes; professional accreditation requirements; student or employer feedback; outcomes of reviews; and variations in staff or student numbers. In the event of any change we'll consult and inform students in good time and take reasonable steps to minimise disruption.
Open days
An open day gives you the best opportunity to hear first-hand from our current students and staff about our courses. You'll find out what makes us special.
Duration
1 year full-time
2 years part-time
Teaching
You will learn through lectures, seminars, tutorials and independent study.
Assessment
You will be assessed through coursework, exams and a dissertation.
Your career
The relevance of management and governance in international public health has been recognised as one of the greatest challenges facing governments in developing and newly-democratised nations.
In developed countries, the challenges of running large health and social care services requires an understanding of both public sector policy and strategic management, a combination that cannot be obtained from a business degree such as an MBA.
The MPH in Management and Leadership has been designed to provide its graduates with all the skills and knowledge they require to take up employment in the following sectors:
healthcare and public health organisations in developed and developing countries
governmental organisations
voluntary organisations, NGOs and development agencies
commercial health care or health service providers
The course is also suited to those wishing to undertake a research degree or to take up a post in an academic setting.
Entry requirements
You'll need at least a 2:1 undergraduate honours degree in a relevant subject or a relevant medical degree.
We may also consider your application if you do not meet the standard academic requirements but you have considerable relevant professional experience in public health.
We also accept medical students who wish to intercalate their studies.
Overall IELTS score of 6.5 with a minimum of 6.0 in each component, or equivalent.
Apply
You can apply for 2024 postgraduate study using our Postgraduate Online Application Form. It's a quick and easy process.
Any supervisors and research areas listed are indicative and may change before the start of the course.
Recognition of professional qualifications: from 1 January 2021, in order to have any UK professional qualifications recognised for work in an EU country across a number of regulated and other professions you need to apply to the host country for recognition. Read information from the UK government and the EU Regulated Professions Database.