2024 start
September
Semiconductor Photonics and Electronics
Department of Electronic and Electrical Engineering, Faculty of Engineering

Set yourself up for a career in the fast-growing field of modern optoelectronics and photonics engineering. If you're already working in the industry, this course will help you take your career to the next level.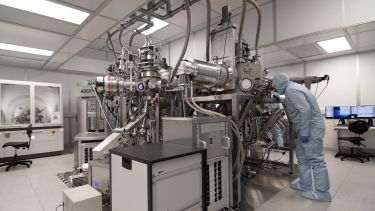 Course description
This course covers the fundamentals and cutting-edge research in areas such as GaN materials and devices (behind the solid state lighting LED revolution), nanoscaled materials and devices, and photonic device manufacture.
You will develop a comprehensive understanding of the materials and device theory plus practical experimental skills in extensive semiconductor cleanroom lab work, giving you a competitive edge in the jobs market.
Accreditation
Modules
Opportunities exist for dissertation studies to be carried out in collaboration with other university research centres or with industrial organisations. Examples of previous projects include:
Selective area intermixing of quantum dot laser materials.
Wavelength agile GaAs based distributed feedback lasers.
Modelling and simulation photonic crystal surface emitting laser.
Characteristic of III-nitride based ultra energy efficient emitter for solid-state lighting.
Characterisation of III-V solar cells.
Core modules:
MSc Investigative Research Project

The aim of this module is to provide a structured individual project to enable you to carry out practical and/or theoretical work that underpins your academic studies and allows for the acquisition and demonstration of a wide range of research skills.

60 credits

Semiconductor Materials

This module describes the basic physical properties (structural, optical, electrical) of semiconductor materials used in the electronic and opto-electronic industries, and in semiconductor based research. The aim is to equip you with a comprehensive background understanding of the physical, structural, optical, electronic properties of semiconductor materials used in modern electronic and opto-electronic devices. There is a laboratory assignment where characterisation of epitaxially-grown material will be performed.

15 credits

Principles of Semiconductor Device Technology

The unit describes the basic structure of materials and their relationship to the requirements of semiconductor devices for future applications, leading to methods of crystal growth, fabrication, modelling and characterization. The focus is on devices that underpin CMOS and its future evolution in AI: starting with the MOSFET, and leading on to future devices such as TunnelFET, Negative Capacitance FET and the Resistive Random Access Memory (RERAM).

15 credits

Energy Efficient Semiconductor Devices

The efficient use of energy is of critical importance to future growth and well-being, providing a mechanism to reduce global emissions and to offset the impact of increasing fuel costs. Semiconductor devices can play can crucial role in this key global challenge, providing options which can both improve energy efficiency and also means for renewable energy generation. The course describes four key sectors where semiconductor devices are making considerable impact on energy efficiency.

15 credits

Compound Semiconductor Device Manufacture

The module will cover the theory and practice of the growth of compound semiconductor epitaxial layers, the characterisation of those layers and the design, fabrication and characterization of compound semiconductor devices such as LEDs, laser diodes, and transistors. You will gain practical experience in all aspects of the creation of a compound semiconductor device including the safety issues associated with device manufacture. You will also obtain a broad understanding of the global importance of compound semiconductor technology manufacturing.

30 credits

Engineering Research and Design Project

The aim of this module is to equip students with skills, knowledge and experience needed to carry out research independently and as a team for solving engineering problems set in a range of globally applicable contexts.  As members of a team, students will develop and demonstrate a range of skills that will enhance their ability to tackle research projects and add value to their employability.  Specifically, students will develop skills in the areas of critical literature review, engineering design, project management, team working, and communication.

15 credits
Optional modules - two from:
Power Semiconductor Devices

This module will look at power semiconductor devices: physics, technology, characteristics, packaging and application.

15 credits

Advanced Integrated Electronics

This module will advance your understanding of analogue and digital VLSI design. It concentrates on issues such as power consumption, the effect of interconnect, non-CMOS logic, circuit layout, analog amplifiers, data converters, and using Spice.

15 credits

Nanoscale Electronic Devices

The course aims to provide students with an understanding of the science and technology which underpins modern electronic device technology, with an emphasis on integrated electronic devices at the nanoscale.

15 credits

Optical Communication Devices and Systems

The course examines the behaviour of the components in a communications system and the way in which their design and individual performance is determined by that of the system requirements.

15 credits

Packaging and Reliability of Microsystems

The module describes the methods used to fabricate microsystems. It also introduces and develops an understanding of the reliability and failure mechanisms in the devices and resulting microsystems.

15 credits
The content of our courses is reviewed annually to make sure it's up-to-date and relevant. Individual modules are occasionally updated or withdrawn. This is in response to discoveries through our world-leading research; funding changes; professional accreditation requirements; student or employer feedback; outcomes of reviews; and variations in staff or student numbers. In the event of any change we'll consult and inform students in good time and take reasonable steps to minimise disruption.
Open days
An open day gives you the best opportunity to hear first-hand from our current students and staff about our courses. You'll find out what makes us special.
You may also be able to pre-book a department visit as part of a campus tour.Open days and campus tours
Duration
1 year full-time
Teaching
Research-led teaching
Lectures
Laboratories
Seminars
Tutorials
A large practical module covers the design, manufacture and characterisation of a semiconductor component, such as a laser or light emitting diode. This involves background tutorials and hands-on practical work in the UK's National Epitaxy Facility.
Assessment
Assessment is by examinations, coursework, and a project dissertation with oral presentation.
Department
Department of Electronic and Electrical Engineering
We've been at the forefront of research and teaching within the field of electrical engineering for over a century, and in electronics since its advent in the mid 20th century. The use of electronics has become mainstream in a very short period of time, as we find innovative solutions to meet our everyday needs and new challenges.
Our MSc postgraduate taught degrees provide you with an opportunity to further your knowledge of electronic and electrical engineering, while potentially specialising in a specific field of the subject, enabling you to pursue a particular direction in either your chosen career or further study.
Whether you're interested in the latest communication systems, cutting-edge semiconductor research, or developing your understanding of electrical machines and drives for the vehicles of the future, studying with us will help you grow as a student and researcher. 
The department offers postgraduate students a choice of four one-year, full-time masters courses, which combine taught study on a wide range of modules and an exciting individual research project. You'll learn from our academic experts, the majority of whom have strong links with partners in industry. 
Our state-of-the-art teaching laboratories allow you to gain exposure to the world-leading research environment of the department whilst undertaking your project, and get hands on with equipment used in industry as preparation for your career. All of our courses are also accredited by the Institution of Engineering and Technology.
Entry requirements
Minimum 2:1 honours degree in electronic and electrical engineering, physics, maths and other branches of engineering involving significant mathematical competence and technical modules.
You should have a strong background in maths modules and in technical modules related to semiconductors and/or electronics.
We will need evidence of relevant work/practical experience and strong performance within a major individual project during your undergraduate degree.
Overall IELTS score of 6.5 with a minimum of 6.0 in each component, or equivalent.
Apply
You can apply now using our Postgraduate Online Application Form. It's a quick and easy process.
Any supervisors and research areas listed are indicative and may change before the start of the course.
Recognition of professional qualifications: from 1 January 2021, in order to have any UK professional qualifications recognised for work in an EU country across a number of regulated and other professions you need to apply to the host country for recognition. Read information from the UK government and the EU Regulated Professions Database.