2024 start
September
Solar Cell Technology
Department of Physics and Astronomy, Faculty of Science

Support the shift to renewable energy and develop skills to help meet the demand for scientists with expertise in solar. You'll cover the fundamental materials science and analyse photovoltaic system data.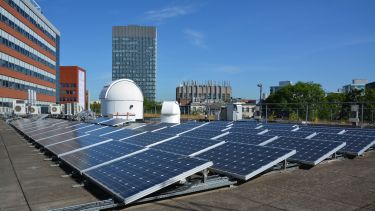 Course description
This course is designed to train physical science and engineering graduates to develop new photovoltaic devices and test their effectiveness as a global energy resource. It spans fundamental materials science through to PV system deployment. This means you can learn how to fabricate and assemble solar technologies, and how to measure their effectiveness, in a range of operating conditions and at various scales.
Lecture modules are designed to teach you the concepts behind photovoltaic materials and solar energy generation. In practical sessions, you will learn how to characterise materials used in solar cells and build them into devices. You will also have access to our rooftop solar testbed, where solar cells can be assessed in real-world conditions. Computer programming classes will teach you how to analyse solar energy systems, drawing on expertise from the scientists at Sheffield Solar, who run the largest database of photovoltaic systems in the UK. 
Our dedicated enterprise module will show you how the solar technology business works in practice, and how companies get devices out of the lab and plugged into the energy network. The biggest part of your degree will be your research project. You'll be able to choose from a range of topics, from solar device fabrication to photovoltaic system analysis.
Modules
Core modules:
Low Carbon Energy Science and Technology

Low carbon technologies are an essential requirement if the world's energy needs are to be met without causing irreversible changes to the planet's climate. This module will cover why there is a need for various different technologies that can help to meet the world's energy needs without releasing large amounts of CO2 into the atmosphere. Various different technologies that aim to meet this need will be introduced and then a select number will be studied in more detail. The aim of the module is to enable the student to make critical assessments of the different low carbon technologies backed by sound scientific understanding of their limitations and advantages.

15 credits

Innovation in Solar Energy

This is a lecture and workshop based course that is designed to give students experience in the process of innovation and entrepreneurship when applied to solar energy. As part of the course, students will gain understanding about the processes regarding commercial innovation and the development and critical appraisal of business ideas. Students will develop a new business proposal based around solar-cell technology or an allied service or market. Each student business proposal will be reviewed and critiqued by peers and academic supervisors. At the end of the course students will pitch their ideas to a panel of industry experts.


15 credits

Solar Cell Laboratory

This course will provide students with the skills required to measure and characterise solar cell performance and solar cell materials using a range of research laboratory techniques.

Laboratory techniques include measuring solar cell efficiency, characterisation of degradation rates, measuring irradiance and light spectrum, and using a cryostat to determine operating characteristics at low temperatures.

The module also includes learning to fabricate thin film solar cells and the characterisation of photovoltaic materials using photoluminescence and absorption spectroscopy. Students will also learn to assemble a silicon photovoltaic module and then measure its performance in outdoor conditions using our roof top laboratory.

15 credits

Research Project in Physics

This is a project based module that gives students an opportunity to apply their scientific knowledge to a research problem. Students will develop skills in time management, project planning, scientific record keeping, information retrieval and analysis of scientific information sources.

Students will choose a project of relevance to their programme of study and will work closely with an academic supervisor who is an expert in the field. The project will involve analysing the literature relevant to the problem and then developing skills relevant to tackling the problem. Projects maybe experimental, theoretical, analytical or computational in nature but will involve a substantial component of new work. The research will culminate with a written dissertation.

Teaching will be through weekly supervisions with academic staff and interactions with research group members. In the supervisions students will develop research plans, practise applying the scientific method by developing and testing hypotheses, discuss findings from both the literature and from laboratory or simulation based experiments, present results and discuss potential conclusions. Plans will be adapted based on these discussions. Specific experimental and/or simulation based skills will be learnt through a combination of supervised activities and self teaching - building on basic skills learnt in earlier modules in the programme.

Weekly seminars and workshops will teach students good practice in terms of searching the literature, research ethics and keeping research records.

90 credits

Photovoltaic Systems

This course introduces the technology of photovoltaic systems along with approaches for measuring the performance of individual systems under real operating conditions. The module gives a broad overview of the different approaches used in system level modeling, before teaching different tools to perform real analyses. Cell, module and system performance are covered. The implications of latitude, shading, temperature, and system geometry are considered along with models for diffuse vs direct sunlight. Physical and statistical approaches to system modelling are introduced and data from real PV systems used to compare the different approaches. The statistics of performance of the GB fleet will be analysed using real data available through Sheffield Solar's www.microgen-database.org.uk.


15 credits

Introduction to Photovoltaics

This course introduces photovoltaic technology and its role in future energy systems.

It starts with a summary of key ideas in semiconductor physics along with an introduction to the broader context of the role of photovoltaics within future energy systems.

It then covers underlying concepts that are required to understand the operation of a solar cell. In the first half of the course, we outline a basic description of a solar cell in terms of an equivalent circuit model and then use this to understand the origin of key device metrics. We then describe different techniques to characterise the efficiency of solar cells and discuss the fundamental processes that limit to solar-cell efficiency, including recombination. The course also includes a review of some of the underlying concepts in semiconductor physics that are used to describe the operation of solar-cell devices. In the second half of the course, we move on to a discussion of the main technologies used in modern solar-cells and models that describe how they perform in the real world. This includes a description of emerging trends in the development of new semiconductors and of new device architectures.


30 credits
The content of our courses is reviewed annually to make sure it's up-to-date and relevant. Individual modules are occasionally updated or withdrawn. This is in response to discoveries through our world-leading research; funding changes; professional accreditation requirements; student or employer feedback; outcomes of reviews; and variations in staff or student numbers. In the event of any change we'll consult and inform students in good time and take reasonable steps to minimise disruption.
Open days
An open day gives you the best opportunity to hear first-hand from our current students and staff about our courses. You'll find out what makes us special.
You may also be able to pre-book a department visit as part of a campus tour.Open days and campus tours
Duration
1 year full-time
Teaching
You'll be taught through a series of lectures, seminars, laboratory classes, computing and data analysis sessions, enterprise training and your research project.
You'll typically spend around 6 months working on an individual research project alongside PhD students and experienced postdoctoral researchers. Here you'll gain first-hand experience as a researcher, and will have access to the outstanding research facilities in Sheffield.
Projects range from analysis of real-world performance data from solar arrays, to development and analysis of new materials and their incorporation in solar cell devices.
Assessment
You'll be assessed by project assignments, presentations, examinations, lab work, and your dissertation and viva.
Your career
This course is designed to train you for a wide range of roles in the solar industry. We have close links with many organisations who we've collaborated with on projects and who employ graduates that have specialised in solar.
Our industry partners include:
Solar cell materials
Photovoltaic technology
Energy systems
National and regional networks
Market intelligence and consultancy
Solar testing and measurement
This course is great preparation for a PhD in solar cell technology too. Sheffield physics graduates have secured postgraduate research positions at many of the world's top 100 universities.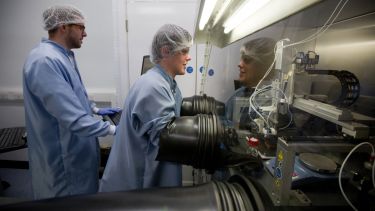 Facilities
The University of Sheffield is home to the Electronic and Photonic Molecular Materials laboratory, one of the UK's best equipped laboratories for developing and testing solar materials and devices.
Research in solar cells at Sheffield centres on both organic and perovskite materials and devices. We make devices and test new materials using a wide range of electronic and electrical spectroscopies. We also have access to a wide range of different techniques to probe the structural properties of materials at length-scales from Angstroms to mm.
Department
Department of Physics and Astronomy
The Department of Physics and Astronomy is one of the UK's leading physics departments. We have been ranked 1st in the UK in terms of the quality of our research. In the Research Excellence Framework 2021, 100 per cent of research and impact from our department was rated in the highest two categories as world-leading or internationally excellent.
Our physics and astronomy researchers are working on topics such as how to build a quantum computer, the search for dark matter and ways to combat antimicrobial resistance.
They run experiments on the Large Hadron Collider at CERN and help to map the Universe using the Hubble Space Telescope. 
Working with National Grid, they are also helping to maximise the potential of solar energy and are playing a leading part in the quantum technology revolution by establishing a multi-million pound Quantum Centre here in Sheffield.
Staff in the Department of Physics and Astronomy have received honours from the Royal Society and the Institute of Physics. They are participants in a large number of international collaborations including the ATLAS Experiment, the LIGO Scientific Collaboration, the HiPERCAM high-speed astronomical imaging project, the LUX-ZEPLIN dark matter experiment and the Hyper-Kamiokande neutrino observatory.
Entry requirements
Minimum 2:1 undergraduate honours degree in physics, materials science, physical chemistry, electrical engineering or other related subject.
Overall IELTS score of 6.5 with a minimum of 6.0 in each component, or equivalent.
Apply
You can apply now using our Postgraduate Online Application Form. It's a quick and easy process.
Any supervisors and research areas listed are indicative and may change before the start of the course.
Recognition of professional qualifications: from 1 January 2021, in order to have any UK professional qualifications recognised for work in an EU country across a number of regulated and other professions you need to apply to the host country for recognition. Read information from the UK government and the EU Regulated Professions Database.