2024 start
September
Urban Design
School of Architecture, Faculty of Social Sciences

Collaborate with local and global communities to rethink the way that cities and neighbourhoods are designed in this studio-based course.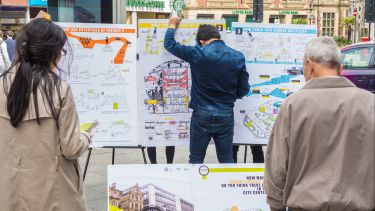 Course description
Urban design professionals are in high demand. We'll help you to develop design skills that relate to a broader social, environmental and economic context to enable you to link individual architectural projects with overall planning strategies.
Central to the course is the design studio project where you'll work with local communities and study core modules on urban design theory and practice. You'll be able to explore a range of themes through optional modules and you'll take part in study trips and thematic workshops.
You'll be encouraged to critically examine the key urban development challenges that cities are facing today. You can explore local urban areas in Sheffield and compare these with other UK and international contexts in Europe as well as in Asia, Africa, and Latin America. You'll also investigate the role of designers and citizens in the processes of city making.
By joining one of the UK's top schools of architecture you'll also be part of a vibrant and creative community that positively influences architectural policies which address public and professional needs. As a Sheffield student you'll engage with real issues affecting the built environment. You'll be encouraged to provide social and environmental solutions to the challenges of our time.
You can complete the programme as a full-time course over one year or you may also study it as a part-time course over two years, with timetabled learning on a single week day. The part-time course is especially suitable for built environment and design professionals who wish to continue working throughout their studies.
Modules
Core modules:
Urban Design Project 1

This unit is one in a sequence of studio based modules. It introduces students to the specific skills and design knowledge required for urban design in combination with design research methodologies and allows them to be developed through studio-based urban design projects.

15 credits

Urban Design Project 2

This unit is the second in a sequence of three which are studio based. It develops the students' urban design skills that have been introduced in Urban Project 1 and put an emphasis on combining these skills with participatory design techniques.

30 credits

Urban Design Project 3: Thesis Project

This unit is the third in a sequence of three which are studio based. It allows students to develop their own urban design project with participatory approaches. The project is based on individual research themes and combines knowledge and skills gained from all previous units required for the programme. It is the equivalent to the thesis dissertation in a non-studio based Masters.

60 credits

Participation in Architecture and Urban Design

The unit introduces the history, theory and application of participation in architecture and urban design. Based on a critical analysis of precedents, students will be expected to develop their own participatory methods for use in urban design

15 credits

Trajectories in Urban Design Practice

This unit focuses on exploring the emergent and potential roles of Urban Design practitioners, and on relating them to students' own Urban Design experience, both within practice and within the School of Architecture. The unit will be broad ranging, looking at the unprecedented scale and complexity of conditions that are shaping the urban environment globally, creating the need for a critical evaluation of the methods, tools, and design culture that surrounds the practice of Urban Design. The module will discuss the consequences of these conditions on the practice of Urban Design, and will invite students to speculate about the potential trajectories that they could take in the future as Urban Design practitioners. Assessments will be based on a reflection on student's individual experiences and future aspirations. This unit is also suitable for students taking a part-time route whilst continuing to work in practice. It is also suitable as an optional module for the MArch course. It will also be offered as a CPD module.

15 credits

Urban Design Tools and Methods

This unit is one in a sequence of studio based modules. It introduces students to the specific skills, tools and design knowledge required for urban design in combination with design research methodologies and allows them to be developed through studio-based urban design projects.

15 credits

Histories and Theories of Urban Design

This unit provides an introduction to the diverse concepts, theories and practices of urban design, illustrated by examples and case studies from different historical, political, geographical and environmental periods and areas. Using theoretical lenses, rather than a chronological approach, the course explores how similar urban forms have been used and reused, reinterpreted, adapted and challenged by different social, economic and political groups in different localities across different geographies and scales to meet differing needs, behaviours and rituals. The emphasis is on developing a situated and grounded understanding of urban design.

15 credits
Optional modules:
Conservation and Regeneration Principles and Approaches

This module introduces a range of theoretical and practical approaches to architectural design interventions in the historic built environment. It will explore conceptual and philosophical debates within architectural conservation and heritage studies, addressing the conflicting and complementary approaches that have historically been employed. You will be encouraged to develop a critical understanding of conservation and built heritage issues and to evaluate the role of architectural conservation in historical rural and urban regeneration.

15 credits

Critical Spatial Writing

Critical spatial writing understands space as an entanglement of exchanges, conflicts, and negotiations. The sites of architecture, whether a city, frontier, room or encounter, are viewed both as subjects of research and spaces for intervention. With readings, lectures and group seminars, the module will provide an introduction to critical spatial writing through an exploration of contemporary arts, architectures and urban interventions with particular attention to issues such as difference and diversity, decolonisation, ecology and intersectional feminism. It will examine different forms of writing about architecture and how we might write about space critically, creatively and relationally. Each session is organised around a number of set texts for lecture delivery, and student-led writing / discussion.

15 credits

Power, Space, Society

The unit focuses on socio-political, economical, ideological and cultural factors shaping and influencing buildings and cities. In a tradition of critical theory, this module analyses hidden aspects of built environment causing social exclusion / inclusion and oppression / emancipation. Through lectures and group seminars, the module will provide an introduction to critical analyses of built environment in a global context. Each session is organised around a particular issue analysed in diverse contexts.

15 credits

Reflections on Architectural Education

This module is for those students taking the MArch in Architecture or other Masters programmes offered by the Departments. It aims to explore the wider context of architectural education as well as studying current thinking on the techniques for tutoring and reviewing in the design studio. Students undertaking this module would gain first hand experience of these techniques through assisting in the teaching of undergraduate students within the department. Assessment will take the form of a self reflective essay about their experience of helping to teach undergraduate architectural students, with reference to appropriate literature.

15 credits

Behaviour in the Built Environment

The urban/built environment influences the behaviour of people; equally, people's behaviour can shape the environment. Understanding the interaction between people and their environment promotes the design of spaces and buildings that meet the needs of the people who occupy them. This module will discuss principles of behavioural and environmental psychology in the context of the design and management of indoor and outdoor spaces, including the application and interpretation of behavioural research methods. A key objective is for students to be better equipped to deliver a sustainable environment that meets user requirements.

15 credits

Building Environmental Simulation and Analysis

The course unit aims to provide a general understanding of, and practical experience in computer modelling software systems. This involves the following: Thorough understanding of basic concepts of computer simulation, develop the ability to apply these concepts in real life situations. Understanding the use of computer simulation and the need to use the appropriate software to answer a specific enquiry. Understanding the relationships between the required outcome of a simulation exercise and the input details necessary to produce a valid answer.

15 credits

Cities of Diversity

Acknowledging diversity within cities is increasingly regarded as central to successful planning, urban development and city making and is a very hotly debated issue currently, particularly with #MeToo, Brexit and Trump! But what do we mean by diversity and what theories exist to help us understand it? This module will focus on various aspects of diversity in the form of differing social identities (such as age, ethnicity, sexuality, disability and gender – including focusing on masculinity within cities) but also critically explore the ways in which diversity is understood by policy makers and city managers. The module will focus on cities in both the global South and North and consider the significance of migration in relation to diversity in both contexts. The module will rely on a critical engagement with literature from the discipline of geography, planning, urban studies and development studies.


15 credits

Parametric Architectural Geometry

This module aims to support an emerging need to better understand concepts and skills for architectural geometry construction using parametric modelling processes. In particular, the course emphasizes computational schemes that can assist designers in managing geometry data and propagating designs. Students are introduced to both the theoretical framework and implementation of architectural geometry construction. This module is delivered through a series of lectures, hands-on workshops and individual assignments/projects. As a result students will learn contemporary parametric modelling techniques for customizing generative design systems, navigating design variations, analysing design artefacts and exploring design manifestations.

15 credits

Theory and Research in Design

This module aims to develop the student's overall understanding of contemporary matters and theories pertinent to architectural design and built environment issues, such as climate change and social justice. Students will develop an interdisciplinary and contemporary understanding of architecture, design, society and environment, with an emphasis on theory as a tool to open debate and provoke designerly thought and activity on alternative views and approaches to architecture and design.

The module consists of lectures that introduce and describe contemporary concepts and theories applicable to built environment, architecture, and design research, in tandem with seminars through the Theory Forum, a conference hosted annually by the Sheffield School of Architecture, focusing each year on a theme of contemporary relevance for architectural theory and practice.

The aim of the module is to develop the student's ability to write in a way that deals with complex issues, and that addresses the outcomes of the module.

15 credits
The content of our courses is reviewed annually to make sure it's up-to-date and relevant. Individual modules are occasionally updated or withdrawn. This is in response to discoveries through our world-leading research; funding changes; professional accreditation requirements; student or employer feedback; outcomes of reviews; and variations in staff or student numbers. In the event of any change we'll consult and inform students in good time and take reasonable steps to minimise disruption.
Open days
An open day gives you the best opportunity to hear first-hand from our current students and staff about our courses. You'll find out what makes us special.
You may also be able to pre-book a department visit as part of a campus tour.Open days and campus tours
Duration
1 year full-time
2 years part-time
Teaching
Your learning and teaching will involve neighbourhood walks, symposiums, lectures, student-led seminars and reflection sessions supported by tutorials, seminars and workshops. The course ends with an individual thesis that brings together all the modules.
Assessment
You'll be assessed on course assignments and a final design thesis or written dissertation.
Department
School of Architecture
Come to Sheffield and join some of the best architecture students in the UK - our students have won prizes at the RIBA Student Awards and the Royal Academy Summer Show. They've been shortlisted in the European Architecture Medals and the Inspiring Graduate Awards. Our staff are doing world-class research, helping to make the school a leader in our field across the UK and internationally.
We believe in architecture that makes a difference. We know that it has the potential to improve the lives of those who inhabit and use it.
Through our internationally-acclaimed teaching and research, we explore the social, spatial and environmental implications of architecture. As a Sheffield student, you will engage with real issues affecting the built environment.
We encourage you to explore ideas and collaborate with other students. Through group tutorials and peer review you'll learn how to express your opinions, and value the opinions of others. Sheffield is the perfect place to develop your personality as a designer.
We provide a balance of theory, design work and professional experience. We have a strong design studio culture. The studio acts as a laboratory for trialling your creative and critical ideas, and for developing fundamental architectural skills. You'll share ideas during group tutorials and review other students' work. This encourages you to express your own opinion and to value the opinions of others, as you begin to develop your personality as a designer.
Student profiles
The MA in Urban Design has given me a good understanding of the context of development and it introduced me to the economical, political, social and environmental landscape which we all live and work in. The course has made me appreciate what's around me, and the way space is designed has such a big impact on the way it is used.

Becky Knighton
MA Urban Design
Entry requirements
Minimum 2:1 undergraduate honours degree in a subject related to design in the built environment, such as architecture, landscape architecture or urban planning.
You should also provide a portfolio which includes a custom assignment. Here's what to include with your application.
We will also consider your application if your degree is not design based but you have considerable professional design experience.
Overall IELTS score of 6.5 with a minimum of 6.0 in each component, or equivalent.
Apply
We use a staged admissions process to assess applications for this course. You'll still apply for this course in the usual way, using our Postgraduate Online Application Form.
Any supervisors and research areas listed are indicative and may change before the start of the course.
Recognition of professional qualifications: from 1 January 2021, in order to have any UK professional qualifications recognised for work in an EU country across a number of regulated and other professions you need to apply to the host country for recognition. Read information from the UK government and the EU Regulated Professions Database.