Using Artificial Intelligence to Tackle Multiple Long-Term Conditions
Multi-morbidity in South Yorkshire research project.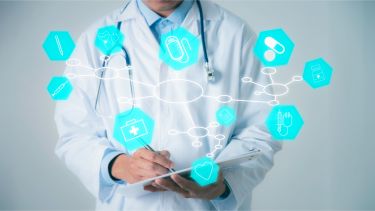 Multiple long-term conditions, also known as multi-morbidity, occurs when someone has two or more different medical conditions. Long-term conditions include diabetes, high blood pressure, arthritis, depression and others. Multiple long-term conditions affect up to two-thirds of people aged 60 and over. It is estimated to be present in 50% of GP consultations, 75% of GP prescriptions and 55% of hospital admissions. Multi-morbidity becomes more common as people age but does affect people at younger ages in some groups and communities. Those affected are less likely to live as long and may have less active lives than people without multiple long-term conditions. Many face daily burdens of symptoms and treatment. 
People with multiple long-term conditions often need help from health and social care services. To improve the quality of life and health of people in South Yorkshire and the rest of the UK, a team of researchers in collaboration with NHS colleagues, local health and council organisations and members of the public are looking to find new ways to learn more about people who are living with more than one long-term health problem. People from the University, NHS, local Councils and patient and public representatives are part of this new team and by working together they will create new ways to look at and learn about this information. 
The project team is particularly interested in people who have several different health conditions at the same time, as well as people who are frail or vulnerable. These people may need more help and support than people without multiple health conditions and could be better helped if we understood: 
which health conditions affect particular people;   
how their health has changed over time;
how they currently get help from health and social care services for their health problems.
This information already exists, but in many different places, for example, in doctor's surgeries, clinics, council services. The different organisations involved do not always have a way, or the time, to talk to each other. 
The first part of the work is in 2021, when we are discussing how best to do this work. We hope to get further funding to do this work from 2022 to 2024. 
A team of data scientists and clinicians from the University of Sheffield will develop new ways to bring together new information about people held by different organisations and develop new ways for computers to do this. The methods to be used are called advanced data science and artificial intelligence. Computers can read a lot more information than people and do this more quickly and more efficiently. They also look for patterns in the information that we wouldn't see, for example, whether there are two types of health problems that happen in people of a certain age in some parts of the region more than others. This will make the information easier to understand and learn from. It could mean developing new services to prevent people's health from deteriorating. We want to start in South Yorkshire because we can learn lots by looking at the different communities in this region. 
The project is looking at the main sources of patient data that are already available from NHS organisations in the region and what data are already available from the local authorities, e.g., Sheffield City Council. This will help us to study multi-morbidity, i.e., people having several long-term health conditions, how these conditions develop, the causes, and the effects on people using health and social care services.
During this phase of the project, we are deciding which specific clinical areas we should focus on when considering multi-morbidity, but these might include diabetes, obesity, heart and circulation problems, joint and muscle conditions and mental health problems. We are also thinking about what research questions we should explore and ask.
The project is also looking at the Artificial Intelligence (AI) methods we should use to answer the questions that we identify. 
It is anticipated that an improved understanding of patterns of multi-morbidity and the factors associated with them will help in several ways:
a better understanding of how multi-morbidities develop and who they most affect;
a greater ability to manage, predict and possibly even prevent multi-morbidities;
better planning to help services provide better and more relevant care for patients with multi-morbidities;
improved patient outcomes.
The team from the University of Sheffield includes researchers from the School of Health and Related Research (ScHARR), the Information School and the Faculty of Engineering. These are among the top departments of their kind in the country and each has an international reputation for their research. We are collaborating with the University of Liverpool on health data science and to support the wider reach of the project.
A number of organisations in South Yorkshire and Bassetlaw are also supporting this work, including Sheffield City Council, Doncaster Clinical Commissioning Group, Rotherham Clinical Commissioning Group, Sheffield Clinical Commissioning Group and Doncaster and Bassetlaw Teaching Hospitals.  
A patient and public involvement panel has been established and forms part of the team for the project.
Public Involvement
Public involvement forms an integral aspect of the project. The public involvement panel comprises twelve public participants. Members of the panel are providing valuable feedback on the project, including the health conditions that the project should focus upon, the research questions to consider, the ethical issues in analysing anonymous patient data for this purpose and the issues in using AI in analysing health data and other evolving areas relevant to the development of the project. Feedback to-date from the public involvement panel includes the following comment:
I particularly like the fact that you are actively involving patient and public involvement representatives in the formulation of the research topic / questions from the outset. I also think it's fantastic that you are already offering training relating to the research topic. In addition, your communication - with updates about the project and the difference that patient and public involvement input is making - is exemplary.

Public involvement panel

Feedback
We are working collaboratively with the Research Design Service Yorkshire and Humber (RDS YH) and Sheffield Teaching Hospitals NHS Foundation Trust, Clinical Research and Innovation Office to develop active and meaningful public involvement activities for the project development. 
We received initial public involvement funding from the RDS YH which enabled us to facilitate public involvement feedback as part of the original application to the National Institute for Health Research in September 2020. This led to the inclusion of two members of the public as co-applicants on this project. 
I am particularly interested in this project because it meets various interests of mine. It has strong patient and public involvement and although we have been limited to working online over this period, we have been able to come together as a team. I like the involvement with stakeholder organisations which focuses it on impact possibilities with those organisations who will be able to use the results of the project. Most of all, I anticipate that the project will produce results which will be the basis of interventions which will be of benefit to patients in general and particularly to patients with chronic medical conditions (including diabetes), to deprived and ethnic groups and to older people.

Brenda Riley

Public involvement co-applicant reflecting upon her experience of involvement
Who is funding the research?


 
The project started in February 2021 and runs until October 2021 when we will submit a further proposal to the NIHR to request funds for the research questions we want to explore.
What will happen as a result of this project?
The application forms part of the NIHR Artificial Intelligence for Multiple Long-Term Conditions (AIM) call. The main output from the project will be an application to NIHR for further funding in October 2021 to start the work in 2022.
A series of reports will be produced during the project focusing on the research questions identified, data to be considered and the artificial intelligence tools and techniques which will be used. If the application in October 2021 is successful, the research from this will start in 2022.
Peter Bath

Peter Bath is Principal investigator for the project and leads the research team. He is Professor of Health Informatics and Data Analytics at the University of Sheffield. Prof. Bath has over 25 years' experience in analysing health data relating to health in older people using statistical and data mining methods. He is Chair of the University's Health Data Analytics Group that is developing a vision for the University's research data infrastructure. He was Chair of the University of Sheffield Research Ethics Committee (UREC) from 2016-2021.

Chris Burton

Chris Burton is Professor of Primary Medical Care at the University of Sheffield, he has expertise in health data research having been clinical lead for the Aberdeen Primary Care Clinical Informatics Unit database and leading data-based studies in healthcare use, diagnosis, referral and prescribing. His work includes quantitative analysis of urgent healthcare use from the perspective of complex systems and the use of AI to predict exacerbations of Chronic Obstructive Pulmonary Disease (COPD).

Mark Wilkinson

Mark Wilkinson is Professor of Orthopaedics at the University of Sheffield. He is an executive member of the National Joint Registry for England and Wales, an international exemplar of national audit for patient benefit (Cumberledge report - July 2020) that supplies and analyses data for the Care Quality Commission, Medical Health Research Authority, NHS-Digital, NHS Improvement and the Model Hospital Initiative. He has expertise in complex dataset analysis and is a member of the University's Health Data Analytics Group and its Healthy Lifespan Institute. 

Visakan Kadirkamanathan

Visakan Kadirkamanathan is Professor of Signal and Information Processing in the Department of Automatic Control and Systems Engineering. His expertise is in complex systems modelling approaches, including machine learning, and their application to multi-disciplinary domains ranging from engineering, healthcare, life and social sciences. He has led and been part of research grants exceeding £30M. He is a Co-Investigator leading a work stream on complex systems modelling on a UK Prevention Research Partnership funded £4.7M flagship project SIPHER: Systems science in public health and health economics research.

Mark Stevenson

Mark Stevenson is a Senior Lecturer in the Department of Computer Science, University of Sheffield. His expertise is in the areas of Natural Language Processing, Information Retrieval and the development of systems to extract knowledge from health literature, having published over 150 papers in these areas. He has led over 20 research projects, including an EU consortium, and has been awarded over £2 million as Principal Investigator. 

Mauricio Alvarez

Mauricio Álvarez is Senior Lecturer in Machine Learning, Department of Computer  Science, University of Sheffield. He has extensive experience in the development of Bayesian machine learning models and their application to datasets in healthcare. He is internationally known for his work on multi-output Gaussian processes in applications involving time-series or spatio-temporal datasets. 

Tony Stone

Tony Stone is a Data Linkage Specialist with over 5 years of experience in health-related data. He provides expertise to inform the information governance, information security, data management and data linkage requirements for the study.

Frank Hopfgartner

Frank Hopfgartner is Senior Lecturer in Data Science at the Information School of the University of Sheffield. His main research interest is on predictive analytics with a main emphasis on the analysis of personal data. In the past 14 years, he has published over 150 papers in this field. He has recently explored Evaluation-as-a-Service as a novel evaluation paradigm for the computational sciences. 

Laura Sbaffi

Laura Sbaffi is Lecturer in Health Informatics at the Information School of the University of Sheffield. She has over 10 years' experience in statistical analysis of medical and healthcare datasets and over 10 publications in this area alone. Dr Sbaffi has researched the quality of health information and created the Trust in Online Health Information (TOHI) scale to explore online health-information seeking. This has been adopted in many studies and is an independent authority mark for quality accreditation of online health information (https://wearewellspoken.com/). 

Suvodeep Mazumdar

Suvodeep Mazumdar is Lecturer in Data Analytics at the Information School of University of Sheffield. His research interest is developing tools and technologies to support decision-making based on large complex datasets. He has over ten years of experience in developing large scale visual and data analytics systems and user centred design techniques. 

Maria-Cruz Villa-Uriol

Maria-Cruz Villa-Uriol is Lecturer in Computer Science, Department of Computer Science, University of Sheffield. Her main research interests are the personalisation of models using computational imaging and modelling techniques, the composition of scientific workflows, and the use and development of data-driven decision-making strategies to support clinical decisions using heterogeneous data sources such as personalised Virtual Physiological Human (VPH) models, clinical databases, and mobile sensors capturing a wide variety of variables describing an individual and his/her environment. 

Scott Weich

Scott Weich is Professor of Mental Health at ScHARR in the University of Sheffield. He is a psychiatric epidemiologist and a practising NHS Consultant Psychiatrist, and has extensive experience of large scale, quantitative population-based mental health research, including studies using multi-level analytic approaches. He has been a co-investigator on the national surveys of psychiatric morbidity in England for the past 20 years.

Mark Strong

Mark Strong is Dean of ScHARR and Professor of Public Health at the University of Sheffield. He is a public health physician and statistician with a research focus on uncertainty quantification for public health and healthcare decision making. He works at the intersection between public health decision making, mathematical modelling and computational statistics. He has experience of using large datasets in a computationally efficient manner, and has developed important new methodology for computing the Value of Information when making resource allocation decisions under uncertainty. He has a grant capture of over £14 million as Principal Investigator or Co-Investigator, has held personal fellowships from the Medical Research Council (MRC) and NIHR, and has published over 90 papers on statistical methodology, epidemiology and health services research. 

Brenda Riley

Brenda Riley is a Public Involvement Co-applicant. Following her diagnosis of Diabetes in 2006, she became involved in patient and public involvement groups. Her extensive experience includes as a Committee member of the Sheffield Diabetes UK Group, the Lay ADvice on Diabetes and Endocrine Research (LADDER) Panel and as a member of three research study steering committees which relate to diabetic foot ulcers. She is a lay member of the Sheffield Research Ethics Committee. Previously her employment was in Information Technology as a programmer/analyst and then as a consultant. She later retrained as a teacher.

Public involvement panel

The public involvement panel for the project comprises twelve participants. The panel includes patients and carers living with multiple long-term conditions and collectively they bring the views and experience of public participants, patients, their family members and carers to the project. 

Ruth Wong

Ruth Wong is Information Specialist in the School of Health and Related Research at the University of Sheffield. Her role involves the application of information science and rapid reviewing methods to evidence retrieval and synthesis. She is interested in the multi-faceted evidence requirements throughout the research process in relation to multiple long-term conditions, health inequalities and AI within the health and social care context. 

Surinder Bangar

Surinder Bangar is Research Associate in the School of Health and Related Research at the University of Sheffield. Her research interests include improving the quality of life of people living with multiple long-term conditions, how technologies can be used to enhance health and care and knowledge mobilisation. For this project, she is developing activities to enhance and support public involvement. 

Melanie Benson Marshall

Melanie Benson Marshall is Research and Teaching Associate, Information School at the University of Sheffield. For this project, she is developing activities to enhance stakeholder engagement. 

Jo Turner

Jo Turner is Personal Assistant to the Director of Health Services Research, School of Health and Related Research at the University of Sheffield. For this project, she provides professional services support for the project development.
Artificial Intelligence (AI): although there is no universally accepted definition of AI, it is commonly understood as a branch of computer science that use machines to simulate human intelligence and logic to perform certain tasks. AI is constantly evolving, generally it:
involves machines using statistics to find patterns in large amounts of data;
is capable of performing repetitive tasks with data without the need for constant human guidance.
Multi-morbidity: having two or more long-term physical or mental health conditions / illnesses (e.g., hypertension, diabetes, arthritis, depression).
NIHR: National Institute for Health Research, this is one of the main funding bodies for health research in the UK. 
For further information about the project, please contact the lead investigator, Professor Peter Bath at the University of Sheffield: nihraim@sheffield.ac.uk
Flagship institutes
The University's four flagship institutes bring together our key strengths to tackle global issues, turning interdisciplinary and translational research into real-world solutions.