You are viewing this course for 2023-24 entry.
Key details
A Levels

AAB


Other entry requirements
UCAS code

I2L9

3 years

/

Full-time

September start
Industry placement
Study abroad
Course description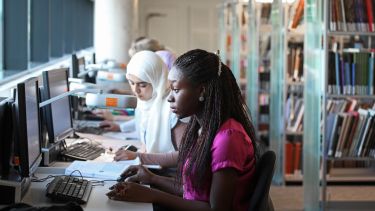 Taught by active researchers and developed with industry experts, you'll learn the data, information and analytical skills to become a critical data professional.
You'll analyse and critically evaluate a wide range of different real-life problems from a data science perspective. Whether it be studying data from a sports team to improve performance, using real-world data as part of the solution to climate change, preparing for spikes in hospital admissions or analysing business expenditure - data science is an evolving field. 
You won't just be learning how to read and analyse data - you will be learning how to use data to make ethical decisions. The course has sustainability, equality, diversity and ethical practice at its core. You will be prepared for a career where you can use data-driven solutions to have a positive impact on society.
On our course you'll:
become a dynamic, forward-thinking problem solver with a responsible approach to data and information
learn how to present data to different audiences and stakeholders, using visualisation and statistical methods
develop the skills you need to collaborate effectively with others to solve data-related problems and create responsible data solutions.
Opportunities for study abroad, work-based placements and developing your personal portfolio will put you in a strong position for the future.
The course is extended to four years if you opt to do a placement year or year abroad.
Modules
Modules for this course are to be confirmed. From May of the year of entry, formal programme regulations will be available in our Programme Regulations Finder.
Title: Data Science BSc
UCAS code: TBC
Years: 2023
In year one, you'll develop fundamental capabilities and understandings in data science, including data visualisation and data modelling. With a strong focus on sociological theory, you will explore the underpinning concepts of responsible data science and the ethical application of technical approaches. You will also be introduced to computer programming and computational thinking.
In year two, you'll build on these foundations and apply these to the data lifecycle and team-based projects. You'll enhance your programming skills to develop software that processes and analyses data in complex data structures.
In your final year (year three or four, depending on whether you choose to do a placement year), you'll have the opportunity to specialise and to prepare yourself for employment through your portfolio and your independent study.
The content of our courses is reviewed annually to make sure it's up-to-date and relevant. Individual modules are occasionally updated or withdrawn. This is in response to discoveries through our world-leading research; funding changes; professional accreditation requirements; student or employer feedback; outcomes of reviews; and variations in staff or student numbers. In the event of any change we'll consult and inform students in good time and take reasonable steps to minimise disruption. We are no longer offering unrestricted module choice. If your course included unrestricted modules, your department will provide a list of modules from their own and other subject areas that you can choose from.
Learning and assessment
Learning
You'll learn through a mix of laboratories and practical classes, group work, interactive lectures and seminars, inquiry-based and self-directed learning. A diverse range of learning and assessment activities will support you to develop the Sheffield Graduate Attributes. You'll learn a broad set of skills, including teamwork and project-based tasks so that you will be ready for graduate career opportunities.
On each module, you will be taught by subject specialists who are also active researchers in their field. This research-led approach means that our curriculum is current and relevant, and it is further supported by visiting lecturers and other industry-based experts.
Our staff backgrounds and research reflect influences from computing, health, critical data studies and different social sciences disciplines, as well as experience from professional practice in data roles.
Assessment
Your lecturers are here to support your development, meaning that you'll be given extensive feedback on your work. We use a range of assessment methods including, exams, online tests, group/individual presentations and coursework.
Programme specification
This tells you the aims and learning outcomes of this course and how these will be achieved and assessed.
Entry requirements
The A Level entry requirements for this course are:
AAB
A Levels + additional qualifications ABB + A in a relevant EPQ
International Baccalaureate 34
BTEC Extended Diploma DDD in a relevant subject
BTEC Diploma DD in a relevant subject + A at A Level
Scottish Highers AAAAB
Welsh Baccalaureate + 2 A Levels B + AA
Access to HE Diploma Award of Access to HE Diploma in a relevant subject, with 45 credits at Level 3, including 36 at Distinction and 9 at Merit
Other requirements
The A Level entry requirements for this course are:
ABB
A Levels + additional qualifications ABB + A in a relevant EPQ
International Baccalaureate 33
BTEC Extended Diploma DDD in a relevant subject
BTEC Diploma DD in a relevant subject + B at A Level
Scottish Highers AAABB
Welsh Baccalaureate + 2 A Levels B + AB
Access to HE Diploma Award of Access to HE Diploma in a relevant subject, with 45 credits at Level 3, including 30 at Distinction and 15 at Merit
Other requirements
Information School
The University of Sheffield Information School is ranked number one in the world for Library and Information Management in the QS World University Rankings by Subject 2021.
By studying with us, you'll develop solid foundations in ethics, sustainability, critical thinking, and how to influence outcomes of data science to positively impact society.
We offer an outstanding academic education through the principles of research-led teaching, so you're always challenged and up to date.
The school has been at the forefront of developments in the information and data field for more than fifty years. The subject is characterised by its distinctive, interdisciplinary focus on the interactions between people, information and digital technologies.
Our students are from around the world creating a multicultural, vibrant and invigorating environment where you can thrive in your learning. As part of our mission to provide world-quality university education in information, we aim to inspire and help you pursue your highest ambitions for your academic and professional careers.
Our staff are experts in their field and work with organisations in the UK and worldwide, bringing fresh perspectives to your studies. They'll give you the advice and support you need to excel in your subject. We also work closely with partners and experts from industry, ensuring that your learning is always linked to your future career.
You'll have access to a high-quality, specialised learning environment including cutting-edge computing suites and our iLab usability testing facilities.
Information School
Why choose Sheffield?
The University of Sheffield
  A top 100 university 2022
QS World University Rankings
  92 per cent of our research is rated in the highest two categories
Research Excellence Framework 2021
  No 1 Students' Union in the UK
Whatuni Student Choice Awards 2020, 2019, 2018, 2017
Information School
Number 1 in the world for library and information management
QS World University Rankings by subject 2022
---
Graduate careers
As an evolving discipline, data science skills and knowledge are in strong demand with employers across a number of sectors.
We've worked closely with employers and industry partners to develop our curriculum to provide you with the relevant skills and experience to develop your future career. Our course is designed to equip students with the capabilities to manage the complexities of data in organisations and to integrate the work of data scientists with those in more managerial or policy-making roles.  
All students have the opportunity to take either a placement year or a year abroad in between Levels 2 and 3.  Students can also opt for a work experience module in Level 3 to spend time developing real-world skills with a local partner organisation or business.
Our annual Data Science Industry Day gives you an opportunity to meet employers and to link your learning at university with real-life contexts and challenges.
Some examples of the areas you may choose to explore include:
Sustainability and global development
NGOs, charities and third sector organisations
Media and social media
Finance and business
Retail and ecommerce
Public sector, transport and health
Sports analysis
Academia and research
Fees and funding
Fees
Additional costs
The annual fee for your course includes a number of items in addition to your tuition. If an item or activity is classed as a compulsory element for your course, it will normally be included in your tuition fee. There are also other costs which you may need to consider.
Visit us
University open days
There are four open days every year, usually in June, July, September and October. You can talk to staff and students, tour the campus and see inside the accommodation.
Taster days
At various times in the year we run online taster sessions to help Year 12 students experience what it is like to study at the University of Sheffield.
Campus tours
Campus tours run regularly throughout the year, at 1pm every Monday, Wednesday and Friday.
The awarding body for this course is the University of Sheffield.
Recognition of professional qualifications: from 1 January 2021, in order to have any UK professional qualifications recognised for work in an EU country across a number of regulated and other professions you need to apply to the host country for recognition. Read information from the UK government and the EU Regulated Professions Database.