English and Modern Languages & Cultures
BA
School of Languages and Cultures
School of English
Apply for this course
You are viewing this course for 2023-24 entry. 2022-23 entry is also available.
Key details
A Levels

ABB


Other entry requirements
UCAS code

QR50

4 years

/

Full-time

September start
Dual honours
Foreign language study
Industry placement
Study abroad
Course description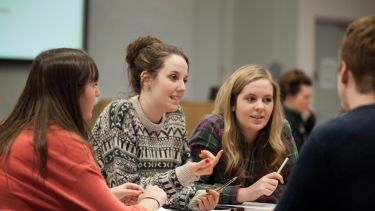 This degree will give you a deeper understanding of the crucial relationship between language, culture and society, both within Europe and beyond.
You'll study either one or two modern foreign languages, and explore the history, literature and culture of the languages you're learning.
Through English modules, you'll study a range of literary arts, including poetry, prose, film, theatre, and creative writing, and engage with diverse texts from all over the world, both in English and in translation.
As a dual honours student, you'll divide your studies between the School of English and the School of Languages and Cultures. Choice and flexibility are at the heart of our teaching, which means you can pursue and develop your own interests. At every level, there is a wide variety of modules to choose from. You will be taught by world-leading experts from both departments.
You'll be required to take a minimum number of credits within both departments each year, but how you choose to divide your modules after this is up to you: split your modules evenly between English and modern languages and cultures, or choose to weight your degree in favour of one subject or the other.
For the modern languages and cultures side of your course, you'll focus on one or two languages, choosing from French, German, Russian, Spanish, Dutch, Czech, Italian (available as a second language only), Catalan, Luxembourgish (available to study from second year) or Portuguese.
You can take any language from beginner's level, and you can take French, German, Russian or Spanish post-A Level (or equivalent). As well as taking modules that focus on practical language skills, you'll also explore topics such as linguistics, literature, society, politics, history, philosophy and film studies. In English, you'll explore literature from the medieval to the present day, covering topics as diverse as animal studies, the history of the Gothic, American literature and the analysis of film.
You'll spend the third year of your course abroad. We have a wide range of destinations on offer, both within Europe and beyond. Choose to study at a leading university, carry out an approved work placement, or in some cases take part in exciting volunteering opportunities. Please be aware that we do not offer a year abroad option in Italy.
Research is central to the student experience here in Sheffield. All our teaching is informed by the latest findings, and all our students have the opportunity to carry out their own research project as part of their degree. Outside of your degree, there are many opportunities to develop your interests, insights and critical faculties.
Dual and combined honours degrees
Modules
You can find a comprehensive list of all of our languages and cultures modules broken down by language on the School of Languages and Cultures website
Examples of the English modules on offer are listed below
Title: English and Modern Languages & Cultures BA course structure
UCAS code: QR50
Years: 2022, 2023
In your first year you'll take the one core module worth 40 credits. Your remaining credits are from the list of optional English modules below or you can take up to 80 credits in guided modules from across the University. As a dual honours student, you must also fulfil the core requirement for Modern Languages & Cultures.
Core English modules:
Renaissance to Revolution

This module surveys the poetry and prose from the early modern period in England, i.e., that written between the beginnings of the sixteenth century through the seventeenth century to the late eighteenth century. We will look at different genres, from court complaint to sonnets, prose fiction, erotic verse, restoration drama and the works of writers such as Donne, Herbert, Spenser, Marlowe, Dyrden, Milton and Pope. The texts studied will be related to critical methods that help us understand the relationships between literature and the culture, society, and politics of the period in which it was produced.

40 credits
Optional English modules:
Early Englishes

Early Englishes works backward over a whole millennium of English, 1600 to 600. Each week's lectures and seminar focus on one century and one text representative of that century (for example, Beowulf and Piers Plowman). We will use a variety of techniques , literary, linguistic, anthropological, cultural historical, to analyse each text, thereby opening up discussion of the issues that preoccupied the English of the time, from glorious monster-slaying to the slow surrender of pagan belief to terror at the imminent arrival of Antichrist and on to the first expressions of love and desire. Texts will initially be studied in translation so no prior knowledge of Old or Middle English is necessary, but students will also be given the opportunity to examine texts in the original language.

20 credits

Contemporary Literature

This module introduces students to a diverse range of texts in English (prose, poetry, and film) with a focus on texts published since 2000. Texts will be chosen to provoke thinking and debate on urgent and controversial topics that might include: globalisation and neoliberalism; ecology and animal lives; artificial intelligence and the posthuman; political activism and social justice; migration and displacement; state violence and armed conflict. We will discuss formally and conceptually challenging works, raise ethical and philosophical questions and begin to discover how current critical and theoretical approaches can help us to engage with contemporary texts.

20 credits

Introduction to Creative Writing

The aim of this unit is to help students to develop their expressive and technical skills in writing poetry and prose and to improve their abilities as an editor and critic of their own and other people's writing. Students will be guided in the production of new work and encouraged to develop an analytical awareness of both the craft elements and the wider cultural and theoretical contexts of writing. This module explores poetic techniques for creating new poems and narrative techniques for generating some prose work through the critical study of published examples, imaginative exercises, discussion and feedback on students' own writing. This exploration will help students to develop their own creative work while sharpening critical appreciation of published poetry and modern and contemporary fiction. The course is designed to give students the expereince of being workshopped as well as to establish basic creative writing techniques on Level 1 to preparing students for the challenges of Creative Writing Level 2.

20 credits

Shakespeare

This unit introduces students to the plays and poetry of William Shakespeare. Students will read a wide range of his works and will analyse them in the context of the cultural and historical energies of sixteenth- and seventeenth-century England. We will consider the range of dramatic styles and genres that he engages, alongside the conditions of performance, kinds of publication, and the characteristics of the language in which he worked. We shall also relate the texts to critical methods that help illuminate the relationships between drama and the culture, politics, and religion of the period.

20 credits

History of English

This module traces the history of the English language of the Fifth century AD through to the present day. Students will learn about the development of English over this period, looking at the factors which have shaped the language, and learning a variety of techniques for studying the language. The module will also introduce students to the range and variety of the English language at all periods, and to the ways in which English influences, and is influenced by, other languages.

20 credits

Practical Stylistics

How are literary effects created through language? How can we describe these effects? This course will aim to provide literature students with a gentle introduction to language, and provide language students with experience of applying linguistic analysis to literary texts. The emphasis will be upon a practical hands-on approach, and topics covered will include sentence structure, lexical choice, cohesion, narrative structure, discourse analysis (with reference to drama and dialogue) and point of view in narrative fiction. The texts studied will be predominantly literary and twentieth century, and will include extracts from novels, plays, poetry and short stories.

20 credits

Introduction to Cinema

This module aims to study a cross-section of the most important American films up to the present day and to develop both a formalist and an institutional analysis of these works. Its intention is to study the growth of the classical Hollywood style, a matter of a sophisticated range of technical stratagems as well as of a genre-based cinema, and of the institution of Hollywood itself, the most significant force in cinema to-day.

20 credits

Studying Theatre: A History of Dramatic Texts in Performance

Covering classical, contemporary and popular texts, Studying Theatre; A History of Dramatic Text in Performance aims to turn an interest in theatre and theatre-going into a more thorough appreciation of the ways in which playwriting, acting, design and performance have shaped theatre's development. Each week students will study a particular play and the historical context that informed its first performances and its theatrical afterlife. The course emphasis is on theatre as a social practice and practical discipline. Seminars and lectures will focus on the play in performance, and the processes that underlie production. Students do not need previous knowledge or experience, but should be prepared to try some new approaches to texts, for example through practical workshops.

20 credits

Foundations in Literary Study: Biblical and Classical Sources in English Literature

This module provides foundational knowledge about the treatment of Biblical and Classical sources in English Literature. It is an important unit for the study of literature and the Humanities, preparing students for work at higher levels. Typically a Biblical or Classical source and a literary text will be discussed together, to expose a range of meanings and to prepare participants for their own research about both the Bible and Classical material as literature and the treatment of Bible and Classical material in Literature. It will also prepare students for independent research. It is recommended that all students of English take this module.

20 credits

Reviewing Theatre: The Art of the Critic

This module focuses on:1) The development of appropriate skills and vocabularies to facilitate analysis and discussion of theatre performance.2) The question of how an essentially ephemeral event might be most effectively documented for the benefit of future researchers.3. An exploration of the reception and impact of specific 'historical' performances, and how we know what we know about them.Students will watch contrasting kinds of live theatrical performance, which they will discuss, analyse, and respond to in a variety of ways. They will also carry out research into selected past performances and consider the role and practice of threatre criticism.

20 credits
In your second year, you will take a minimum of 20 credits or a maximum of 40 credits at the School of English. 
Optional English modules:
Romanticism to Modernism (b)

This module focuses on a diverse range of texts (including poetry, prose, drama and film) produced between the late eighteenth to the late twentieth century. It pays detailed attention to the varied styles, issues, and movements produced by the rapid technological, political and cultural shifts that characterise these two centuries. Drawing on the expertise of the teaching team, the module introduces cutting-edge research carried out within the department in areas such as romanticism, the Gothic and science fiction, experimental literature, colonial and postcolonial contexts, war studies, and animal studies.


20 credits

Literature and Critical Thought (b)

This course introduces writers, concepts and approaches fundamental to contemporary literary theory, and explores their application to diverse relevant texts. Students will engage in a transhistorical study of the formal, literary and cultural functions of genre (e.g. in the forms of comedy and tragedy). They will also encounter theorists such as Karl Marx, Sigmund Freud, Ferdinand de Saussure, Mikhail Bakhtin, Roland Barthes, Michael Foucault, Julia Kristeva, Jacques Lacan and Jean Baudrillard. Lectures will introduce and explain this material, and seminars will discuss and apply it to the study of literature.

20 credits

Road Journeys in American Culture: 1930-2000

This module analyses the development of road narratives from the 1930s to the present, looking at the ways in which this narrative trope tells the story of American culture and society throughout the twentieth-century. The module aims to address some or all of the following questions. Do road journeys reflect or run away from political realities 'at home'? To what extent is the road journey a gendered space predominantly occupied by men? Are certain groups of people allowed to travel and other groups not? Is the road journey a metaphor for American colonization and expansion, or something else more ambiguous? Texts to be studied include films such as 'The Wizard of Oz', 'Bonnie and Clyde', The Straight Strory', and 'O Brother, Where Art Thou?' novels such as 'On the Road' by Jack Kerouac, 'Lolita' by Vladimir Nabokov, and 'The Music of Chance' by Paul Auster, and poems by Elizabeth Bishop and Amy Clampitt.

20 credits

John Donne

This module focuses on the work of one of the most charismatic, provocative, and intellectually challenging poets and preachers of the early modern period, John Donne. Ranging across Donne's writings, we will consider his erotic and religious poetry, political satires, letters, and sermons. The module will examine the social and literary circles in which Donne's work was written and read, with a particular emphasis on contemporary cultures of print and manuscript, and also seek to locate Donne's work in the wider context of sixteenth and seventeenth-century society, exploring, for example, his engagement with court politics, religious controversy, debates about marriage, and the exploration of the New World. The module will conclude with an examination of the critical reception of Donne's work and, in particular, the ways in which his biography has been constructed from the seventeenth-century to the present day.

20 credits

Shakespeare on Film

This module deals with issues arising from the transposition of Shakespeare¿s plays to film. It will consider such issues as the relationship between text, staging and the cinematic adaptation. The course will look at, for example, the comparative strengths of films that attempt textual fidelity (Branagh¿s Hamlet) and those that reflect the auteur/director¿s need to `rewright¿ the original (Derek Jarman¿s The Tempest); and analyse the problems, in terms of space, language and otherwise, associated with adapting stage drama for cinematic purposes. In particular, this module will look at some of the most exciting, unconventional and successful adaptations of Shakespearean plays to screen.

20 credits

Literature and Nonsense

This Level 2 module aims to introduce students to literary nonsense published between the eighteenth century and the present day. Challenging the common conception that nonsense literature is a Victorian phenomenon that begins and ends with Lewis Carroll and Edward Lear, it will trace both the forebears and the heirs of these two fathers of nonsense in order to propose nonsense as a kind of writing that presents radical formal, philosophical and ideological challenges to literary and critical practice.

20 credits

Literature, Ecology, Capital

Fredric Jameson famously noted that it seems to be easier for us today to imagine the thoroughgoing deterioration of the earth and of nature than the breakdown of late capitalism. This module explores how literature represents the relationships between ecological crisis and the crises of capitalism. We will consider texts concerned with (for example) petroculture, habitat loss, biotechnology, meat and tourism. Chronologically, we will move from the late nineteenth century to the present. Given the global nature of the topic, we will be concerned with a diverse range of national literatures.

20 credits

New Realisms: Contemporary British Cinema

This module will explore the ways in which contemporary British directors working within the broad traditions of British realist cinema have responded to and sought to represent the contemporary period. Students will study films by directors such as Andrea Arnold, Shane Meadows, Andrew Haigh, Clio Barnard, Duane Hopkins, Joanna Hogg, Steve McQueen, and Francis Lee and will consider these works in a range of theoretical, formal, and institutional contexts.

20 credits

European Gothic

What were the historical circumstances which led to the rise of the Gothic in Europe? This course will interrogate the Gothic through this and many other questions which will place emphasis upon its historical and political contexts. We will examine a variety of Gothic texts from 1764 to the present day, and locate and critique them historically through a variety of contemporary reviews and critical essays. Gothic art and architecture will also be examined in relation to the texts with a scheduled slide show, examining work by 'Gothic' artists such as Goya and Piranesi.

20 credits

Representing the Holocaust

This course will examine fictional and non-fictional, literary and filmic, representations of the Holocaust, and considers the use and extension of conventional textual forms to do so, including documentary film, memoir, short story and cartoon. Texts covered will include Elie Wiesel's 'Night', Claude Lanzmann's film 'Shoah', Martin Sherman's 'Bent', Martin Amis's 'Time's Arrow' and Ida Fink's stories in 'A Scrap of Time'.

20 credits

Storying Sheffield

On this innovative and exciting course you will work alongside Sheffield people from less advantaged backgrounds in order to co-produce narratives about their lives in the city, and contribute to a high-quality web-based narrative resource: ¿The Sheffield Story Web¿. In seminars and workshops you will develop skills in using narrative as a method of undertaking research, and will learn about narrative and personal geographies; the study of English and `real-world¿ projects; and representing life-stories using creative means. The course will provide you with opportunities to develop and demonstrate a wide range of transferable skills attractive to future employers.

20 credits

Good Books: Intertextual Approaches to Literature and the Bible

Literature, film and television constantly return to the Bible as a source of narrative, character and image. Biblical texts are translated, rewritten, transposed and radically challenged by literature from the medieval period to the present day and so intertextual readings of the Bible and literature provide insight into the ways authors engage with politics, philosophy, and tradition. Our module explores a range of intertextual relationships, from medieval dream poetry through to contemporary writing and cultural representation, including a range of genres and approaches. We will analyse film, TV and visual media as well as literary forms, to explore the ways in which creative writers interpret and re-imagine biblical narratives and tropes.

20 credits

Satire and Print in the Eighteenth Century

Against a background of political, religious and cultural ferment, new ideas of the individual's relationship to the state emerged in the early-eighteenth century. New kinds of readers, authors, and an increasingly powerful book trade reshaped the literary map of Britain. Those fraught relationships are captured in the prose and poetry of the satirists upon this course. The political, religious and economic satires of writers including Defoe, Pope, Swift, Ramsay, Finch, Gay, Leapor, Montagu, Addison and Steele will be read as a new and troubled relationship between the individual and the state emerged alongside a vigorously contested idea of 'Britain' in literature.

20 credits

The Postcolonial Bildungsroman

This module considers the bildungsroman as a global form that, having emerged in tandem with Western imperialism, remains a vital means of constructing the self and (re)imagining social and political relations in postcolonial literatures. We will focus on the representation of growth, development and community in novels from South Asia, Nigeria, South Africa and the Caribbean, paying attention to features that are, arguably, anti-developmental, including primitivism, animality, violence, illness and disability. We will investigate how 'postcolonial' or 'global' novels stretch, resist or overhaul, an inherited form and ask how contemporary concerns with race, gender and religious conflict play out for protagonists in whose lives the local and the global meet.

20 credits
You'll spend the third year of your course abroad, speaking the language and living the culture of either one or two of your chosen languages.
In your final year, there are no core requirements for English. You will choose from a wide range of options: from short, intensive topics to year-long modules (including an optional dissertation). As a dual honours student, you must choose a minimum of 40 credits within the School of English.
Optional English modules:
The Invention of Romanticism: Pride, Persuasion and the Modern Mind (details TBC)
Strange Forms: Diaries, Letters, Memoirs and Other Peculiar Genres (details TBC)
Stories at the End of the World: From the Beginning of the End to Apocalypse Now (details TBC)
Textual Materialities: Archives, Editing and Literary Artefacts (details TBC)
What it Means Not to be Human: Animals, Ecology, Technology, Literature (details TBC)
Immodest Women: Lives and Lines (details TBC)
Creative, Experimental, Destructive (Writing) (details TBC)
Chivalry and Romance in the Middle Ages (details TBC)
Middlemarch (details TBC)
Power, Knowledge and Sexuality on Stage, 1580 -1700 (details TBC)
Searching Selves: Voicing the Early Modern 'I' (details TBC)
Literature of the Black Atlantic (details TBC)
Radical Theory

The premise of this course is the necessity to re-interpret the university as a site for philosophical speculation and theory-based intervention. Run collectively, the course will address, to use Walter Benjamin's terms, the catastrophe of the status quo, and is structured around three aims, which are: 1) to address 'moments' of crisis such as, for example, climate change; the neoliberal, market-driven higher education system; the state of exception; the myth of the human; 2) to theorize these crises, and 3) to explore the relationship between theory and practice: in particular to explore theorized agency as enabling political activism.

20 credits

Dissertation

This module provides third year students with an opportunity to develop work done in Approved Modules and Core units, or study a relevant topic not included in these courses. Students are expected to show a capacity for research and for organising a long essay. The Dissertation is an essay between 8,000 and 10,000 words, the result of a sustained period of independent study at Level 3. The Dissertation takes the place of a second semester Approved Module. Disertation topics must be approved by the Dissertation convenor, Cathy Shrank. She will take into account appropriate courses that have been taken. She may advise against taking the Dissertation. It is exected that students will formulate a topic with the help of a potential supervisor chosen from the full-time academic staff and after discussion with their Personal Tutor. Registration for the Dissertation depends on availability of supervisors. Dissertation students have a preliminary meeting with their supervisors early in Semester 1 and then meet supervisors at least three times during Semester 2. Normally supervisors read one near-complete draft of the Dissertation not later than the first week after the Easter vacation. The Dissertation is due at the end of Semester 2 and normal assessment submission regulations apply to it.

20 credits
The content of our courses is reviewed annually to make sure it's up-to-date and relevant. Individual modules are occasionally updated or withdrawn. This is in response to discoveries through our world-leading research; funding changes; professional accreditation requirements; student or employer feedback; outcomes of reviews; and variations in staff or student numbers. In the event of any change we'll consult and inform students in good time and take reasonable steps to minimise disruption. We are no longer offering unrestricted module choice. If your course included unrestricted modules, your department will provide a list of modules from their own and other subject areas that you can choose from.
Learning and assessment
Learning
You'll learn through a mix of lectures, seminars and language classes. Language teaching is in small groups, so you'll get plenty of tailored support and will get to know your tutors well.
You'll be taught by world-leading experts in both departments.
Assessment
We use a range of assessment methods during your course. In the language programme you will be given regular homework assignments and take a mix of coursework and exam assessments at appropriate points over the academic year. You will be assessed on the core skills of speaking, listening, reading and writing. Our assessment methods vary across our courses and include taking sit-down exams, developing a portfolio, writing essays, taking part in group projects or giving individual presentations.
Programme specification
This tells you the aims and learning outcomes of this course and how these will be achieved and assessed.
Entry requirements
The A Level entry requirements for this course are:
ABB
typically including a modern foreign language
A Levels + additional qualifications BBB, typically including a modern foreign language + B in the EPQ
International Baccalaureate 33, typically with 5 in a Higher Level modern foreign language
BTEC Extended Diploma DDD in a relevant subject + an appropriate modern foreign language qualification
BTEC Diploma DD + B at A Level typically in a modern foreign language
Scottish Highers + 1 Advanced Higher AABBB + B typically in a modern foreign language
Welsh Baccalaureate + 2 A Levels B + AB, typically including a modern foreign language
Access to HE Diploma Award of Access to HE Diploma in a relevant subject, with 45 credits at Level 3, including 30 at Distinction and 15 at Merit
Other requirements
If you are not studying a modern foreign language, the department will consider other evidence of aptitude for language learning (such as a languages GCSE at grade 4/C or, for non-native speakers of English, an English language qualification)
The A Level entry requirements for this course are:
BBB
typically including a modern foreign language
A Levels + additional qualifications BBB, typically including a modern foreign language + B in the EPQ
International Baccalaureate 32, typically with 5 in a Higher Level modern foreign language
BTEC Extended Diploma DDM in a relevant subject + an appropriate modern foreign language qualification
BTEC Diploma DD + B at A Level typically in a modern foreign language
Scottish Highers + 1 Advanced Higher ABBBB + B typically in a modern foreign language
Welsh Baccalaureate + 2 A Levels B + BB, typically including a modern foreign language
Access to HE Diploma Award of Access to HE Diploma in a relevant subject, with 45 credits at Level 3, including 24 at Distinction and 21 at Merit
Other requirements
If you are not studying a modern foreign language, the department will consider other evidence of aptitude for language learning (such as a languages GCSE at grade 4/C or, for non-native speakers of English, an English language qualification)
School of Languages and Cultures
At the School of Languages and Cultures you'll develop your linguistic skills to a very high level and deepen your understanding of the cultural context of the countries where your languages are spoken.

We offer a particularly wide range of languages - Catalan, Czech, Dutch, French, German, Italian, Luxembourgish, Portuguese, Russian and Spanish.

Right from the start, you'll work with the school's top specialists and native speakers who will help you realise your linguistic potential. Language teaching is in small groups, so you'll get plenty of support tailored to your needs and get to know your tutors well.

We're a leading centre for modern languages and cultures research. Our work spans identity, gender, linguistics, politics, migration and literary studies. This research informs our teaching, helping you to develop a global understanding of language and languages across cultures and countries.

You'll be able to study optional modules either in your individual languages, or across the school so you'll acquire an in-depth understanding of your chosen languages and their cultures, and how they relate to other languages and cultures across modern languages disciplines.
Our student-run language societies organise multilingual events, trips and creative projects. There are opportunities to volunteer in the community and in schools, inspiring others to try new languages.
School of Languages and Cultures students are based in the Jessop West building at the heart of the University campus, close to the Diamond and the Information Commons. We share the Jessop West Building with the Department of History and the School of English.
School of Languages and Cultures
School of English
We're a research-intensive school with an international perspective on English studies. Students can specialise in their chosen subject, whilst taking modules from other programmes, forging interdisciplinary connections. We are famous for our pioneering work with communities, locally and internationally. We encourage our students to get involved and to apply their academic learning, working in partnership with external organisations both within the city of Sheffield and beyond.
Our staff are researchers, critics, and writers. They're also passionate, dedicated teachers who work tirelessly to ensure their students are inspired.
We keep seminar groups small because we believe that's the best way to stimulate discussion and debate. Our modules use a range of innovative assessments and can include designing websites, writing blog posts, and working with publishing software, in addition to writing essays and delivering presentations.
We're committed to providing our students with the pastoral support they need in order to thrive on their degree. All students are assigned a personal tutor with whom they have regular meetings. You are welcome to see any of the academic staff in their regular student consultations if there's anything you want to ask.
The School of English is based in the Jessop West building at the heart of the university campus, close to the Diamond and the Information Commons. We share the Jessop West Building with the Department of History and the School of Languages and Cultures.
School of English
Why choose Sheffield?
The University of Sheffield
  A top 100 university 2022
QS World University Rankings
  92 per cent of our research is rated in the highest two categories
Research Excellence Framework 2021
  No 1 Students' Union in the UK
Whatuni Student Choice Awards 2020, 2019, 2018, 2017
School of Languages and Cultures
Top 10 in the Russell Group for research impact
Research Excellence Framework 2014
91% overall student satisfaction
National Student Survey 2019
---
School of English
1st for research environment
Research Excellence Framework 2014
---
Graduate careers
School of Languages and Cultures
Our graduates are excellent communicators, adaptable and culturally aware. They work in international development organisations, business and banking, translating and interpreting, intelligence services, journalism, teaching, publishing, and international sales and marketing. Many go on to further study.
School of English
The academic aptitude and personal skills that you develop on your degree will make you highly prized by employers, whatever your chosen career path after university:
Excellent oral and written communication
Independent working
Time management and organisation
Planning and researching written work
Articulating knowledge and understanding of texts, concepts and theories
Leading and participating in discussions
Negotiation and teamwork
Effectively conveying arguments and opinions and thinking creatively
Critical reasoning and analysis
Our graduates are confident and articulate. They have highly developed communication skills, equipping them for a wide range of careers in journalism, the charity sector, marketing and communications, theatre and television production, PR, copywriting, publishing, teaching, web development, accountancy, and speech and language therapy, among other fields.
Many of our students go on to postgraduate study, research, and an academic career.
Placement/study abroad
Work experience
You can study our courses with the Degree with Employment Experience option. This allows you to apply for a placement year during your degree where you'll gain valuable experience and improve your employability.
Study abroad
There are opportunities to study abroad, for a semester or a year, as part of a three or four-year degree programme. We have exchange agreements with universities in the USA, Australia, Canada, Singapore and throughout Europe.
Fees and funding
Fees
Additional costs
The annual fee for your course includes a number of items in addition to your tuition. If an item or activity is classed as a compulsory element for your course, it will normally be included in your tuition fee. There are also other costs which you may need to consider.
Visit us
University open days
There are four open days every year, usually in June, July, September and October. You can talk to staff and students, tour the campus and see inside the accommodation.
Taster days
At various times in the year we run online taster sessions to help Year 12 students experience what it is like to study at the University of Sheffield.
Applicant days
If you've received an offer to study with us, we'll invite you to one of our applicant days, which take place between November and April. These applicant days have a strong department focus and give you the chance to really explore student life here, even if you've visited us before.
Campus tours
Campus tours run regularly throughout the year, at 1pm every Monday, Wednesday and Friday.
The awarding body for this course is the University of Sheffield.
Recognition of professional qualifications: from 1 January 2021, in order to have any UK professional qualifications recognised for work in an EU country across a number of regulated and other professions you need to apply to the host country for recognition. Read information from the UK government and the EU Regulated Professions Database.