Politics and Philosophy
BA
Department of Politics and International Relations
Department of Philosophy
Apply for this course
You are viewing this course for 2023-24 entry. 2024-25 entry is also available.
Key details
A Levels

AAB


Other entry requirements
UCAS code

LV25

3 years

/

Full-time

September start
Dual honours
Optional placement year
Study abroad
Course description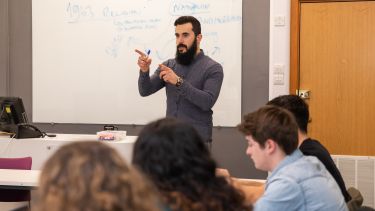 This combination of subjects gives you the chance to examine ideas about human nature and society that underpin political theory. You'll study modules in the Department of Politics and the Department of Philosophy. Half your modules will be in politics, the other half in philosophy.
Politics teaching includes international relations, governance and public policy, political theory and comparative politics. The geographical areas covered include Europe (Central, Southern and Eastern Europe and the European Union), the Americas, Asia (South) and Africa.
In philosophy, you'll study the essential cornerstones of the subject (including philosophy of language, ethics, metaphysics and logic) alongside specialist modules.
Topics range from philosophy of education, law or medicine, to film and philosophy, or feminism. You'll also study the history of the subject from Plato to the French existentialists.
Modules
A selection of modules are available each year - some examples are below. There may be changes before you start your course. From May of the year of entry, formal programme regulations will be available in our Programme Regulations Finder.
Choose a year to see modules for a level of study:
Title: Politics and Philosophy BA course structure
UCAS code: LV25
Years: 2023, 2024
First year
You will take the following core modules:
Analysing Politics

This module is about (1) politics, and (2) how to analyse it. More specifically, it involves (1) understanding how power and truth operate in the contemporary world; and (2) discovering different ways to research these dynamics so as to build compelling and rigorous accounts of the political worlds that we find ourselves a part of. Students will learn through a combination of lectures, seminars, and independent study; and will be assessed on the basis of an essay and online multiple-choice tests.

20 credits

Writing Philosophy

Philosophical writing is a skill that you, the student, must hone early on in order to succeed in your degree. It is also a transferable skill that will serve you in your post-academic career. Philosophical writing combines the general virtues of clarity, organisation, focus and style found in other academic writing with particular philosophical virtues, namely, the ability to expose the implicit assumptions of analysed texts and to make explicit the logical structure of one's own and other people's arguments. A precondition of philosophical writing is a unique form of textual analysis that pays particular attention to its argumentative structure. In this module you will learn and practice philosophical writing. You will learn how to read in preparation for philosophical writing, learn how to plan an essay, learn how to rework your drafts and learn how to use feedback constructively. You will write five drafts and five essays and will have one on on tutorial on each essay you write. The lectures in the course will be split between lectures of the art of writing and lectures on philosophical topics in the domain of fact and value. Essay topics will be based on the topical lectures and their associated readings


20 credits
Plus at least one other core Philosophy module from this list:
Ethics and Society

This module aims to introduce a range of topics from certain overlapping areas of philosophical research relating to normative and practical matters: in particular, dealing with ethical theory, applied ethics, moral theory, moral psychology, and politics. The module aims to outline some major philosophical problems and topics from these areas, while also showing how the underlying concerns of the areas are connected to broad underlying philosophical concerns.

20 credits

Mind and World

This module aims to introduce a range of topics from epistemology, metaphysics, and the philosophy of mind. The module aims to outline some philosophical problems and topics from these areas, and in doing so show how these areas connect and thereby show how philosophical thinking can be unified and interconnected across these subjects.

20 credits

Reason and Argument

This module aims to introduce a range of concepts and theoretical tools that are central to a great deal of work throughout philosophy and that are, more generally, very useful in evaluating arguments and analysing their components. The module will thus incorporate materials relating to critical thinking and logic, building upon fundamental theoretical ideas about meaning.

20 credits
Optional modules:
British Politics

This module will introduce students to key concepts and debates in British politics through an examination of post-1976 British political history. Each lecture will take as its starting-point one day in recent British history and will describe what happened on that day and what happened as a result of that day. Each of the seminars will then follow that discussion: paying particular attention to concepts and ideas within the study of politics which can help us make sense of those events.

20 credits

Gender and the World

This module aims to interrogate the role of gender and sex in shaping world politics. To do this, it asks how notions of masculinity and femininity shape our institutions, how gender might influence the political problems we prioritise and whose voices are taken seriously in developing responses to these problems. 

Students will answer these questions through the study of the politicisation of sex, the relationship between gender and violence, how current practices of gender are shaped by colonialism and a range of other timely topics that shape the world today. 

The module will allow students to develop an understanding of different approaches to gender, be introduced to key concepts from feminism and queer theory, learn to apply these ideas practically to a set of case studies and debate what the future of gender is in world politics. 

20 credits

Introduction to Comparative Politics

This module examines the utility of the comparative approach to politics with a particular focus on democracies, dictatorships, and semi-democratic regimes. The key features of each regime type are considered and these are used to explain the nature of the comparative method, its strengths and weaknesses. This course also applies a comparative lens to processes such as democratisation, modernisation, and mobilisation. This course will draw on a wide range of examples from democratic, authoritarian, and semi-democratic countries.

20 credits

Introduction to Global Political Economy

This module provides an introduction to global political economy (GPE). It covers key mainstream and critical theories and considers critically what GPE is. Following this, the main focus will be on sketching the outlines of the global economy (past and present) by considering particular commodities. This provides a novel way to introduce the student to the major processes of global trade, finance and production. It also considers the political economy of race, class and gender as core theoretical themes that interweave the empirical examination of the global political economy, from roughly 1500 through to the 21st century.

20 credits

Introduction to Western Political Thought

This module provides an introduction to key themes and thinkers in Western political thought. It explores the different meanings of the nature of politics and the political in this tradition. One key theme will be the relation between human nature and politics. This will be explored through a series of deep conflicts between reason and desire, the state and individual, and the public and private. These conflicts are examined through the different visions of politics of a selection of ancient and early modern thinkers. The module will also engage with critiques of the canon of Western political thought itself, in particular from a postcolonial perspective.

20 credits

Planet Politics

From the atmosphere to Antarctic ice sheets, the Earth has been fundamentally transformed by human activity: we now inhabit a 'human planet'. At the same time, from mining and agriculture to modern patterns of resource consumption, humankind has become dependent on the very activities that have caused these transformations. 

Far from being automatic or inevitable, these transformations are deeply political on multiple levels – in their causes, in their consequences, and in the many arguments and differences over how to respond to them. 

This module will introduce students to some of this 'Planet Politics'. It will consider questions such as: 

Are we on the verge of a planetary ecological crisis? 

Is capitalism the problem, or the solution? 

Are there just too many people? 

Is meaningful international environmental cooperation possible? 

What are the vested interests obstructing change? What forms of social resistance are appropriate? 

What is 'environmental justice'? 

Examining both key environmental and resource issues and the main approaches to studying them, the module asks some of the biggest questions about life: how should we live, and what should we do?

20 credits

Political Violence

This module will provide students with an introduction to political violence and begins by engaging with debates over the conceptualisation of violence, and when violence should be understood as "political".  It will then introduce students to debates over the causes and consequences of violence through an examination of specific topics, which may include:

histories of violence

terrorism

interstate war

settler-colonial violence

structural violence

slow violence

gender based violence

war ecologies

the politics of violence prevention

violent resistance

attempts to regulate violence.  



We will explore these themes by asking how violence is refracted through race, gender, ethnicity, and other forms of social difference. Students will have the opportunity to explore these topics through specific examples and develop the necessary skills to apply them in practice. 

The module will allow students to develop an understanding of the key theories, concepts, issues and themes in the study of political violence by:

understanding the debates on the conceptualisation of "violence" and what makes violence "political"

developing skills in critical analysis, writing, and presentation

developing the ability to apply theories and issues to specific cases of political violence

20 credits

Race and Racism in World Politics

Through historical and contemporary case studies, students will study how our world today has been shaped by historical events, many of which continue to inform current relations. We will discover how discourses around race, ethnicity, gender and class construct realities today, determining who rules and who is ruled, who lives and who dies. 

The module will give students a theoretical toolkit, including approaches from the majority world, enabling them to appreciate power and the political significance of silences in accounts of the global and political.

We will learn about the historical production of the idea of race; how it configured the world in particular ways; how race mandated the colonial project. However, the module will also go beyond race to think about colonialism and the identities that operate in conjunction with race including class, ethnicity, and gender, and how they can determine what type of life people can live or whether they can live at all. For example, they determine whether a child has the right to security, or has to risk losing life in the Mediterranean escaping violence at home. 

Students will also learn about resistance and efforts to construct a different and more just world. Through rich historical and contemporary case studies, students will learn how to connect theories to understand current affairs, drawing on thinkers from various backgrounds to counter some of the dominant narratives within international relations.

20 credits

The World's Wicked Problems

This module will introduce students to key international relations concepts and discussions. Students will be able to understand, analyse and reflect on some of  the most pressing issues in the international arena including: 

migration

climate change

poverty and global inequalities

sexual violence 

armed conflict 

This introductory module will equip students with the tools to continue engaging with more in-depth theoretical and empirical international relations discussions as they progress through their studies.

20 credits

Death

This module is mainly about death itself . What is death? What happens to us when we die? Could there be an afterlife? Would it be a good thing if there were? What is it about death that we dislike so much, or that makes it bad? Is it rational, or even possible to fear death? What is the right attitude towards our own death? Do we have moral duties towards the dead? The course will clarify these questions and attempt to answer them. Readings will be taken from both historical and contemporary sources.

10 credits

History of Ethics

How should we live? What is the right thing to do? This module offers a critical introduction to the history of western ethical thought, examining some of the key ideas of Plato, Aristotle, Hume, Kant, Wollstonecraft, Douglass, Bentham, Mill, Taylor Mill, Nietzsche, Rawls and Gilligan. It provides a textual introduction to some of the main types of ethical theory: the ethics of flourishing and virtue; rights-based approaches; utilitarianism; contractualism. We explore the close interconnections between ethics and other branches of philosophy (e.g. metaphysics, epistemology, aesthetics), as well as the connections between ethics and other disciplines (e.g. psychology; anthropology).

10 credits

History of Philosophical Ideas

The history of philosophy is made up of a series of debates between competing philosophical traditions and schools: for example, idealists argue with realists, rationalists with empiricists. And at different times, distinctive philosophical movements have dominated the discussion, such as pragmatism, existentialism, phenomenology, analytic philosophy, and critical theory. This module will introduce you to some of these central movements and traditions in the history of philosophy from Plato onwards, and the key philosophical concepts and issues that they have brought in to western thought.

10 credits

Philosophy of Religion

This course will pose and try to answer philosophical questions about religion. These include questions about the nature of religion. For instance does being religious necessarily involve believing in the existence of a God or Gods? And is religious faith compatible with adherence to the scientific method? Other questions that the course will cover include questions about the theistic notion of God. Does the idea of an all-powerful being make sense? Is an all-knowing God compatible with human freedom? And is an all-powerful, all-knowing and perfectly good creator of the universe compatible with the existence of evil? Further questions concern God and morality. Is it true that if there is no God, then there is no right and wrong? The course will examine philosophical arguments for the existence of God, and question whether these arguments are sound.

10 credits

Philosophy of Sex

Sex is one of the most basic human motivators, of fundamental importance in many people's lives, and a topic of enormous moral, religious, and political contention. No surprise, then, that it turns out to be of great philosophical interest. We will discuss moral issues related to sex' asking when we might be right to judge a particular sex act to be morally problematic; and what political significance (if any) sex has. We will also discuss metaphysical issues, such as the surprisingly difficult questions of what exactly sex is and what a sexual orientation is. Throughout our study, we will draw both on philosophical sources and on up-to-date contemporary information.

10 credits
Second year
Core modules:
Political Analysis: Research Design and Data Analysis

This module provides students with an introduction to research design and methods for analysing of political phenomena. The module encourages students to reflect on how they conceptualise, design and analyse the political world. This involves exploring the relationship between theory and empirical political research. The module explores various techniques used in the analysis of empirical political research, with particular emphasis on the collection and analysis of quantitative data.

20 credits
Optional modules:
Contemporary Security Challenges

This module examines a series of key contemporary challenges to international security. It addresses debates about the changing nature of security, analyses some of the causes of conflict and the development of new security threats, and assesses some of the ways in which states seek to manage these threats. A range of approaches are examined in order to provide students with a theoretically-informed but policy-relevant understanding of security-related issues in the twenty-first century.

20 credits

Human Rights, Power and Politics

The module introduces students to the big debates about human rights. It explores the achievements of the human rights agenda, as well as its failures. The module interrogates a number of important questions about the relationship between human rights and politics. How do human rights work in domestic and international politics? What are effective strategies for realising rights? What role do non-state actors play in the realisation of human rights? Finally, by focusing on the methodological and ethical challenges of researching and measuring human rights, the module makes space for equipping students for their own future research projects.

20 credits

The Left: Past, Present & Future

This module considers the past, present, and future of 'The Left'. From its origins in the French Revolution, this movement has struggled to balance equality, liberty and solidarity. Implementing these values has given rise to many different stands of leftist thought, leading to debates between radicals and proponents of meliorism. This module gives students the historical, theoretical and empirical tools to understand 'The Left' as a continuing project. Core topics include: defining 'The Left', its origins and theoretical development, its relation to political economy, as well as the current state of the left in the UK and around the world.

20 credits

Oppression and Resistance

This module considers oppression and resistance from a variety of perspectives. Although the Enlightenment sought to liberate individuals from social/political domination, it failed to address many forms of oppression at home and was bound to European projects of colonialism. Addressing these forms of violence has been the major project of post-Enlightenment thought and global social movements. This module gives students the historical, theoretical and empirical tools to understand modern oppression and resistance. It explores: the legacy of the Enlightenment, feminism, sexuality, racism, post-colonial and decolonial thought, intersectionality, and social movement case studies such as Black Lives Matter and #MeToo.

20 credits

The Politics and Government of the European Union

This module will provide students with a working knowledge of European integration, and of the main institutions of the European Union, including the Council of Ministers, the Commission and the Parliament. The module consists of a series of lectures on the history and institutions of the European Union, and seminars to discuss issues raised in the lectures.

20 credits

Political Theory in Practice

This module explores key debates in political theory, and the implications of those debates for current political practice. It first examines debates surrounding justice, and what these mean for welfare and taxation policies. It then analyses disputes over the meaning of well-being, and their implications for policies surrounding disability and health. It introduces students to different ideas of toleration, and how these influence laws on free speech. It also explores controversies over multiculturalism, and in particular its impact upon women. Finally, it examines care ethics and its implications for how we value the environment.

20 credits

The Political Economy of Global Capitalism

This module will begin by providing students with an account of the major theoretical traditions which seek to interpret and explain the global political economy. These are liberalism and interdependence theory; mercantilism, nationalism and hegemonic stability theory; and marxism, dependency and world systems theory. It then explores different aspects of the contemporary global political economy - finance, development, trade and production - and ends by reviewing the intellectual debate about the meaning of globalisation.

20 credits

Africa in the World

Africa has long been treated as a marginal part of the world, both historically and in relation to contemporary global politics. This module aims to take this misconception away by exploring the crucial role that Africa plays in the current world order and the way it has historically evolved. 

Students will be introduced to the political, economic, socio-cultural, and military of Africa's international relations and be familiarized with the key actors, institutions and processes involved. 

We will look at how the slave trade and colonialism have shaped the modern world order, the global reverberations of African independence movements and pan-Africanism, and how continuing unequal relations are expressed in, amongst others, the politics of debt and military intervention. 

The module will also analyse Africa's relations to emerging global powers, such as China. To analyze these issues, the module will equip students with a range of theoretical and conceptual tools from the field of international relations, drawing to a considerable extent on the work of African thinkers.

20 credits

Tackling the World's Wicked Problems: theoretical tools and applications

Rising poverty and inequality within and between states, increased droughts, flooding and environmental degradation, armed civil conflicts and war, infectious diseases, gender based violence, institutionalized racism, food insecurity are just some of the pressing problems that the world faces today. 

What solutions are there? 

What sources of knowledge can we draw on to develop ways forward to tackle such problems? 

This module will present students with a variety of theoretical perspectives and tools, such as Postcolonialism, and Green Theory, that seek to address the various 'wicked problems'. Students will be tasked with critically evaluating different International Relations theories and their applications, assessing their utility and ability to practically solve the most pressing problems in world politics. 

Global problems arguably require global solutions, and therefore global sources of knowledge. This module will also introduce students to 'non-Western' perspectives such as 'Chinese IR' and Ubuntu, in the process getting students to examine their 'problem-solving' capacities.

20 credits

The Making of The Modern Middle East

This module examines the major socio-economic and political dynamics that govern contemporary Middle East. 



Drawing on insights from anthropology, history, politics, political economy and gender studies this module explores key historical developments and political themes in the region and will provide students with historical and theoretical toolkits to analyse various political events in the Middle East. 

Students will learn how to:

use politics from below perspective

listen for multiple discourses and silences

contextualise voices and silences historically, politically, economically and geographically in wider regional and global power structures. 



The module will equip students with the conceptual and analytical skills to de-exceptionalise their understanding of Middle East politics.

20 credits

Chinese Politics

This module explores the political development of China from the end of the Qing Dynasty up to the present day. The core themes animating this module centre on China's continuous quest for modernity, the transformation of domestic politics, economics, and society, and China's changing position on the international stage. 

It covers a range of topics including:

the 1949 revolution and the Mao Zedong era

the post-1978 reform and opening-up era

recent changes under Xi Jinping

Students will be expected to think critically about the transformation of China, including the main forces that shaped it, as well as the domestic and global implications.

20 credits

Ethics: Theoretical and Practical

There are some things we morally ought to do, ways we ought to live. Those of us who are not moral sceptics will agree so far. Indeed, we may even agree extensively about what we ought to do or how we ought to live. But why? Ethicists don't just ask what we ought to do. They also try to work out, as systematically as possible, what explains the demands, obligations and requirements that stem from morality. That is what this module will explore. Is morality all about promoting the well-being of humans and other creatures? Does it stem from the requirements of rationality? Is it aimed at achieving the distinctive kinds of excellence that creatures like us can attain?

20 credits

Political Philosophy

We are citizens in a democratic capitalist society, we vote and choose our representatives and our government, our representatives make laws that we must then follow. We do not only obey the laws only for fear of being punished; we believe that our system of government is just, and that it is just for us to obey the laws. We believe that - by and large - we live in a just society. Do we? What justifies our system of government? Are there alternative possible relations, alternative forms of citizenship; alternative forms of government, alternative ways of organising a society? Is ours the only just one?
We will look at the history of political philosophy and explore various systems of citizenship, government and economic arrangements. Our main aim will be to understand how these different systems justify or legitimise the existence of government and its authority to make and enforce laws. We will also look at the more general notion of 'justice' that accompanies and grounds these systems of government.
Two side concerns will be:-
1. The relation between a philosopher's view of ethics and her political philosophy.
2. The relation between a philosopher's view of human nature and her political philosophy.

20 credits

The Rationalists

This module is an introduction to the major works of Descartes, Spinoza, Leibniz, and Kant. Their work is both fascinating in itself and enormously influential today. The emphasis will be on topics in metaphysics and epistemology, such as whether there is a god, whether you and I are material or immaterial, whether the physical or even the mental world is real or apparent, whether anything could have been otherwise than it is, and what it is possible to know. Readings will be mainly from primary sources. Discussion will focus on philosophical problems rather than on historical context.

20 credits

Feminism

Feminists have famously claimed that the personal is political. This module takes up various topics with that methodological idea in mind: the family, cultural critique, language. We examine feminist methodologies - how these topics might be addressed by a feminism that is inclusive of all women - and also turn attention to social structures within which personal choices are made - capitalism, and climate crisis .

20 credits

Formal Logic

The course will start by introducing some elementary concepts from set theory; along the way, we will consider some fundamental and philosophically interesting results and forms of argumentation. It will then examine the use of 'trees' as a method for proving the validity of arguments formalised in propositional and first-order logic. It will also show how we may prove a range of fundamental results about the use of trees within those logics, using certain ways of assigning meanings to the sentences of the languages which those logics employ.

20 credits

Environmental Justice

This module will introduce students to contemporary philosophical discussions of environmental justice at the global level. Topics to be covered may include: The nature of global environmental injustices; responsibility for global environmental problems; the relationship between global environmental challenges and other historical and contemporary injustices; fair international sharing of the costs of environmental action; the justifiability of environmental activism; the rights of indigenous peoples; fairness in global environmental decision-making; and the politics of 'geoengineering' the planet.

20 credits

Metaphysics

This course is an introduction to metaphysics. It will focus on two general themes: whether we are material things, and the nature of time. Readings will be drawn mainly from recent and contemporary sources.

20 credits

Philosophy of Education

What is education? And what is it for? These are the questions at the heart of this course. To begin to try to answer them, students will engage in: (1) a theoretical exploration of the central philosophical problems related to education and schooling; and (2) a practical task focusing on learning how philosophy can be taught effectively to secondary school pupils. The theoretical exploration will be taught in a similar way to other philosophy modules (through a weekly lecture and seminar) and a mid-term coursework essay will assess this component (counting for 50% of the module grade).

The practical element will be taught through workshops, engagement with reflective practice, observations at a secondary school, and actual experience of running seminars with secondary school pupils at the University during a three-day conference at the end of the course. The practical part of the course will be assessed by a teaching portfolio (which counts for 50% of the module grade) composed of lesson plans and a reflection. Teaching is a special kind of challenge, but students on the course are not expected to have any previous experience in teaching or in planning lessons. Help and support will be provided throughout the module to make the delivery of lessons to secondary school pupils a realistic goal for all motivated students.


20 credits

Philosophy of Mind

This module provides a survey of philosophical theories of the mind, looking at such questions as: How is consciousness possible? Why is it that vibrations in the air around us produce conscious experiences of particular auditory experiences in our minds? Why is it that electromagnetic waves hitting our retinas produce particular visual experiences in our minds? What makes our thoughts represent things in the world? What is it about your thought that cats have whiskers that makes it about cats and whiskers? What is it about your thought that there are stars in the universe too far away for any human to have perceived them that makes it about such stars? What is the relation between thoughts and conscious experiences and brain states? We'll look at a variety of answers to these and related questions and examine some of the most important and influential theories that contemporary philosophers have to offer.

20 credits

Philosophy of the Arts

This module introduces students to a broad range of issues in the philosophy of art. The first half asks 'What is art?'. It examines three approaches: expression theories, institutional accounts, and the cluster account. This is followed by two critiques focusing on the lack of women in the canon and problems surrounding 'primitive' art. The evolutionary approach to art is discussed , and two borderline cases: craft and pornography. The second half examines four issues: cultural appropriation of art, pictorial representation, aesthetic experience and the everyday, and the nature of artistic creativity.

20 credits

Reference and Truth

This module is an introductory course in the Philosophy of Language. The overall focus of the course will be on the notion of meaning. The first part of the course will attempt to shed light on the notion of meaning by investigating different accounts of the meanings of some types of linguistic expressions, in particular names (for instance 'Nelson Mandela') and definite descriptions (for instance 'the inventor of the zip', 'the first minister of Scotland'). We will then look at an influential approach to understanding what it is for words to have meaning and for people to mean things by their words, one due to Paul Grice. And we will examine the role and understanding of conventions and how someone can say something and yet communicate something very different from its conventional meaning. We will also explore the phenomena of 'implicature' where people can communicate more (or something different from) what they literally say.

20 credits

Religion and the Good Life

What, if anything, does religion have to do with a well-lived life? For example, does living well require obeying God's commands? Does it require atheism? Are the possibilities for a good life enhanced or only diminished if there is a God, or if Karma is true? Does living well take distinctive virtues like faith, mindfulness, or humility as these have been understood within religious traditions? In this module, we will examine recent philosophical work on questions like these while engaging with a variety of religions, such as Buddhism, Christianity, Confucianism, Daoism, Islam, and Judaism.

20 credits

Theory of Knowledge

The aim of the course is to provide an introduction to philosophical issues surrounding the knowledge. We will be concerned with the nature and extent of knowledge. How must a believer be related to the world in order to know that something is the case? Can knowledge be analysed in terms of more basic notions? Must our beliefs be structured in a certain way if they are to be knowledge? In considering these questions we will look at various sceptical arguments that suggest that the extent of knowledge is much less than we suppose. And we will look at the various faculties of knowledge: perception, memory, introspection, and testimony.

20 credits

Topics in Political Philosophy

This module will investigate a broad range of topics and issues in political philosophy and through doing so provide students with a broad understanding of those. It will include both historical and foundational matters and recent state of the art research.

20 credits
Third year
Choose ONE of the following core modules, plus taught module(s):
Dissertation in Politics

This module involves supervised research on an agreed topic. Students will meet with their module tutors and peers in five two-hour dissertation interactive lecture-workshops (10 hours) prepare and submit a formally assessed 1,000-word research proposal, undertake individual research and be assessed on the basis of a 8,000-word dissertation. Students will also undertake four individual supervision sessions with their dissertation supervisor at which objectives will be specified, their achievement monitored and general progress reviewed.

40 credits

Research Project 1

This module allows students to research and explore in-depth a topic studied on a semester one module. Students will meet with their supervisor individually, to undertake research and be assessed on the basis of a 5,000 word project.

20 credits
Optional modules:
Animals, Ethics and Politics

This unit explores the debates surrounding what we owe to animals politically. It introduces students to the main debates in animal ethics, and asks how they affect our political practices, norms, institutions and policies. Particular attention is focused on the tensions between animal welfare and other political values and goods, with students exploring such controversial policy debates as animal experimentation, animal agriculture, conservation and the use of animals for entertainment. The overall aim of the unit is to investigate the implications of taking animals seriously for current political practice.

20 credits

Public Policy and Democratic Politics

Recent years have seen a tide of pressures impact on policy makers. Fuelling distrust and disaffection with public policy making, populist politicians have blamed civil servants for alleged corruption. Political leaders have also pushed for fundamental changes in how states operate. From the bottom up, social movements have put pressure on policy makers to revolutionise racial and gender equality, and respond to climate catastrophe. Technological innovations confront policy makers with a new and alienating future.

Amidst a plethora of global crises, and with historically tight budgets and rapidly reducing timeframes, policy makers at multiple levels, from transnational bodies to local authorities, are now under extreme pressure to deliver. They need to find solutions for sustainability, stop pandemics, end inequality and protect fundamental rights. How can they make radical change happen? This module examines precisely this question. Students will gain a nuanced understanding of the pressures everyday policy makers face and how they manage these pressures with the aim of successfully implementing radical shifts in how we respond to the most pressing policy issues of our time.

 



 

20 credits

Britain and the European Union

The course seeks to make sense of: Britain's relations with the EU; the problems within UK politics associated with the European issue; and the Europeanisation of British politics/policy. The course will cover the pre-history of membership and accession. It will set out the analytical toolkit for understanding the UK's impact on the EU and then explore Britain's European diplomacy. It will also explore the EU's impact on the UK, using the Europeanisation literature to understand the impacts on British governance, its political forces and public policy within the EU. A short comparative section will put Britain in context.

20 credits

Britain in the Global Economy

To what extent does Britain's past development cast a shadow over its present and future?
By taking this module, you will look at British development from historical perspectives and trace the origins, the rise and the decline of Britain as a global economic power from the 18th Century to the present day. You will then focus on a number of core problems that have intensified within Britain since the 2008 global financial crisis, including Britain's dysfunctional economic model, its fraught relationship with Europe, the politics of immigration and culture, and contemporary constitutional challenges, such as the prospect of Scottish independence. It seems that Britain's status as a global economic power is entering its final years, so what comes next?


20 credits

Civilisation, Empire and Hegemony

With American power seemingly all powerful today, this unit provides a rethink of the origins of great power politics/economics. Mainstream Eurocentric theories in International Relations view great power politics/economics as having universal materialist properties. And they view America and Britain as hegemons that provide global public goods for the benefit of all. This module problematises this view by revealing the differing moral foundations and 'standards of civilisation' that inform the various directions that great power can take. It examines Britain and China in the pre-1900 era, contemporary America, Japan, and the potential role of China in the coming decades.

20 credits

Corporations in Global Politics: Possibilities, Tensions, and Ambiguities

Corporations are ubiquitous, affecting everything from mundane individual consumption choices, to the investment decisions of both weak and powerful states. Importantly, their authority extends beyond the economic sphere and into political, as they shape and execute policies and activities for some of the world's most pressing problems. This module explores the multifaceted political roles of corporations, and challenges students to critically reflect on their implications. Drawing upon international relations, political economy, and global governance literatures, it analyses the corporation theoretically, but also empirically drawing upon diverse case studies ranging from environmental sustainability and development, to war-making and peacekeeping.

20 credits

Cosmopolitanism

Cosmopolitanism is the idea that the world should in some sense be understood as a single political entity. 

This module will engage with 'cosmopolitanism' from the perspective of normative political theory. It will start by discussing the historical origins of cosmopolitanism, from the Cynics in Ancient Greece to Immanuel Kant and will then move to a discussion of the contemporary wave of cosmopolitanism theorising that began in the latter part of the 20th century. 

There have been two core strands to this wave: 

claims about the global scope of justice

claims about the need for a global democracy

Both strands have come in for considerable criticism: 

Is justice really global in scope?

Is it an idea that belongs within the state or nation? 

Do we really need a global democracy, and is it feasible? 

Does cosmopolitanism imply a world state? 

Is the whole notion of cosmopolitanism dangerously imperialistic? 

During the module students will discuss all of these questions, and more.

20 credits

Framing Politics? Economic Ideas as Political Weapons

Throughout the history of capitalism political battlelines and agendas have been set by economic ideas and forms of knowledge being used as political weapons to frame what can be said, done and thought by whom. In this module students will learn how political actors have used economic ideas across time to construct institutions and policies, empower and advantage certain social groupings over others, create shared understandings and expectations amongst citizens, and project (implicit) conceptions of justice. Students will come to an appreciation of how economic thought has shaped politics past and present, and how and why ideas change over time.

20 credits

Liberalism and its Critics

The aim of this module us to assess the state of contemporary liberal politics and political theory, and to address the question of whether liberalism is in retreat in the West. The course will provide students with an in-depth examination of key themes within liberal political theory (e.g. distributive justice, freedom, multiculturalism, neutrality, public reason) as a way of exposing them to the numerous variations within the liberal tradition. It will also examine and assess critics of liberalism (e.g. communitarian, republican, realist) as well as discuss several of the key contemporary challenges to liberal politics (e.g. the rise of populism, post-truth politics, identity politics, post-humanism, nationalism).

20 credits

Marx and Contemporary Marxism

This module will familiarise students with Marx's corpus and enable them to evaluate key historical processes-such as the development of capitalism and modernity, the birth of the nation-state and the international system-through a Marxist lens. The first part of the module surveys the development of Marx's thought against the background of the socio-economic and political transformations of the nineteenth century. The second part focuses on thematic issues, reviewing how Marx engaged with the questions of strategy, mobilisation, gender, culture, imperialism, and colonialism. This puts Marx and Marxism into dialogue with other critical approaches, including feminism, postcolonialism, and poststructuralism.

20 credits

Narcopolitics

Drugs are big business and politically salient, yet their production, trade, distribution and regulation are understudied in politics. Narcotics are rooted in complex webs of public, private and criminal power, with diverse consequences for growth, development, security and health. This module explores this evolving panorama: it traces the political evolution of therapeutic/psychotropic substances from the opium wars to prohibition, before analysing the 'War on Drugs', the attendant creation of mafia violence, and the emergence of 'narco-states'. Later classes address contemporary experiments in legalisation and decriminalisation, the development of licit recreational narcotics industries, and the implications for the global prohibitionist architecture.

20 credits

Pandemics and Panics: Health, Security and Global Politics

In today's globalized world, infectious diseases and other health issues have increasingly come to be seen as security threats - a shift that has challenged traditional notions of what 'Security Studies' is all about. This module seeks to provide an understanding of the contemporary politics of health and security, identifying the health issues which have been seen as security threats and the major policy responses to them. The module locates health and disease within the key approaches to Security Studies (including state-centric and human security approaches), and requires students to critically engage with the politics and ethics of securitizing health.

20 credits

Parliamentary Studies

This module focuses on how parliaments and legislatures operate and is founded on the basis of theoretically-informed but policy-relevant teaching. It therefore attempts to provide students with a sense of why cultures, traditions and informal relationships matter as much (if not more) than formal procedures. Although the House of Commons and the House of Lords provide the main institutional focus for this module students will be encouraged to adopt a comparative approach whenever possible and to situate their analysis within an appreciation of the changing role of parliament within evolving frameworks of multi-level governance.

20 credits

Party Politics: Competition, Strategies & Campaigns

This module provides an in-depth analysis of party politics. It offers a detailed exposition of the multiple issues related with parties, looking at the interactions both within and outside parties. The module covers key aspects of party politics such as the different types of parties, their organization, party membership, types of party systems, political competition and issue positioning, campaign strategies, formation of new parties, the effects of cleavages, coalition formation, party financing and the number of parties.

20 credits

Peacekeeping, State-building and International Intervention

This module looks at the way international intervention has changed in recent years. It draws on a number of different areas - humanitarian intervention, peacekeeping, development and state-building. It draws these areas together by exploring what they have in common and how there has been a shift in the way that international intervention deals with these issues. In particular, the international community has moved from direct involvement towards a form of governance that operates from a distance by encouraging local ownership, capacity building and resilience.

20 credits

Political Psychology: The Personal Side of Politics

This module covers the major theories and research paradigms in the exciting subfield of Political Psychology. Rather than reviewing what happens in politics (e.g. who wins an election) or how it happens (e.g. who votes for whom), we will look at why it happens by studying the psychology of politics at the micro level (e.g. the personality of politicians), the meso level (e.g. the ideological and moral foundations of political parties), and the macro level (e.g. motivated reasoning, racism and prejudice, mass political behaviour and the influence of the media).

20 credits

Political Theory in An Age of Total War

This module presents an overview of the major figures and themes in twentieth century continental political theory, ranging temporally from Max Weber to Jacques Derrida. In reflecting on the dynamics of modernity and rationalization, contemporary European political thought responds to the atrocities of Europe's age of total war. Much of this work is an attempt to come to grips with reason and unreason in the capitalist, industrialized, mass democracies of Europe in light of the legacies of two world wars and the rise of totalitarianism. Key themes include: the legacy of the Enlightenment, the role of technology in modern life, the bureaucratization of politics, the possibility of human freedom, collective memory and forgiveness and the role of philosophy in the aftermath of mass genocide. We will approach this material both historically and hermeutically in order to assess the strengths and weaknesses of these responses to these problems.

20 credits

Politics and the Quality of Life

This module aims to provide students with an understanding of contemporary political debates on quality of life issues and their relation to philosophical traditions within and beyond the main British political parties. This includes analysis of how quality of life is defined and measured in different contexts and relates this debate to long-standing debates on poverty, social exclusion and social capital. Attention is paid to the quality of life aspects of public policies.

20 credits

Practical Politics: How to Make Policy and Influence People

This course will provide a practical, hands on account of how policy is formulated, implemented and why it sometimes doesn't work. Focussing on environmental politics, the course draws on the experiences of policy experts including civil servants, lobbyists and politicians. It will an assessment that mirrors tasks routinely undertaken by those within or seeking to influence government.

20 credits

Sex, Race and Death: Feminist Perspectives on War, Violence and (In)Security

This unit produces a critical take on war, violence and security from feminist perspectives. Particular attention is focused on feminist theories that foreground the interconnectedness or 'intersectionality' of different power relations, including postcolonial, transnational and queer approaches. How are different forms and sites of violence connected? How do technologies of gender, sex and race shape understandings of certain forms of political violence as lawful, legitimate and necessary? What are the gendered legacies of (ongoing) histories of colonialism and imperialism? What are the (feminist) ethics of researching and possibly reproducing violence and suffering? Among the themes we will explore are the erotics of conquest and slavery; military masculinities; sexual violence in conflict; private military and security companies; torture and surveillance; women as agents of violence; Orientalism and the War on Terror; human rights and international law; imperial feminisms and just war theory; occupation and resistance.

20 credits

Sexual Violence in Armed Conflict

This module will address when, why, and how widespread sexual violence occurs in armed conflicts. The module will
(1) examine how academics and international actors understand and research what sexual violence is and why it occurs in certain conflicts;
(2) assess the international efforts to prosecute and prevent sexual violence in armed conflict; and
(3) undertake in-depth case study analysis to assess the various long-term consequences of sexual violence in armed conflict for individuals, communities, and processes of reconciliation.
Resultantly the module will assess what can be done to address this security issue and its numerous violent consequences.


20 credits

Terrorism, Violence and the State

This module aims to provide students with an understanding of the nature and legitimacy of forms of protest against the modern state. In particular the module focuses on issues of contemporary terrorism. However, in order to understand the nature and motivations of terrorism it is necessary to understand the nature of the modern state and other, non-violent forms of protest such as civil disobedience.

20 credits

The Ethics of Political Leadership

This module investigates the ethics of political leadership via an engagement with the western tradition of political thought and contemporary analytical political theory. Its overall objective is to enable students to analyse and evaluate normative arguments on the significance and function of political leaders in contemporary politics. The module examines competing theories of leadership in their historical and intellectual contexts and a number of issues of contemporary ethical significance, including the problem of 'dirty hands', the nature of political integrity, and the ethics of political compromise. The approach is theoretical and philosophical and examples of political leaders will be used to highlight strengths and weaknesses of competing theories of leadership, and to emphasise their ideological assumptions and implications.

20 credits

The Making of the Modern Middle East

This module offers an interdisciplinary examination of the socio-economic and political dynamics of the modern Middle East by exploring the region's major historical developments from a non-Eurocentric perspective, and investigating how the region has been represented and analysed in the social sciences. Students will have the opportunity to reassess the imperial and colonial legacies by retracing the trajectories of state formation and economic development in the past two centuries. The overall aim is to equip students with the knowledge and skills to 'de-exceptionalise' the Middle East and enable them to study it as any other region in the international system.

20 credits

The Politics of Security

This module explores the changing character of security studies and global (in)security, examining the proliferation of discourses and practices of security, threat, and risk in contemporary society. It introduces a range of advanced theoretical debates about security, exploring key concepts (including discourse, practice, identity, emancipation, securitization, and risk) and how they might help us to make sense of security politics by looking at a range of cases (such as terrorism, energy security, religion, technology and development). It asks you to think critically about the function of security, and the ethical and analytical assumptions that shape how security is theorised/practiced.

20 credits

War, Peace and Justice

This module provides a practical and theoretical overview of contemporary war, peace and justice. It explores key conversations, issues and conceptual responses relating to: the challenges and ethics of researching war; the construction of ethics and notions of justice in war and peace; the politics of technology in contemporary warfare; the politics of peace, resistance and pacifism; the politics of war, memory and commemoration; embodied and emotional registers of war; and the politics of death and grievability. Students will explore the practice, experience, representation and cultural imaginary of war in the 21st century and consider implications for peace and justice.

20 credits

Water, Climate, Energy

This module explores the place of water, climate and energy in global politics. Human-induced global climate change is one of the central challenges - perhaps the single greatest challenge - of our age. It is a consequence, above all, of our insatiable appetite for fossil fuel energy resources. And many of its most serious consequences are projected to relate to water, from increased floods and droughts to rising seas. Moreover, water, climate and energy issues are deeply political, in both their causes, and their current and anticipated future consequences. Adopting a political ecology approach, this module introduces and investigates this politics.

20 credits

Advanced Political Philosophy

This module will investigate a broad range of topics and issues in political philosophy and explore these questions in some detail. It will include both historical and foundational matters and recent state of the art research.

20 credits

Ancient Chinese Philosophy

This course will introduce students to ancient Chinese Philosophy through a study of some of it classical texts.

20 credits

Feminist and Queer Studies in Religion, Global Perspectives

This module applies feminism, queer studies and trans philosophy in analysis of genders and sexualities in religious traditions and cultures around the world. We will examine deities and goddesses, gendered language in religions, cisheteropatriarchy, and LGBTQIA life in e.g. Hinduism, Buddhism, Christianity, Judaism and Islam, as well as in Chinese, and Japanese cultures. We will discuss genders, rituals, spirituality, sexual practices, procreation, abstinence, and asexuality, reading a range of feminist, queer and trans philosophical works, and texts ranging from the Kama Sutra to Confucius and the Vatican documents, Scriptures, and empirical research. Assignments allow students in Philosophy, Humanities, and Social Sciences develop their expertise using their preferred methods and topics, on religions of their choice.

20 credits

Free Will & Religion

This module focuses on philosophical questions about the relationship between free will and theistic religions. It has often been claimed that adherents of these religions have significant motivations to affirm an incompatibilist conception of free will according to which free will is incompatible with determinism. Incompatibilist conceptions of free will, it has been argued, have benefits for the theist such as enabling them to better account for the existence of moral evil, natural evil, divine hiddenness, and traditional conceptions of hell. Yet, on the other hand, it has been argued that there is a significant tension between theistic religions and incompatibilist conceptions of free will. For example, there are tempting arguments that an incompatibilist conception of free will makes trouble for affirming traditional views about God's omniscience, freedom, and providence. We will engage in a critical examination of these and related arguments.

20 credits

Global Justice

What are the demands of justice at the global level? On this module we will examine this question from the perspective of analytic Anglo-American political philosophy. We will start by looking at some debates about the nature of global justice, such as whether justice demands the eradication of global inequalities. We will then turn to various questions of justice that arise at the global level, potentially including: how jurisdiction over territory might be justified; whether states have a right to exclude would-be immigrants; whether reparations are owed for past international injustices such as colonialism; and how to identify responsibilities for combatting global injustice.

20 credits

Metaphysics

Update short/full description: The course will focus on metaphysical themes of perennial interest such as parts and wholes, the nature of people, and the passage of time. Readings will be drawn mainly from recent and contemporary sources. Lectures are shared with PHI225, and students who have taken that module may not take this one.

20 credits

Moral Theory and Moral Psychology

This course examines the relationship of moral theory and moral psychology. We discuss the relationship of science and ethics, examine the nature of self-interest, altruism, sympathy, the will, and moral intuitions, explore psychological arguments for and against familiar moral theories including utilitarianism, virtue ethics, deontology and relativism, and confront the proposal that understanding the origins of moral thought 'debunks' the authority of ethics. In doing so, we will engage with readings from historical philosophers, including Hobbes, Butler, Hume, Smith, Kant, Mill, Nietzsche and Moore, as well as contemporary authors in philosophy and empirical psychology.

20 credits

Pain, Pleasure, and Emotions

Affective states like pain, pleasure, and emotions have a profound bearing on the meaning and quality of our lives. Chronic pain can be completely disabling, while insensitivity to pain can be fatal. Analogously, a life without pleasure looks like a life of boredom, but excessive pleasure seeking can disrupt decision-making. In this module, we will explore recent advances in the study of the affective mind, by considering theoretical work in the philosophy of mind as well as empirical research in affective cognitive science. These are some of the problems that we will explore: Why does pain feel bad? What is the relation between pleasure and happiness? Are emotions cognitive states? Are moral judgments based on emotions? Can we know what other people are feeling?

20 credits

Phenomenology

This module introduces students to Phenomenology - a philosophical tradition in continental European philosophy, which is closely related to Existentialism. Phenomenology seeks to understand the human condition. Its starting-point is everyday experience, where this includes both mundane and less ordinary forms of experience such as those typically associated with conditions such as schizophrenia. Whilst Phenomenology encompasses a diverse range of thinkers and ideas, there tends to be a focus on consciousness as embodied, situated in a particular physical, social, and cultural environment, essentially related to other people, and existing in time. (This is in contrast to the disembodied, universal, and isolated notion of the subject that comes largely from the Cartesian tradition.) There is a corresponding emphasis on the world we inhabit as a distinctively human environment that depends in certain ways on us for its character and existence. Some of the central topics addressed by Phenomenology include: embodiment; ageing and death; the lived experience of oppression; human freedom; our relations with and knowledge of, other people; the experience of time; and the nature of the world. In this module, we will discuss a selection of these and related topics, examining them through the work of key figures in the Phenomenological Movement, such as Edmund Husserl, Simone de Beauvoir, Maurice Merleau-Ponty, Frantz Fanon, and Edith Stein.

20 credits

Philosophical Problems 1

The detailed content of this course will vary from year to year depending upon the member of staff teaching it. For details contact the Department of Philosophy.

20 credits

Philosophical Problems II

The detailed content of this course will vary from year to year depending upon the member of staff teaching it. For details contact the Department of Philosophy.

20 credits

Philosophical Project 1

A variety of topics will be set. For each topic, a short list of key readings is provided. Having chosen a topic, a short list of key readings is provided. Having chosen a topic, students are expected to master the readings, and the supplement them with at least two other pieces of relevant literature and they have used the available library and web resources to uncover. They then, having agreed a title with a tutor assigned to them for the module, write an extended essay that identifies the central issue (or issues) under discussion, relates the various responses to that issue found in the literature, evaluates those contributions, and goes some way to identifying a satisfactory resolution of the issue.

20 credits

Philosophical Project 2

A variety of topics will be set. For each topic, a short list of key readings is provided. Having chosen a topic, students are expected to master the readings, and to supplement them with at least two other pieces of relevant literature that they have used the available library and web resources to uncover. They then, having agreed a title with the tutor assigned to them for the module, write an extended essay that identifies the central issue (or issues) under discussion, relates the various responses to that issue found in the literature, evaluates those contributions, and goes some way to identifying a satisfactory resolution of the issues.

20 credits

Philosophy of Cognitive Science

Cognitive science is the multidisciplinary study of the mind. It involves contributions from philosophy, psychology, linguistics, computer science, neuroscience, and other fields. This module will investigate a number of topics within the cognitive sciences themselves as they attempt to understand the mind and some of the philosophical issues that arise when we reflect on the cognitive sciences as a scientific discipline. Some of the questions to be investigated include: how do we adjudicate disagreements in theory and methodology between the branches of the cognitive sciences, how does biology and neuroscience influence our thinking about the mind, and what is the relationship between observation and theory in the cognitive sciences. This module will address these topics by focusing on historical and current literature on specific topics. Representative topics include: what is the self, what is memory, how does consciousness fit in the biological world, and is the mind a computer. This module is equal parts cognitive science, philosophy of mind, and philosophy of science

20 credits

Philosophy of Law

Law is a pervasive feature of modern societies and governs most aspects of our lives. This module is about some of the philosophical questions raised by life under a legal system. The first part of the module investigates the nature of law. Is law simply a method of social control? For example, the group calling itself Islamic State issued commands over a defined territory and backed up these commands with deadly force. Was that a legal system? Or is law necessarily concerned with justice? Do legal systems contain only rules or do they also contain underlying principles? Is 'international law' really law?
The second part of the module investigates the relationship between law and individual rights. What kinds of laws should we have? Do we have the moral right to break the law through acts of civil disobedience? What is the justification of punishment? Is there any justification for capital punishment? Are we right to legally differentiate between intended crimes (like murder) and unintended crimes (like manslaughter), or does this involve the unjustified punishment of 'thought crime'? Are we right to legally differentiate between murder and attempted murder, despite the fact that both crimes involve the same intent to kill?


20 credits

Philosophy of Psychology

This course provides an in-depth look at a selection of issues in contemporary philosophy of psychology. Philosophy of psychology is concerned with such questions as : What is the structure and organisation of the human mind? Is the mind one big homogenous thing, or is it made up of smaller interacting components? If it has components, what sort are they and how are they interrelated? What aspects of our minds are uniquely, or distinctively human? What is the cognitive basis for such capacities as our capacity for language, rationality, science, mathematics, cultural artefacts, altruism, cooperation, war, morality and art? To what extent are the concepts, rules, biases, and cognitive processes that we possess universal features of all human beings and to what extent are they culturally (or otherwise) variable? Do infants (non-human) animals, and individuals with cognitive deficits have minds, and if so, what are they like? To what extent are these capacities learned as opposed to innately given? How important is evolutionary theory to the study of the mind? What is the Self? What are concepts? Is all thought conceptual? Is all thought conscious? What is consciousness? This course will discuss a selection of these and related issues by looking at the work of philosophers, psychologists, and others working within the cognitive sciences more generally.

20 credits

The Radical Demand in Logstrup's Ethics

The biblical commandment 'to love your neighbour as yourself' still has great resonance with people, as does the story of the Good Samaritan who helps the injured traveller he encounters on the road. But what exactly does this love require, and what it its basis? Do we have an obligation to care for others, or is it beyond the call of duty? How can love be a matter of obligation at all? If you help the neighbour, can you demand something in return? Should we help them by giving them what they want, or instead what they need? How far do our obligations to others extend - who is the 'neighbour', and might it include 'the enemy' ? And does the requirement to help the other come from God's command, or from some sort of practical inconsistency given we all need help ourselves, or from their right to be helped - or simply from the fact they are in need? But can our needs be enough on their own to generate obligations of this sort?
We will consider these sorts of questions in relation to the work of K.E. Logstrup [1905-1981], a Danish philosopher and theologian, who discussed them in his key work The Ethical Demand [1956] in which he characterized this relation between individuals as involving a 'radical demand' for care, involving important commitments about the nature of life, value, and human interdependency. We will compare his ideas to related themes in Kant, Kierkegaard, Levinas, and contemporary care ethics.

20 credits

Topics in Social Philosophy

This module will introduce students to some contemporary issues in social philosophy.

20 credits

Utopia, Reform and Democracy

Humanity faces a recurrent political challenge: the task of steering itself towards a sustainable and just future. A crucial part of this challenge involves developing a vision of change, of an achievable good society: a vision of the harbour we are aiming for as we sail through these troubled waters. But how are those visions to be enacted in the world? What theories of change lay at the heart of various philosophical visions? This module will introduce students to some of the major schools of thought - historical and contemporary - regarding the relationship between social theory and political practice.

20 credits
The content of our courses is reviewed annually to make sure it's up-to-date and relevant. Individual modules are occasionally updated or withdrawn. This is in response to discoveries through our world-leading research; funding changes; professional accreditation requirements; student or employer feedback; outcomes of reviews; and variations in staff or student numbers. In the event of any change we'll consult and inform students in good time and take reasonable steps to minimise disruption. We are no longer offering unrestricted module choice. If your course included unrestricted modules, your department will provide a list of modules from their own and other subject areas that you can choose from.
Learning and assessment
Learning
Our lectures and seminars are structured in a variety of ways to ensure a rich, interactive learning experience that you can take with you in your future career. You'll create websites, videos and podcasts as part of your group work to enhance your digital skills. Other uses of digital learning, such as interactive polls, allows collaboration during lectures and seminars, and we use skype so that external speakers can interact with our students.
Assessment
We use different assessment methods throughout our courses this varies between modules. Examples include:
Coursework
Exams
Dissertation
Short forms of written assessment
Projects
Book reviews
Policy reports
Oral presentation and group work
Programme specification
This tells you the aims and learning outcomes of this course and how these will be achieved and assessed.
Entry requirements
Standard offer
The A Level entry requirements for this course are:
AAB
A Levels + additional qualifications ABB + B in the EPQ; ABB + B in Core Maths
International Baccalaureate 34
BTEC Extended Diploma DDD in a relevant subject. Relevant subjects include Applied Law, Business, Enterprise and Entrepreneurship, Personal and Business Finance, Environmental Sustainability, Applied Science or Applied Psychology
BTEC Diploma DD in a relevant subject + A at A Level
Scottish Highers AAAAB
Welsh Baccalaureate + 2 A Levels B + AA
Access to HE Diploma Award of Access to HE Diploma in either Law, Business Management, Humanities or Social Sciences, with 45 credits at Level 3, including 36 at Distinction and 9 at Merit
Other requirements
Access Sheffield offer
The A Level entry requirements for this course are:
ABB
A Levels + additional qualifications ABB + B in the EPQ; ABB + B in Core Maths
International Baccalaureate 33
BTEC Extended Diploma DDD in a relevant subject. Relevant subjects include Applied Law, Business, Enterprise and Entrepreneurship, Personal and Business Finance, Environmental Sustainability, Applied Science or Applied Psychology
BTEC Diploma DD in a relevant subject + B at A Level
Scottish Highers AAABB
Welsh Baccalaureate + 2 A Levels B + AB
Access to HE Diploma Award of Access to HE Diploma in either Law, Business Management, Humanities or Social Sciences, with 45 credits at Level 3, including 30 at Distinction and 15 at Merit
Other requirements
Department of Politics and International Relations
We're proud to be one of the UK's leading departments for research and teaching in politics and international relations. Our staff have international reputations for research excellence, and as a department we aim to promote global citizenship and awareness, exploring politics in a variety of national contexts, from the local to the global.
Department of Politics and International Relations students are based in Elmfield building, but we timetable teaching across the whole of our campus.
Teaching may take place in Elmfield, but may also be timetabled to take place within other departments or central teaching space. Many of the University buildings are close together so it's easy to walk between them and it's a good way to get to know the city.
Department of Politics and International Relations
Department of Philosophy
We pride ourselves on the diversity of our modules and the high quality of our teaching. Our staff are among the best in the world at what they do. They're active researchers so your lectures and seminars are informed, relevant and exciting. We'll teach you how to think carefully, analytically and creatively.
Our staff and students use philosophy to engage with real world issues. You will be able to use what you learn to make a difference in the community, through projects like Philosophy in the City, an innovative and award-winning programme that enables students to teach philosophy in schools, homeless shelters and centres for the elderly.
Our students run a thriving Philosophy Society and the only UK undergraduate philosophy journal. Our Centre for Engaged Philosophy pursues research into questions of fundamental political and social importance, from criminal justice and social inclusion to climate ethics, all topics that are covered in our teaching.
Philosophy changes our perspective on the world, and equips and motivates us to make a difference.
The Department of Philosophy is based at 45 Victoria Street at the heart of the University campus. We're close to the Diamond and the Information Commons, as well as Jessop West, which houses our fellow Arts & Humanities departments of History, English and Languages & Cultures.
Department of Philosophy
Why choose Sheffield?
The University of Sheffield
  A top 100 university
QS World University Rankings 2023
  92 per cent of our research is rated as world-leading or internationally excellent
Research Excellence Framework 2021
  Top 50 in the most international universities rankings
Times Higher Education World University Rankings 2022
  No 1 Students' Union in the UK
Whatuni Student Choice Awards 2022, 2020, 2019, 2018, 2017
  A top 10 university targeted by employers
The Graduate Market in 2022, High Fliers report
---
Department of Politics and International Relations
94 per cent of our research in the Department of Politics and International Relations is rated in the highest two categories
Research Excellence Framework 2021
Top 20 in the UK for Politics
Guardian University Guide 2023
Top 10 in the UK for International Relations
Guardian University Guide 2023
Department of Philosophy
1st in the Russell Group for Student Voice
National Student Survey 2021
3rd in the Russell Group for student satisfaction
National Student Survey 2021
Graduate careers
Department of Politics and International Relations
A politics degree from Sheffield can set you apart from everyone else. You'll have many opportunities across all levels of your course to add valuable work experience and transferable skills to your CV.

Our degree programmes are designed so you can tailor your course to your own interests and career aspirations. They also provide a foundation to go on to work in a wide range of professional, political and administrative organisations across the world, in local, national, and international government, the charitable sector, education, the media, public relations, research and the private sector.
Department of Philosophy
Studying philosophy will develop your ability to analyse and state a case clearly, evaluate arguments and be precise in your thinking. These skills will put you in a strong position when it comes to finding employment or going on to further study.
Our graduates work in teaching, law, social work, computing, the civil service, journalism, paid charity work, business, insurance and accountancy. Many also go on to study philosophy at postgraduate level.
Placements and study abroad
Placement
With our third year Work Place Learning module, you can spend time with an organisation from the Sheffield voluntary or private sector, gaining skills and experience relevant to philosophy in an applied setting. You can also take part in the award-winning Philosophy in the City group, which introduces school children to philosophical ideas they can apply to everyday life. All of these experiences will help you build a compelling CV.
Study abroad
Fees and funding
Fees
Additional costs
The annual fee for your course includes a number of items in addition to your tuition. If an item or activity is classed as a compulsory element for your course, it will normally be included in your tuition fee. There are also other costs which you may need to consider.
Visit us
University open days
We host five open days each year, usually in June, July, September, October and November. You can talk to staff and students, tour the campus and see inside the accommodation.
Subject tasters
If you're considering your post-16 options, our interactive subject tasters are for you. There are a wide range of subjects to choose from and you can attend sessions online or on campus.
Offer holder days
If you've received an offer to study with us, we'll invite you to one of our offer holder days, which take place between February and April. These open days have a strong department focus and give you the chance to really explore student life here, even if you've visited us before.
Campus tours
Our weekly guided tours show you what Sheffield has to offer - both on campus and beyond. You can extend your visit with tours of our city, accommodation or sport facilities.
The awarding body for this course is the University of Sheffield.
Recognition of professional qualifications: from 1 January 2021, in order to have any UK professional qualifications recognised for work in an EU country across a number of regulated and other professions you need to apply to the host country for recognition. Read information from the UK government and the EU Regulated Professions Database.
Any supervisors and research areas listed are indicative and may change before the start of the course.