Civil and Structural Engineering with a Foundation Year
BEng
MEng
Department of Civil and Structural Engineering
Apply for this course
You are viewing this course for 2024-25 entry. 2023-24 entry is also available.
Course description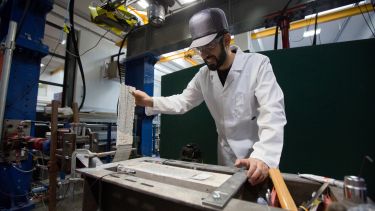 If you don't have the usual scientific or mathematical background for an engineering degree, a foundation year is for you.
After successfully completing the foundation year, which has modules in mathematics, physics and chemistry, you'll progress onto the first year of your chosen degree in the Department of Civil and Structural Engineering.
Our multidisciplinary and innovative courses span the disciplines of engineering and architecture.
The Integrated Design Project is a feature of all our undergraduate courses. The project encourages you to unleash your creativity on a grand scale by devising plans for an entire urban regeneration project based on a real site in Sheffield.
You'll investigate new design methods and construction materials while developing detailed designs such as elegant bridges, sustainable and environmentally sensitive multi-storey buildings, or state-of-the-art sports venues. It'll give you invaluable project experience and a feel for the kind of issues you may encounter in your career.
Modules
Title: Civil and Structural Engineering with a Foundation Year MEng or BEng course structure
UCAS code: H201
Years: 2022, 2023
Foundation year
Core modules:
Core Foundation Mathematics

The syllabus for MAS003 covers the common core A Level curriculum. The unit is tailored for students who have been away from mathematics for a period of time, but who will have gained some A-Level or similar qualifications. The unit covers the basic principles of algebra, geometry and calculus. Following the introduction of new material in the lectures, students have the opportunity of extensive problem solving, both in the tutorial sessions with the lecturers and in their own time.

40 credits

Introduction to Engineering

This module will introduce the application of engineering principles to foundation year students and give the student an appreciation of the breadth of engineering activities across the faculty and identify to students what knowledge areas and skills are needed in order to contribute to their development and be successful. It will also help create links with departments and draw on the other modules that students will take in the foundation year especially maths and physics.

40 credits

Foundations of Physics

PHY009 provides students with the foundations of Physics required to enter the first year of a regular Physics or other scientific degree course, or an engineering course where detailed knowledge of Physics is needed.

Understanding will be developed in 3 lectures per week over a full academic year. Problem solving and example classes are integrated into lectures. The following topics will be covered: Dynamics/Mechanics; Electricity and Magnetism; Thermal Physics; Oscillations, Waves, and Optics; Properties of Matter; Atomic and Nuclear Physics.

As PHY009 teaches no practical Physics, this module is complemented by the 10 credit laboratory module FCE002 for most science foundation year students (except for foundation year students leading to a Mathematics undergraduate programme) or FCE001 for engineering foundation year students.

The greatest advances in technology have taken place in the last hundred years. In 1897 few would have imagined that the probing of materials at the atomic level would reveal so much. These early discoveries of atomic constituents and their structure would pave the way for semi-conductor electronics, develop key concepts in physical laws, and offer a replacement energy source for fossil fuels in the form of nuclear power. This course summarises key discoveries in early particle physics and combines historical background with the detailed physics understanding needed to fully appreciate the subject.

These full modules aim to provide a sound foundation in Physics in preparation for Level 1 Physics modules. It introduces (i) Properties of Matter, (ii) Oscillations, waves & optics and (iii) Atomic and Nuclear Physics. (i) Properties of Matter discusses structural, mechanical and electrical properties in terms of simple models. (ii) treats vibration and waves introducing the concepts of wavelength, frequency and wave speed. (iii) discusses the physics of the atom, including historical aspects, the electron, the photo-electric effect, Bohr¿s atomic model, nuclear structure and radioactivity.

30 credits

Further Foundation Mathematics

The syllabus for MAS004 covers important material which appears on the A level maths and further mathematics A Level curriculum. The module is for students who are taking MAS003 and need a deeper background in mathematics for their degree course. The module covers advanced principles of algebra, geometry and calculus. Following the introduction of new material, students have the opportunity of extensive problem solving, both in the problem classes with tutors and in their own time.

10 credits

Foundation Core and Enhanced Mathematics

This module builds on the common core curriculum from A level maths (which is a prerequisite). This unit covers enhanced comprehension of topics in pure maths, statistics, probability, and numerical methods. These topics are chosen to further prepare students for their undergraduate studies in the science and engineering faculties.

40 credits
The content of our courses is reviewed annually to make sure it's up-to-date and relevant. Individual modules are occasionally updated or withdrawn. This is in response to discoveries through our world-leading research; funding changes; professional accreditation requirements; student or employer feedback; outcomes of reviews; and variations in staff or student numbers. In the event of any change we'll consult and inform students in good time and take reasonable steps to minimise disruption.
Learning and assessment
Learning
You'll learn through a mixture of:
lectures
tutorials
practical activities
coursework
assignments (including oral, video and poster presentations)
online resources.
We've academic staff who are world-leaders in their respective fields and some have over 20 years' experience in industry. Our staff experience demonstrates how engineering fundamentals are applied in practice through project work that mimics real-life situations. We also bring in leading industry experts to enhance and support our teaching and advise on our curriculum.
Assessment
You'll be assessed through a mix of the following:
examinations
coursework
assignments
lab work
online tests
reports
group projects
presentations.
Programme specification
This tells you the aims and learning outcomes of this course and how these will be achieved and assessed.
Entry requirements
Standard offer
The A Level entry requirements for this course are:
BBB; BBC
BBB (any A Level); BBC, including Maths and at least one of Physics, Chemistry or Biology
International Baccalaureate 32 (any subjects); 31, with Maths and at least one of Physics, Chemistry or Biology at Higher Level 5 or Standard Level 7
BTEC Extended Diploma DDD in Engineering, Applied Science or Built Environment + GCSE Science grade 6/B and Maths grade 7/A
BTEC Diploma DD in Engineering, Applied Science or Built Environment + A at A Level (no STEM at A Level) + GCSE Science grade 6/B and Maths grade 7/A; DD in Engineering, Applied Science or Built Environment + B in an A Level science subject (Physics, Chemistry, or Biology) + GCSE Maths grade 7/A; DD in Engineering, Applied Science or Built Environment + C in A Level Maths + GCSE Science grade 6/B
T Level Distinction in either the Construction: Design, Surveying and Planning or Building Services Engineering for Construction T Level, including grade B in the core component + GCSE Science grade 6/B and Maths grade 7/A
Scottish Highers AABBB (any subjects); ABBBB, including Maths and at least one of Physics, Chemistry or Biology
Welsh Baccalaureate + 2 A Levels B + BB (any A Levels); B + BC in Maths and either Physics, Chemistry or Biology
Access to HE Diploma Award of Access to HE Diploma in a relevant subject, with 45 credits at Level 3, including 24 at Distinction (to include 12 Maths units), and 21 at Merit + GCSE Maths grade 7/A
Other requirements
If you are studying both Maths and a science (Physics, Chemistry or Biology) at A Level or equivalent, there are no additional GCSE requirements. If you are studying any other subject combination, we require GCSE science grade 6/B and Maths grade 7/A
English language requirements |
You must demonstrate that your English is good enough for you to successfully complete your course. For this course we require: GCSE English Language at grade 4/C; IELTS grade of 6.5 with a minimum of 6.0 in each component; or an alternative acceptable English language qualification
Department of Civil and Structural Engineering
Civil engineering is at the forefront of improving the way we live. Whether it's providing the facilities that keep our day-to-day lives running smoothly - from roads and railways to clean water supplies - or working to meet the ever-changing needs of our society in the areas of sustainability, renewable energy and climate change, you'll be helping to create and protect the world we live in.
Our courses will make you the kind of engineer the world needs right now; forward-thinking, interdisciplinary, environmentally conscious, and capable of the kind of complex thinking our rapidly changing society needs. Wherever you choose to start your career, you'll be in demand.
We're in the UK top ten for civil engineering, according to the Complete University Guide 2021. Our research is internationally recognised. Industry and government value our expertise.
Our industry partners contribute to teaching through lectures, design classes, projects and site visits. We work with leading consultants, contractors and specialist civil engineering companies to provide industrial opportunities for a number of students each year. We also have industrial tutors and professionals who mentor our first-year students.
You'll be taught in the Diamond, one of the best teaching spaces in the UK.
Facilities
The Diamond building contains state-of-the-art teaching and lab facilities, and uses cutting-edge, industry-standard equipment.
Science and Engineering Foundation Year
Why choose Sheffield?
The University of Sheffield
  Number one in the Russell Group
National Student Survey 2023 (based on aggregate responses)
  92 per cent of our research is rated as world-leading or internationally excellent
Research Excellence Framework 2021
  Top 50 in the most international universities rankings
Times Higher Education World University Rankings 2022
  Number one Students' Union in the UK
Whatuni Student Choice Awards 2022, 2020, 2019, 2018, 2017
  Number one for teaching quality, Students' Union and clubs/societies
StudentCrowd 2023 University Awards
  A top 20 university targeted by employers
The Graduate Market in 2023, High Fliers report
---
Department of Civil and Structural Engineering
UK top 10 for civil engineering
The Complete University Guide 2021
Graduate careers
Department of Civil and Structural Engineering
Our graduates work all over the world, from the UK to Australia and the USA. Recent graduates have gone on to work for AECOM, Arup, Atkins, Buro Happold, Eastwood & Partners, and Kier.
You'll be able to apply your knowledge and skills to fields as diverse as the built environment, sustainability and improving the environment.
In addition, architectural engineering graduates might go into a broad range of engineering areas ranging from building services to mechanical, electrical or acoustic engineering.
Or as a structural engineer, you'll be helping to shape the world around us. Structural engineers design and construct multi-storey buildings, bridges, sports stadiums, tunnels, airports and schools.
Fees and funding
Fees
Additional costs
The annual fee for your course includes a number of items in addition to your tuition. If an item or activity is classed as a compulsory element for your course, it will normally be included in your tuition fee. There are also other costs which you may need to consider.
Visit us
University open days
We host five open days each year, usually in June, July, September, October and November. You can talk to staff and students, tour the campus and see inside the accommodation.
Subject tasters
If you're considering your post-16 options, our interactive subject tasters are for you. There are a wide range of subjects to choose from and you can attend sessions online or on campus.
Offer holder days
If you've received an offer to study with us, we'll invite you to one of our offer holder days, which take place between February and April. These open days have a strong department focus and give you the chance to really explore student life here, even if you've visited us before.
Campus tours
Our weekly guided tours show you what Sheffield has to offer - both on campus and beyond. You can extend your visit with tours of our city, accommodation or sport facilities.
Apply
The awarding body for this course is the University of Sheffield.
Recognition of professional qualifications: from 1 January 2021, in order to have any UK professional qualifications recognised for work in an EU country across a number of regulated and other professions you need to apply to the host country for recognition. Read information from the UK government and the EU Regulated Professions Database.
Any supervisors and research areas listed are indicative and may change before the start of the course.