Undergraduate tuition fees 2021
Due to start your undergraduate studies in 2021? Here's everything you need to know about your fees and costs.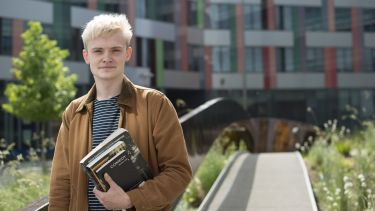 Information relating to 2022 entry can be found on our Undergraduate tuition fees 2022 webpage. 
The standard undergraduate tuition fee for home fee paying students starting their course in 2021 is £9,250. 
The UK government has confirmed that EU students starting their course in 2021 will no longer pay the home rate of fee.
The latest fee information is available on the University website.
Loans are available from the government to cover tuition fees and living costs.
You don't have to pay anything upfront and you don't start repaying your loan until you're earning over the repayment threshold.
In some circumstances you might pay a reduced fee (for example if you spend a year abroad).
You may be able to get a loan from the government to cover the full cost of your tuition fees for each year of your course. You can also apply for a maintenance loan to contribute to your living costs:
Government loans for 2021 entry
---
In common with other UK universities, the University of Sheffield charges different tuition fees depending on whether students are classed as Home or Overseas for fee purposes.
If you are an overseas student or are unsure whether you are classed as one, you will need to find out about your fee status.
---
If you choose to study abroad, spend a year in employment or a year in industry your fee may be reduced.
Check how much your fee will be – use this 2020 information as a guide:
---
You'll also need to consider the costs associated with studying at university and plan your budgets accordingly.
There are other sources of funding available to help you cover your living costs:
---
If you are paying your own tuition fees, please find out more in the Payment plans: Self-funded students section of these pages:
A world-class university – a unique student experience
Sheffield is a research university with a global reputation for excellence. We're a member of the Russell Group: one of the 24 leading UK universities for research and teaching.