If you're a home fee paying student you might qualify for a bursary. You don't have to pay this money back unless your circumstances change.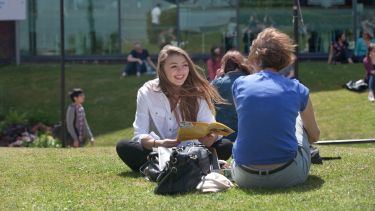 While the cost of living for our students is among the lowest in the country, you may still be able to benefit from the extra financial assistance we can provide. A bursary is the same as a grant, so you don't have to pay this money back unless your circumstances change.
---
How does it work?
This money is from the University and it doesn't have to be paid back. It's in addition to Government funding. You'll receive this bursary for each year of your course, including a year spent studying abroad should you choose to do this.
We use the details you submit to Student Finance and UCAS to assess your entitlement for the Sheffield Bursary Scheme. You don't need to apply for it. If you're eligible, we'll email you shortly after you start your course and you will receive the awards detailed below. The first instalment will be paid within the first term.
Eligibility
To be considered for the University of Sheffield Bursary Scheme you will need to be eligible to receive a tuition fee loan and maintenance loan from Student Finance England (or equivalent funding body).
Bursaries are subject to change each year.
Three award areas:
The Sheffield Bursary Scheme is split into three main areas. You may be eligible for more than one of these.
1. Some of the bursary is based on your household income
You'll automatically receive this bursary if your household income is £40,000 or less.
| | |
| --- | --- |
| Household income | Bursary per year of study |
| £0-£25,000 | £1,000 |
| £25,001-£30,000 | £500 |
| £30,001-£40,000 | £250 |
2. You can get an extra £250 based on household income and where you live
If your household income is £25,000 a year or less and you live in one of the country's most deprived areas (as defined by the government) you'll receive £250 a year on top of any other financial support you receive.
3. You can get £250 depending on where you live and what grades you get
If you live within the Sheffield City Region, in an area where it's not common for people to go to university, and you achieve ABB (or higher) at A Level or equivalent, you'll receive £250 a year on top of any other support you're entitled to. This award does not take household income into account.
You can check whether you qualify using the student funding calculator.
Sheffield Bursary Scheme - terms and conditions

If you live in one of the devolved nations you will not be eligible for either of the postcode dependent awards (points 2 and 3 above).

If you receive the award in point 2, you would not also be eligible for the award in point 3 (and vice versa).

We reserve the right to reclaim any financial support awards that students are no longer eligible for.

Students on a part-time programme of study will be assessed for a pro rata bursary.

Your bursary will be paid in two instalments per year. 
Use our Student Funding Calculator to find out how much you could be eligible to receive.
---
The University is committed to supporting students with additional responsibilities or particular circumstances at home. Bursaries of up to £10,000 per year of study are available depending on your circumstances, regardless of where you live and household income.
If applicable, these awards are instead of the University of Sheffield Bursary Scheme.
The following students are eligible:
---
If you're studying a full-time course in the Department for Lifelong Learning you may be eligible for a bursary of up to £1,250 that is based solely on your household income.
Part-time Department for Lifelong Learning students may be eligible for an undergraduate bursary.
---
Students with a household income of £40,000 or less are eligible to apply for additional awards during their studies.
We'll confirm the awards on our website once you've started your course and give you more information about these schemes and tell you how to apply. Below are some examples of the types of awards available to our current students. 
Grants
Participation grant
We're working with our Students' Union to provide students with grants to help with the costs of taking part in societies and other Students' Union led activities.
Global Opportunities
Study Abroad Scholarship
The Study Abroad scholarship supports you with your costs during your year abroad.
Equal Opportunities Fund from the Careers Service
All bursary recipients can apply for up to £300 to reimburse expenses that relate to an employability opportunity. Eligible opportunities include volunteering, networking and interviews. Further information is available from the Equal Opportunities in Careers webpage (MUSE login required).
Explore the University
Discover why Sheffield is the right choice for you at one of our open days or events.