Our open days are a chance to speak to staff and students and find out what Sheffield is all about.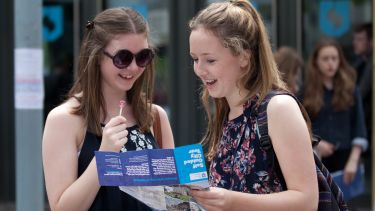 We've tried to make things as flexible as possible. The only thing that's fixed is the time of your department talk.
Discover more about the University and the courses you're interested in at our exhibition stands. These are open all day.
There are talks on everything from student life to funding your studies.  
Accommodation tours take place every 20 minutes.  You can do a self-guided tour of the campus at a time to suit you. 
---
This our chance to show you how a world-class university invests in its students. We run regular tours throughout the morning from 10am. 
Please collect tickets for guided campus and accomodation tours from the Tours desk when you arrive at the exhibition.
Accommodation tours
Even if you have already seen our accomodation, the exhibition is your chance to take a guided tour from a current student resident who will show you their own flat and answer any questions you may have.
Accommodation tours run roughly every 15 to 30 minutes from 10am. The last accomodation tour leaves at 2.30pm. Accommodation tours last approximately one hour.
You can also get further information about our award-winning accommodation from the stand in the exhibition.
Campus tours
If you would like to see more of our campus, join one of our student ambassadors on a guided campus tour where you can find out about some of the central University buildings. 
Campus tours will start at 10am and run at a minimum of every half an hour. On busier days, they will run every 15 minutes.
Visitors who take the 2pm, 2.15pm or 2.30pm accomodation tour will still have the option to take a campus tour when they return from their accomodation visit. This will be pre-arranged at the time of them collecting their accommodation tour ticket and a campus tour guide will meet those wishing to take the tour at the coach drop-off point. 
Self-guided campus and city tours
If you'd prefer to tour the campus or the city on your own, you can collect our self-guided tours from the exhibition in the Students' Union or you can download them. 
Self-guided campus tour (PDF, 55KB)
Self-guided city tour (PDF, 1.8MB)
Have a look around the UK's best Students' Union where there is plenty of space to socialise, eat and study. Our SU was voted number one Students' Union for the past 10 years in the Times Higher Education Student Experience Survey.
By train and tram
Sheffield Railway Station is situated approximately a mile and a half away from the University of Sheffield. It is advisable to catch either a tram or a bus to the campus. 
Trams run directly from the station to the University every 12 minutes. You need to catch the blue line heading towards Malin Bridge and get off at the University of Sheffield tram stop. The journey time is approximately nine minutes. 
The main University of Sheffield campus is easily accessible by public transport. From the transport Interchange (opposite the station), a range of buses go to and from this area, including the 30, 120, 123, 51 and 52 and all pass by the University.
By car
Parking on and around the campus is limited so we would recommend travelling to the University by train or using one of the Park and Ride Services which will take you directly to the University of Sheffield tram stop. More about park and ride.
For those who do wish to drive, car parking is available nearby and the closest to the Students' Union is located at Q-Park, Durham Road.
There are also parking options available in the City Centre. We recommend checking the Sheffield City Council website for travel, parking advice and maps of public car parking.
Stay over
We can recommend some great hotels, B&Bs and restaurants. This gives you a chance to explore the city and get a feel for it.
Find out more
For more information about getting here, park and ride and places to stay, see our information for visitors pages.