Palliative and End of Life Care
We undertake high-quality research to improve the quality of life of patients with life-limiting illnesses and their family caregivers; to improve palliative care service provision and; to influence health policy.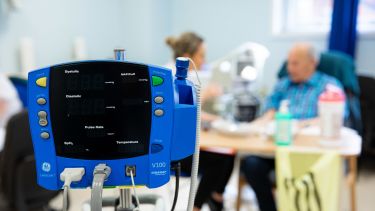 Off
The Palliative and End of Life Care research group conduct multi-disciplinary research that informs practice and policy in palliative and end of life care both nationally and internationally.
The group has close links with NHS providers and hospices nationally and locally and with the Sheffield Centre of Health and Related Research (SCHARR) within The University of Sheffield. We work closely with a range of international collaborators and academic institutions worldwide.
Research Expertise
We have specialist expertise in a range of methodologies and our main areas of research focus include: 
Inequity and inequality in palliative care; improving palliative care access and provision for under-served groups. 
Financial and economic costs of palliative care, and financial support for patients and their families.
International palliative care; addressing global challenges to establish palliative care in low and middle income countries
Palliative care in primary care; identification and management of supportive and palliative care needs in the community.
Oral history in palliative care   
Service user involvement and PPI, championing meaningful engagement with service users in palliative care research
Contacts
Dr Clare Gardiner
Vice Chancellor's Fellow
Email: c.gardiner@sheffield.ac.uk
Tel: 0114 222 2038
Staff
Professor Tony Ryan
Dr Fiona Wilson
Dr Clare Gardiner
Dr Michelle Winslow
Professor Jane Seymour
Dr Madeleine Harrison
Dr Sarah Mitchell
Dr Catriona Mayland
Dr Paul Taylor
Research students
Nuha Alatawi
Louise Bolton
Eleni Chambers
Sam Smith
Current research
Advance care planning. An innovative palliative care intervention to improve quality of life in oncology (ACTION). A multi-centre cluster randomised trial. (Van der Heide, A. (EU study co-ordinator), Seymour J et al.)
Improving Palliative Care for Patients with Advanced Cancer: A Systematic Review of Evidence on the Role and Outcomes of Clinical Nurse Specialists and Related Complex Interventions. (Seymour, J., Tod, A., Wilcock, A et al.)
Macmillan Specialist palliative care at home service: a national evaluation. (Johnston, B. , Almack K., Wilson, E. and Seymour, J.E.)
Social connectedness amongst older people in New Zealand: Implications for ageing in place and service delivery. (Gott M, Gardiner C et al)
Flagship institutes
The University's four flagship institutes bring together our key strengths to tackle global issues, turning interdisciplinary and translational research into real-world solutions.