Prof Lenny Koh welcomes local MEP to the University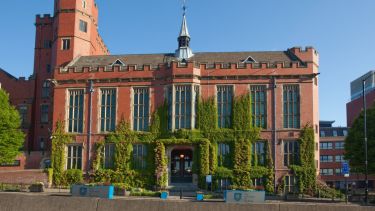 Mr Procter and his adviser to the Yorkshire & the Humber region, Martin Dales, met with different departments at the University including the Management School, the Department of Materials Science and the Faculty of Social Sciences' Impact and Knowledge Exchange (SSPIKE) team.
As the spokesman for Education and Culture, Mr. Procter has a keen interest in research at the University and was keen to see its facilities and learn more about ongoing projects. Prof Koh showed the visitors the Advanced Manufacturing Research Centre (AMRC) and cutting-edge laboratory facilities in the Department of Materials Science and Engineering, which form part of the Sir Henry Royce Institute.
This visit follows AREC's impact presentation at the European Parliament in Brussels. Mr Procter hosted the event, 'Pathway to Global Policy, Industry and Societal Impact', which showcased Prof Koh's role in working towards environmental sustainability. At the event, she presented the Supply Chain Environmental Analysis Tool – Intelligence (SCEnATi),
a cloud-based software in partnership with Microsoft, which helps businesses become more competitive and resource efficient, whilst reducing negative impacts on the environment.
On his visit, Mr Procter said: "I was impressed by the University of Sheffield. It was great to see first-hand the world-leading work produced right here in Yorkshire. The research has great implications for the region, as well as globally. In a world where the global supply chain relies on resources interconnection, it's inspiring to see research which champions an inclusive, integrated approach to resource sustainability and efficiency."
 Prof Koh continued: "It was my privilege to show Mr Procter leading examples of Sheffield's research. Our cross disciplinary environment, combined with a global outlook, shape our contribution to the region and beyond."
A world top-100 university
We're a world top-100 university renowned for the excellence, impact and distinctiveness of our research-led learning and teaching.