Our extensive schools' outreach programme is designed to inspire pupils and create engaging relationships between the University and schools and colleges.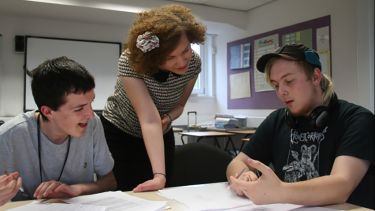 On
We offer a range of exciting opportunities for groups and individuals from 11 years of age upwards. 
Our innovative programme includes taster activities, academics/students in the classroom, study days, conferences for teachers, essay competitions, classroom resources, practical hands-on sessions and student mentors. 
The Faculty of Arts and Humanities schools' outreach programme aims to create exciting and engaging relationships with teachers, schools and colleges. Our projects and events inspire students to identify with and pursue the Higher Education opportunities that are available to them, regardless of their background. We use our research-led teaching approach to stimulate their current learning in innovative ways, providing quality experiences to support their study.
We've collaborated with schools on numerous projects, including Project Alex, an exploration into the life of a mixed-race 16th Century Florentine duke, Kes and Beyond, where Year 8 students re-imagined themselves as archival researchers, and much more! 
Our schools' outreach programme is a fundamental part of the Faculty of Arts and Humanities' public engagement work. Working with schools via our students and staff is really important to us and is an essential part of several modules on our degree courses.
---
I have only positive reflections on the previous projects I have done with the University. They have served not only to boost pupil attainment through the expertise of University staff but they have also helped to foster high aspirations in the kids through their involvement and visits to the University.

Charlie Brennan

Hinde House School
---
Through our work, we hope to raise the aspirations of young people who may not have considered studying at University. This could be due to family, personal or financial circumstances or simply because they may be the first generation to think about going to university, or because they live in an area where going to university is not the norm.
Some projects may be tailored or suitable for certain schools, so if you are interested in any options, please get in touch so we can discuss your requirements.
You may want to look at previous projects or our current research, as our best projects are often created out of mutual interests in curriculum and research.
Additional information
Follow the links below to find out about our ongoing projects and upcoming events with schools.
Our subjects and projects: see projects organised by subject. Here, you can get in touch with us about any work that we may be able to do with your school.
If you're a parent, teacher or student looking for information on Open Days, you can find more information elsewhere, on the open day pages.
I manage a wide range of recruitment and outreach activities in Arts & Humanities subjects for schools and colleges across the UK. My work is primarily focused on delivering activities for post-16 students and their teachers - including: taster sessions, competitions, bespoke subject sessions, Q&A sessions with current students about what it's like to study their subject at university, and subject-specific continuing professional development workshops for teachers.

Linda Billam

Schools' Outreach Support Officer
---
I organise and support a range of widening participation projects across the Faculty. This includes activities to support students from backgrounds under-represented in higher education to access University, and to succeed during and beyond their undergradaute studies. For schools, this includes taster sessions, competitions, bespoke activities, and our student-led 'In The City' initiatives, and for current undergraduate students, City Connections and FirstGenSheffield.

Edward Poole

Outreach Activities Officer
---
I offer business support to the Faculty Recruitment and Marketing team. This includes supporting my colleagues with organising the wide range of recruitment and outreach activities we deliver.

Theresa Shaw

Faculty Recruitment and Marketing Assistant
A global reputation
Sheffield is a research university with a global reputation for excellence. We're a member of the Russell Group: one of the 24 leading UK universities for research and teaching.