Northern City Connections (Online)
Northern City Connections is an Arts and Humanities initiative providing you with an opportunity to meet alumni working in Northern-based organisations and develop your own network of professional contacts. 2020 sessions took place on 4th, 11th and 18th November.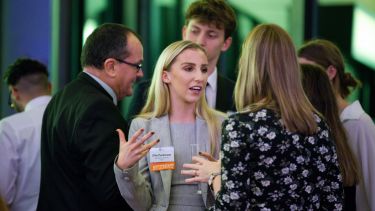 ---
Northern City Connections is an event designed to support students from under-represented backgrounds to develop their networking skills and commercial awareness, enhancing their career prospects.
The 2020 Northern City Connections programme has now finished, but with the kind permission of alumni speakers from the businesses that took part, we are pleased to provide recordings of the three business workshops that took place on 11 November, you can find them below:
Workshop 1 - Anita Tamlin, Museums Sheffield
Workshop 2 - Matt Naylor, HSBC
This year, the event will take place online and students will be fully briefed about the online platform prior to the events.
The project provides students with the opportunity to build connections with alumni of the University of Sheffield who have reached senior positions in major organisations, and who generously give their time to support the project. Students taking part gain an insight into a wide range of career sectors and hear first-hand from alumni how they have got to where they are today.
What do previous participants feel about Northern City Connections?
100% felt motivated to do well academically and to take advantage of extra-curricular activities.
100% enjoyed the event and would recommend it to others.
City Connections is one of the most rewarding and insightful careers experiences that I have taken part in.

Throughout the whole experience I developed a lot of personal skills and I realised the type of career I wish to pursue in the future.

Beth Watson

Archaeology student
"The networking skills and values I learned from you and the alumni have been so invaluable - I actually managed to find my dream job through networking!"

Becky Jackson

English Language and Literature Student
---
1. Northern City Connections pre-event workshop - 4th November, 3pm-5pm
Receive advice and information to prepare you for the online business workshops and networking event and meet the other students and staff taking part.
We'll cover commercial awareness, networking, logistics and tell you about the alumni and businesses we'll be hearing from. We'll also support you in setting up or improving your own LinkedIn profile.
2. City Connections online business visits and networking event – 11th November, 9am-5pm
This year, our three Sheffield-based businesses will be hosting online sessions during the day. University of Sheffield alumni from each business will talk about their career journey as well as providing insight into their professions and opportunities for graduates.
The workshops will be followed by an online networking event, where you will have the chance to speak in small groups to a range of alumni working in the Northern region.
3. City Connections post-event workshop – 18th November, 3pm-5pm
Reunion time. We'll get back together to share experiences of the day and explore how you can use these in your development. You'll also receive advice for following up contacts and signposts to other University opportunities.
---
I had an amazing time throughout the whole project and would certainly recommend the project to anyone who was in a similar position to me.

The experiences I gained from the project have provided me with confidence and a new-found motivation towards my studies.

Jack Hickey

History student
---
Who can apply for City Connections?
The event is open to all Arts and Humanities students at Level 2 or above from widening participation backgrounds. You must meet at least one of the following criteria to be eligible to take part:
Be the first in your family to go to University
Have a home address in a neighbourhood with low rates of participation in Higher Education
Identify as belonging to a Black, Asian, or Minority Ethnic (BAME) community
Be a 'first generation' student (your parents didn't attend university before they turned 21)
You are a carer for someone
You have been in care at some point
You have a disability or specific learning difficulty
You are a mature student
You are in receipt of a UOS financial bursary
We will email eligible students to invite them to apply for a place.
Spaces are limited and it is crucial that you are fully committed and able to attend all three events. Please check any other commitments before making your application.
---
I now feel much more confident and able to apply for a variety of graduate roles within the marketing sector.

They helped me to see the positives and relevance in the things I have already done.

Mica Aspinwall

French and Linguistics student
---
During the day, we will attend workshops with three different businesses based in Sheffield or the North. We are pleased to introduce our alumni who will be hosting the sessions.
Anita Hamlin - Learning Officer, Museums Sheffield
Matthew Naylor - Network Change Regional Lead - Northern Region, HSBC
Hannah Mills (Junior Translator) Emma Tweed (Associate translator) - SDL translation
Ruksaad Zannar, Kirsty Austwick, Irene Van Leperen - SDL project management
---
Meet the alumni who will be attending our online networking event, where you will have the opportunity to chat with a range of professionals from different sectors.
Hester James - International Accounts Controller, DLA Piper
Cherry Wilson - Senior Journalist, BBC News Online
Stacey Mottershaw, Teaching Fellow and Faculty Director, Leeds University Business School
Dominik Kocbuch, Customer Services Leadership Graduate, BT
David Chater, Consultant, Economic Change CLC
Lucy Owens, Coach, Lucy Owens Coaching
Alyson Jones, Alyson Jones Audio Production
Paul Harvey, Volunteer Centre Manager, Voluntary Action Sheffield
---
If you meet any of the criteria listed above, simply fill in the registration form here by Sunday 18 October. We will let you know if your application has been successful by Friday 23 October.
---
Some final points
You must be available to attend all three dates.
City Connections is a HEAR accredited programme. In order to receive accreditation, you are required to attend the pre and post-event workshops, the three business workshops and online networking event, set personal objectives, create a LinkedIn profile and complete a reflective diary (max 500-750 words).
You are responsible for making your tutor and/or lecturers aware if you are to miss any classes.
A world top-100 university
We're a world top-100 university renowned for the excellence, impact and distinctiveness of our research-led learning and teaching.