City Connections is an Arts and Humanities initiative culminating with an annual event to provide you with an opportunity to meet Sheffield-based organisations, develop your commercial awareness and create your own network of professional contacts.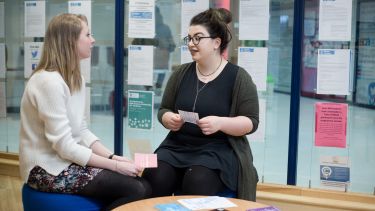 ---
The networking skills and values I learned from you and the alumni throughout City Connections have been so invaluable - I actually managed to find my dream job through networking!

I do owe a lot to the programme, and feel it was instrumental in helping me get to where I am currently in my career.

Becky Jackson

BA English Language and Literature, City Connections
---
1. City Connections pre-event workshop
Receive tips, advice and information to prepare you for the business visits and networking event and meet the other students and staff taking part.
We'll cover commercial awareness, networking, logistics and tell you about the alumni and businesses we'll be visiting. We'll provide you with information to set up or improve your own LinkedIn profile (essential for networking!) and you'll also have the opportunity to set your own objectives.
2. City Connections event
It's an early start! We'll meet on campus at 8am before heading to our first business visit. We'll be heading to several locations across the city, before the evening networking event at the Crucible.
You'll be joined by 20-30 senior Arts and Humanities alumni for you to ask questions about their time at Sheffield and their career. You'll also be able to develop your networking skills by talking about your own interests, University and career aims (don't worry, we'll practice this!).
3. City Connections post-event workshop
Reunion time. We'll get back together to share experiences of the day and what's happened since. You'll receive advice for following up contacts, signposts to other University opportunities, and help articulating your experiences in competency based questions.
---
City Connections is designed to support students from under-represented backgrounds in Higher Education to develop their networking skills and commercial awareness, and enhance their career prospects.
Many students from under-represented backgrounds do not have access to the same kinds of networks and contacts that their peers enjoy, putting them at a relative disadvantage in the graduate job market.
The purpose of the project is to provide students from under-represented backgrounds with the opportunity to build connections and network with alumni of the University of Sheffield who have reached senior positions in major organisations, and who generously give their time to support the project.
---
I had an amazing time throughout the whole project and would certainly recommend the project to anyone who was in a similar position to me.

The experiences I gained from the project have provided me with confidence and a new-found motivation towards my studies.

Jack Hickey

History student
---
During the last four Arts and Humanities City Connections events the students taking part gained an insight into a wide range of career sectors and heard first-hand from alumni how they have got to where they are today.
100% of participants felt motivated to do well academically and to take advantage of extra-curricular activities.
100% of participants enjoyed the event and would recommend it to others.
---
City Connections is one of the most rewarding and insightful careers experiences that I have taken part in.

Throughout the whole experience I developed a lot of personal skills and I realised the type of career I wish to pursue in the future.

Beth Watson

Archaeology student
---
You must meet at least one of the following criteria to be eligible to take part:
Be the first in your family to go to University
Have a home address in a neighbourhood with low rates of participation in Higher Education
Identify as belonging to a Black, Asian, or Minority Ethnic (BAME) community
Be a 'first generation' student (your parents didn't attend university before they turned 21)
You are a carer for someone
You have been in care at some point
You have a disability or specific learning difficulty
You are a mature student 
You are in receipt of a UOS financial bursary
We will email eligible students in mid January to invite them to apply for a place. 
Notes on applying for City Connections
This event is specifically for those who received an email inviting them to apply. 
You must currently be studying at Level 2 or above at the University of Sheffield in the Faculty of Arts and Humanities. 
Spaces are limited and it is crucial for the success of the project that you are fully committed and able to attend all three events (see timeline).
Please check any other commitments before making your application.
---
I now feel much more confident and able to apply for a variety of graduate roles within the marketing sector.

They helped me to see the positives and relevance in the things I have already done.

Mica Aspinwall

French and Linguistics student
---
Some final points
You must be available to attend all three dates.
City Connections is a HEAR accredited programme. In order to receive accreditation you are required to attend the two workshops, the business visits and networking event, set personal objectives, create a LinkedIn profile and complete a reflective diary (max 500-750 words). 
You are responsible for making your tutor and/or lecturers aware if you are to miss any classes.
There will be some food, but bring a packed lunch to keep you going. It'll be a long, but rewarding day!
A world top-100 university
We're a world top-100 university renowned for the excellence, impact and distinctiveness of our research-led learning and teaching.