Northern City Connections
Northern City Connections is an Arts and Humanities initiative providing you with an opportunity to meet alumni working in Northern-based organisations and develop your own network of professional contacts. The closing date for applications is now 5pm on Friday 28 Oct.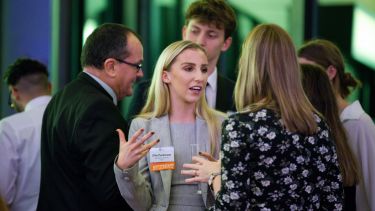 Application deadline extended! The closing date for applications is now 5pm on Friday 28 October and we will be in touch by 5pm on Monday 31 October to let you know if your application has been successful.
---
Northern City Connections is an event designed to support students from under-represented backgrounds to develop their networking skills and commercial awareness, enhancing their career prospects. 
The project provides students with the opportunity to build connections with alumni of the University of Sheffield who have reached senior positions in major organisations, and who generously give their time to support the project. Students taking part gain an insight into a wide range of career sectors and hear first-hand from alumni how they have got to where they are today.
What do previous participants feel about Northern City Connections?
100% felt motivated to do well academically and to take advantage of extra-curricular activities.
100% enjoyed the event and would recommend it to others.
---
Northern City Connections is one of the most rewarding and insightful careers experiences that I have taken part in.

I developed a lot of personal skills and I realised the type of career I wish to pursue in the future.

Beth Watson

Archaeology student
The networking skills and values I learned from you and the alumni have been so invaluable - I actually managed to find my dream job through networking!

Becky Jackson

English Language and Literature Student
---
1. Northern City Connections pre-event workshop, on campus - Wednesday 9th November, 2pm-5pm
Receive advice and information to prepare you for the business workshops and networking event and meet the other students and staff taking part.
We'll cover commercial awareness, networking, logistics and tell you about the alumni and businesses we'll be hearing from. We'll also support you in setting up or improving your own LinkedIn profile.
2. Northern City Connections business visits and networking event in Sheffield – Wednesday 16th November, 8am-8pm
This year, our three Sheffield-based businesses will be hosting face-to-face sessions during the day. University of Sheffield alumni from each business will talk about their career journey as well as providing insight into their professions and opportunities for graduates. 
The workshops will be followed by a networking event, where you will have the chance to speak in small groups to a range of alumni working in the Northern region.
3. Northern City Connections post-event workshop, on campus – Wednesday 23rd November, 2pm-5pm
Reunion time. We'll get back together to share experiences of the day and explore how you can use these in your development. You'll also receive advice for following up contacts and signposts to other University opportunities.
---
I had an amazing time and would certainly recommend the project to anyone who was in a similar position to me.

The experiences I gained have provided me with confidence and a new-found motivation towards my studies.

Jack Hickey

History student
---
Who can apply for City Connections?
The event is open to all Arts and Humanities students at Level 2 or above from widening participation backgrounds. You must meet at least one of the following criteria to be eligible to take part:
Be the first in your family to go to University
Have a home address in a neighbourhood with low rates of participation in Higher Education
Identify as belonging to a Black, Asian, or Minority Ethnic (BAME) community
Be a 'first generation' student (your parents didn't attend university before they turned 21)
You are a carer for someone
You have been in care at some point
You have a disability or specific learning difficulty
You are a mature student 
You are in receipt of a UOS financial bursary
We will email eligible students to invite them to apply for a place. 
Spaces are limited and it is crucial that you are fully committed and able to attend all three events. Please check any other commitments before making your application.  You are responsible for speaking to your tutors should your participation in Northern City Connections clash with any timetabled classes.
To apply for a place, please complete the application form here.  Thank you for submitting an application to take part in Northern City Connections 2022. Applications close at 5pm on Friday 21 October.  You will be notified of the outcome of your application no later than 5pm on Friday 28 October. If you have any questions please contact Edd Poole on e.poole@sheffield.ac.uk.
---
I now feel much more confident and able to apply for a variety of graduate roles within the marketing sector.

They helped me to see the positives and relevance in the things I have already done.

Mica Aspinwall

French and Linguistics student
---
During the day, we will attend workshops with three different businesses based in Sheffield. We are pleased to introduce our alumni who will be hosting the sessions.
Sheffield Museums:
Ruth Bean, Volunteering Manager, (BsC Natural Environmental Science, Geology and Ecology, 1993)

Anita Hamlin, Learning Officer, (Social History, 1994)
HSBC:
Matt Naylor, Senior Change Lead / Business Transformation (BA, Social and Political Studies, 1995)

Emilie Kofler, Wholesale Strategic Summer Intern and current student & previous NCC participant (BA Business Management with Modern Languages and Cultures, 2023)

Binta Samateh, GRaduate Recruitment, HSBC
The Crucible Theatre:
Dr Kay Graham, Deputy Director, Further Education Workforce, Department for Education (BA Geography, 1992 and PhD Geography, 1997)
In addition to our fantastic alumni hosting business visits, you will have the opportunity to meet and network with up to 20 other alumni working in a range of sectors at the networking event.  Further information on our alumni will be shared at the Pre-Event Workshop.
A world top-100 university
We're a world top-100 university renowned for the excellence, impact and distinctiveness of our research-led learning and teaching.