Archaeology schools' outreach
The Department of Archaeology runs several programmes for young people and school students to engage with the discipline and our research.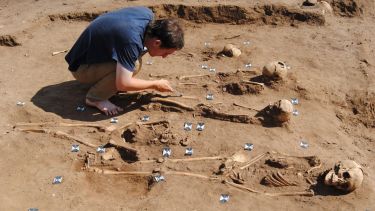 Archaeology is not often taught in schools or colleges - we hope that our programmes will help to inspire students, including those studying History or Classical Civilisations, to pursue this subject.
We give students the opportunity to experience practical archaeological work on our digs, and a chance to see and use the facilities available at the University of Sheffield.
We also look to further enrich learning through study days and school visits, providing informative, hands-on presentations on many different aspects of Archaeology.
---
Archaeology Taster Days
Led by our students and academic staff, these interesting and interactive sessions give an insight into what it's like to study Archaeology at University, and why it is such an important and fascinating subject. Year 12 students will have the opportunity to experience a lecture or seminar and to participate in Q&A sessions about archaeology research, teaching and student life at the University of Sheffield. 
---
Dig it!
Ever wondered what archaeologists do on an excavation? Dig It! is your chance to find out! Work alongside our archaeologists to excavate a historical site, examine and catalogue finds, and try out a range of practical archaeological techniques.

This is a great opportunity to be immersed in a real archaeological project, meet Archaeology students and staff, and gain valuable experience that can be used in applications for future college and university courses.
---
Archaeology in the City
Archaeology In The City is a student-led group that delivers a wide range of activities for schools, colleges, and the general public. For schools, we can offer workshops that provide an insight into a wide range of archaeological topics and methods, from excavation to lab work to iron smelting!

For more information about Archaeology in the City, please visit the website (https://archinthecity.wordpress.com/).
---
Thanks for a great day – you have helped to inspire discussion and research.

Julia Gaze

Worksop College
Why study Archaeology at university? Download this useful information for A-level students and teachers (pdf, 63kb).
Resources for teachers The department of Archaeology has developed some useful resources specifically for schools, including three short workshops and supporting teaching packs that introduce the use of Archaeology in related subject areas.
---
Contact us
If you would like to contact the Faculty Schools' Outreach Team regarding any of our projects, or to enquire about setting up a bespoke session for your school or college, please get in touch here - 
A world top-100 university
We're a world top-100 university renowned for the excellence, impact and distinctiveness of our research-led learning and teaching.