Dr Haiping Lu
Department of Computer Science
Senior Lecturer in Machine Learning
AI Strategy Lead
Member of the Machine Learning research group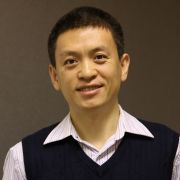 Profile

Dr Lu joined the University of Sheffield as a Lecturer in Machine Learning in November 2016. He has a PhD degree in Electrical and Computer Engineering from the University of Toronto, Canada, in 2008, and M.Eng. and B.Eng. degrees in Electrical and Electronic Engineering from Nanyang Technological University, Singapore, in 2004 and 2001, respectively.

Before joining Sheffield, he was an Assistant Professor with the Department of Computer Science, Hong Kong Baptist University, from 2013 to 2016, a Scientist with Institute for Infocomm Research, Singapore, from 2009 to 2013, and a post-doctoral fellow with the University of Toronto from 2008 to 2009.
Research interests

Dr Lu's current research focuses on machine learning, brain imaging, and tensor analysis. His research also covers related areas such as big data, biomedical engineering, computer vision, and signal/image processing.

His core expertise is tensor analysis and learning. He proposed several key tensor-based machine learning algorithms and lead-authored the book "Multilinear Subspace Learning: Dimensionality Reduction of Multidimensional Data" (CRC Press, 2013).

He contributed to applications including face/gait recognition for human identification and surveillance, video analytics for epileptic seizure detection, EEG classification for brain-computer interfaces, and fMRI data analysis and classification for brain state decoding.
Publications

Books

Journal articles

Chapters

Conference proceedings papers
Grants

Current Grants

Developing a machine learning tool to improve diagnostic and treatment response assessment on cardiac MRI data, Wellcome Trust, 10/2019 - 09/2021, £639,783, as Co-PI
Learning Representations of Higher-Order Structures for Networks via Tensor Embedding, Amazon, 04/2019 - 03/2020, £46,923, as PI

Previous Grants

Learning Sparse Features from 4D fMRI Data for Brain Disease Diagnosis, EPSRC, 01/2018 - 07/2019, £100,730, as PI
Dimensionality Reduction for Learning Correlations between Big Multidimensional Data, HK RGC ECS 22200014, HK$831,737, as PI.
Learning Independent Components with Tensor-based Modelling for Big fMRI Data, HK RGC GRF 12200915, HK$695,861, as PI.
Relaxation Methods in Principal and Discriminative Component Analysis for Tensor Data, HK RGC GRF 12248616, HK$695,861, as PI.
Professional activities

Member of the Machine Learning research group
2013 IEEE Computational Intelligence Society Outstanding PhD Dissertation Award
2014/15 Early Career Award, the Research Grants Council of Hong Kong
Program Committee Member: IJCAI-16, NIPS-16, AAAI-17, AISTATS-17
Member: IEEE Computational Intelligence Society Subcommittee for Outstanding PhD Dissertation Award, 2014, 2015.
Journal Reviewers: IEEE TPAMI, TNN/TNNLS, TSMC-B/TCyb, TFS, TIP, TSP, TBME, TNSRE, TCSVT, TIFS, TPDS, TCC, TIE, J-STSP, SPL; JMLR, CVIU, NN, PR, SP, PRL, IVC.