Continuing Professional Development events
The University of Sheffield's School of Clinical Dentistry is one of the best dental schools in the UK, and is now offering its training online and hands-on through Dental Additions.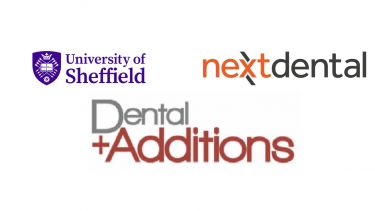 Dental Additions CPD evening lectures 2022–23
The Dental School is subject to NHS Trust COVID-19 rules and that the wearing of face masks is mandatory for all delegates. If you feel ill on the day or have any symptoms of coronavirus please do not attend.
Venue: Sheffield Dental School Lecture Theatre
Registration: 6.00 - 6.30pm (Limited refreshments available on a first come first served basis)
Lecture: 6.30 - 7.30pm
Organiser: Mr Mat Pring
20/10/2022 - Implementation of British Society of Periodontology guidelines and FAQ

Speaker: Dr. Sarah Pollington

Aims: Provide guidance on the implementation of the BSP guidelines

Objectives: Apply the BSP guidelines to assessment and treatment and consider how to record periodontal care.

GDC Development Outcomes: A + C

17/11/22 - Antibiotic Governance (TBC)

Speaker: Prof Graham Stafford

Title:  Antibiotic Governance (TBC)

Aims: To increase awareness of the emerging risk of antibiotic resistance (TBC)

Objectives: To reduce the overprescription of antimicrobial medication and thereby help to keep both medicine and dentistry sustainable. To pledge to become Antibiotic Guardians (TBC)

GDC Development Outcomes: C

15/12/2022 - Personal Finances and Pension Planning: NHS and Private 

Speaker: Mr. Hans Paulich (Rescheduled from May 2022)

Aims: To update delegates on current personal finance rules for investments and pensions.

Objectives: To allow delegates to make informed personal financial decisions.

GDC Development Outcomes: B

16/3/2023 - Environmental Sustainability Through Good Quality Oral Healthcare

Speaker: Prof Nicolas Martin

Aims: To identify the environmental impact of oral healthcare and highlight how the profession, patients and consumers can positively impact this by maintaining good oral health.

Objectives

To gain an awareness of the fact that oral healthcare has an environmental impact.
To take practical steps to engage in environmentally sustainable oral healthcare provision.
To understand the need to transition from a linear supply chain to a circular economy.
To learn strategies for waste and energy management through source reduction and good quality oral healthcare.

GDC Development Outcomes:  A + B + C + D

20/4/2023 - Complex endodontic challenges and when to refer

Speaker: Mr. Mark Barber

Aims and objectives: Covering topics like resorption, perforations, open apices, etc.

GDC Development Outcomes: C

18/5/2023 - The Social Life of Dentures

Speaker: Prof Barry Gibson

Aims: To understand the impact on the lives of patients of tooth loss and the provision of removable prostheses 

Objectives: To raise awareness of the scale of the effect that everyday dentistry can have on our patients' lives

GDC Development Outcomes: A + D
A world top-100 university
We're a world top-100 university renowned for the excellence, impact and distinctiveness of our research-led learning and teaching.