Neighbourhoods most at risk of the economic impacts from COVID-19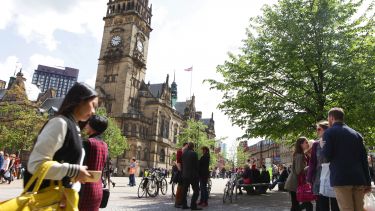 Dr Jesse Matheson and Dr Enrico Vanino launched the Covid-19 Places Economic Recovery Index (CoPERI) to partners in the Sheffield City Region on Thursday 1 July 2021 as part of their research into the affects Covid-19 has had on the UK's economy. 
The research partnership with Sheffield City Region looks to identify the places that will struggle the most to recover from the Covid-19 pandemic and analyse what the main threats to economic recovery are, both for households and businesses. It uses granular neighbourhood data, to develop several metrics to identify neighbourhoods at risk of economic hardship, based on different measures of household and business economic vulnerability.
A Covid-19 Places Economic Recovery Index is calculated for more than 7000 neighbourhoods across England and Wales. Metrics are summarised and easily accessible through a new interactive online dashboard that provides information to assist policy makers in assessing the economic risks faced by their local areas in the wake of the Covid-19 public health pandemic.
The research is further evidence that the economic and health impact of the COVID-19 pandemic has not been evenly distributed, with different parts of the country affected differently, based on their households, occupations and local businesses characteristics. This in turn will have implications for how these different parts of the country handle the post-pandemic economic recovery as the public health restrictions are gradually lifted.
Recovery policy may miss the unique challenges faced both across and within different regions and cities in the UK, failing to address the specific needs of places. Local and regional policy makers need the tools to ensure that they are able to identify what parts of their local economies will struggle to recover in the wake of the pandemic, and to guide the delivery of appropriate place-based recovery policy to support every place in the UK.
This launch of the results of the Covid-19 Places Economic Recovery Index was on Thursday 1 July 2021 and is a collaboration between the University of Sheffield and Sheffield City Region and is funded by UKRI Research England.
Flagship institutes
The University's four flagship institutes bring together our key strengths to tackle global issues, turning interdisciplinary and translational research into real-world solutions.