An Thu Ta
MSc
PhD Student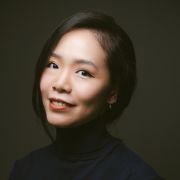 anna.ta@sheffield.ac.uk
9 Mappin Street
Full contact details
An Thu Ta
Department of Economics
9 Mappin Street
Sheffield
S1 4DT

Profile

An has more than 4 years of experience in economic modelling, over 2 years of which in a managerial position. Being recognised as a SFHEA and currently an Assessor, she has demonstrated her influence through mentoring and training peers, together with a wide range of experience in teaching support across UK universities and colleges. Currently, she is working in HEOR consultancy as an Associate Consultant.
Qualifications

Senior Fellowship of Higher Education Academy – SFHEA – UK                                         

Accredited in May 2020

---

PhD in Economics, The University of Sheffield – UK                                                  

Oct 2017 – 2022 (expected)
Title "Essay on Measuring Wellbeing". Fully sponsored by the Department of Economics, the UoS 

---

MSc. Economics and International Relations, University of East Anglia (UEA) – UK          

Sep 2015 – Sep 2016 
Distinction (overall mark 76.7%, starred first). Received scholarship by UEA for students with high results

---

BSc. Economics, Foreign Trade University (Vietnam)                                                         

Aug 2010 – Jun 2014
GPA: 80.6% (equivalent to 3.26/4.0). Received University's scholarship for high achievers in the final year
Research interests

PhD thesis: Essay on Measuring Wellbeing


An's PhD thesis focuses on measuring well-being through equivalent income over the life course. Her research interests include valuing health and well-being, well-being measures and individual preferences.
Publications
Research group

Supervisors: 
Teaching interests

An has previously taught modules on:

Microeconomics and Applied-Microeconometrics.
Welfare economics.
Health economic modelling and economic evaluation.
Professional activities

Associate Research Consultant - OPEN Health Group

February 2022

---

Health Economist - BresMed Health Solutions

July 2020 - January 2022

---

Associate lecturer - Sheffield Hallam University                                      

October 2018 – October 2020

Lectured and led seminars in Economics and Maths (1st and 2nd year undergraduate levels)
Moderated assessment materials and assessed students' performance
Supervised and assessed Master's dissertations 

---

Graduate teaching assistant - Department of Economics, University of Sheffield      

October 2017 – September 2020

Delivered tutorials and computer demonstration sessions in Economics and Econometrics
Received Staff Award - Best Graduate Teaching Assistant Award (2020)
Shortlisted in Sheffield Students' Union Academic Awards 2020 for outstanding personal tutor

---

Lecturer - Sheffield International College                                                     

January 2019 – July 2020

Delivered lectures and tutorials in Economics and Statistics (Foundation & Pre-master levels)
Designed assessment materials including report/essay and exam, assessed students' performance