Diamond Engineering, inspiring engineers of the future!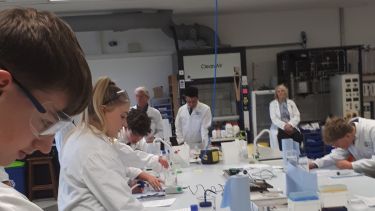 On the 19 January, The Diamond Engineering team welcomed more than forty Year 10 students from Stocksbridge High to spend the day at The Diamond to take part in a number of interactive practical engineering activities.  The aim was to give students a basic understanding of what the discipline of engineering is, the different career paths they could pursue and the impact engineering has on the world.
The team wanted them to understand that engineers solve the world's biggest problems, from finding new sources of clean energy and transportation to alleviating the world's hunger problems.
The students took part in six interactive lab based activities. 
Morning Sessions:
Continuous Manufacturing of Pharmaceutical Tablets - a demonstration of how pharmaceutical tablets are made using an industrial scale pill press.
Introduction to Arduino - simple coding and circuit building.
Paper Column Lab - a challenge to produce the strongest structural column possible, using just one sheet of A4 paper!
Afternoon Sessions:
Hygiene and Contamination - learn how easy contamination can spread!
Investigation of a Biopolymer - use a solution of calcium chloride and sodium alginate to make perfect beads and then compete to make the longest 'worm'.
Fluidics Carousel - participate in a series of 4 small fluid dynamics experiments to demonstrate interesting phenomena.
This outreach event was a really great day. We exposed the students to the breadth of engineering disciplines happening at Sheffield and dispelled some myths that the profession is limited to difficult maths and hitting metal with spanners.  Our staff did a fantastic job of demonstrating the range of opportunities for young people starting out in their professional lives, to get into engineering and have real impact in the world. 

Professor Andrew Garrard, Head of Multidisciplinary Engineering Education (Diamond Engineering)
When asked, 100% of students rated the day as 'very good' or 'loved it'.  And, 89.5% said that attending the event had given them an interest in studying either science, technology or engineering further, which was the ultimate goal of these brilliantly enthusiastic engineering teachers!
For more information on how schools can take part in similar visits to the Faculty of Engineering please contact - Charis Bronze c.bronze@sheffield.ac.uk or Amanda Southworth a.southworth@sheffield.ac.uk, Widening Participation Officers within The Faculty of Engineering.
A world-class university – a unique student experience
Sheffield is a research university with a global reputation for excellence. We're a member of the Russell Group: one of the 24 leading UK universities for research and teaching.