(Room 1.07 - First Floor)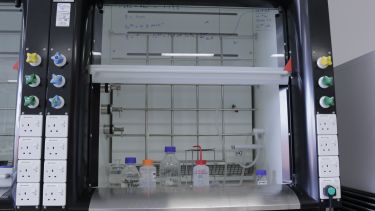 Overview:
The Analytics Laboratory has an impressive collection of pilot scale production purification and separation apparatus that is highly relevant to the Chemical Engineering Industry. 
In particular students will gain significant insight into the types of operations that are essential in pharmaceutical production and other formulated products. These pilot scale equipment help students to understand the principles of chemical processes and how to control product quality. The Continuous crystalliser and the filter dryer are mainly used in the primary manufacturing of high purity products in the Pharmaceutical industry. The whole process is controlled by Human-Machine Interface (HMI) which exposes students to the same environment as in a real industry. 
The facility also contains a wide range of characterisation equipment which allow students to understand and get hands-on experience on analysing different types of products, and characterisation of gas and liquid mixtures.  There is an extensive range of laboratory equipment that covers areas of study such as Reaction engineering, acid/ base titrations, measurement of activation energy, gas law and the fundamentals of thermodynamics, synthesis of chemicals, fuel cells and renewable energy.
In the Analytics Laboratory, we offer students access to a wide range of equipment that is essential to their understanding of the fundamental principles of chemical engineering.
Students will learn:

The science and technology of formulated products/ Principles and Hands-on experience.
Pharmaceutical production / manufacture and purification by Continuous Crystallisation.
Pharmaceutical continuous filter dryer production processes.
Reaction rates of chemical reactions.
Gaseous effluent clean up by pilot scale gas absorption columns
Distillation of binary liquids at the pilot scale.
Characterisation and analysis of different types of fuel. 
Hands-on experience on bomb calorimetry and solution calorimetry units. 
Importance of Renewable Energy.
Ion exchange process.

What equipment is in this lab?

Pilot scale continuous oscillating baffled crystallisation.
Pilot scale continuous filter dryer apparatus.
Pilot scale distillation apparatus 10 litre volume.
Pilot scale gas absorption rig.
TGA analysis for samples in the order of 10-20mg
Solution and Bomb Caloremeters 
Clean Energy kits

Who uses this lab? / Links to other Departments:

Which staff are in this lab?

Request Use of Equipment:

Equipment is only accessible for use outside of teaching weeks.

Please email k.penny@sheffield.ac.uk with:

Your name
Your degree & year of study
What equipment you want to use and why

Please allow 3-5 working days for a response.
A world top-100 university
We're a world top-100 university renowned for the excellence, impact and distinctiveness of our research-led learning and teaching.