(Room 1.01 - First Floor)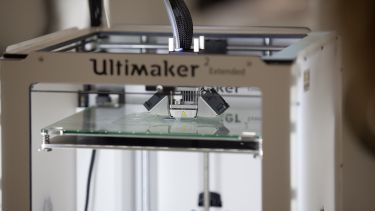 Overview:
The Diamond's Machine Shop is part of The Faculty of Engineering's commitment to Advanced Manufacturing and is home to a variety of tools and associated equipment vital to our students' practical learning experience.
The Machine Shop currently houses 16 manual lathes, allowing classes of up to 12 students to get hands-on training in fundamental workshop techniques and be fully responsible for producing components from manufacturing drawings.  It also includes Computer Numerical Control (CNC) equipment, including a lathe and a milling machine, which are combined with CAD/CAM software to convert 3D computer models into highly-accurate machined parts. The machines can be used to produce equipment for student practicals as well as for familiarising students with modern manufacturing techniques.
Alongside this equipment the Machine Shop has a range of metal cutting band saws. Before using any of the machines, students are taken through a full health and safety induction, including risk assessments, to ensure that they are able to use the equipment safely and in line with industry standard practice.
The EA Machine Shop is primarily used by Engineering Application students as part of their module. However students can get access to these areas for co-curricular and personal projects on Wednesday afternoons and outside of teaching weeks but require students to complete additional training.
Students will learn:

How to identify risks and control measures safely operate workshop equipment to manufacture components.
How to manufacture components from engineering drawings within tolerances.
The advantages and limitations of common manufacturing methods.
How different materials perform when machining.

What equipment is in this lab?

CNC Mill and Lathe
Manual Lathes
Large scale bandsaws (Vertical & Horizontal)

Links to other Departments:

The Machine Shop teaches the fundamentals of using a lathe to students from Mechanical and General Engineering. 
Students from co-curricular teams across the engineering faculty may need to use the equipment to manufacture their prototypes.

Which staff are in this lab?

Request Use of Equipment:

These areas can be accessed by students on Wednesday afternoons but they must use our booking system. Students will require special training to use these areas.
A world top-100 university
We're a world top-100 university renowned for the excellence, impact and distinctiveness of our research-led learning and teaching.