(Room 1.08 - First Floor)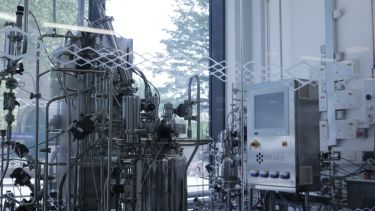 Overview:
The Diamond Integrated Pilot Plant (DiPP) is the cornerstone for educating future chemical engineers at The University of Sheffield. Students use, test and explore integrated processes with state of the art simulations and world class control systems in a safe, production orientated environment.
This pioneering new facility manufactures pharmaceutical tablets from blends of model active ingredients and excipients. DiPP also includes key powder processes steps for formulated product manufacture such as crystallization, blending, granulation and tableting.
The students get the chance to develop as engineers immersed in areas that address some of the key challenges of this century such as energy and climate change, affordable medicines, and bioengineered products.
The plant is situated at the corner of St Georges' Terrace and Broad Lane with two-storey high glass walls allowing visitors and passers-by a glimpse of the teaching that goes on inside. As well as the 500-plus students that get to take advantage of the facility, it will also be used for the training and upskilling of employees of some of the country's modern engineering companies.
The space incorporates a continuous power processing plant – unique in the UK – that will engage students in the world of formulated products including consumer products, specialty chemicals, agricultural chemicals and food items. They will have the chance to manufacture pharmaceutical tablets and measure the attributes and effectiveness of their output. There are also tremendous opportunities for using the continuous plant for the training and education of employees in an industry worth in the order of £180 billion per year to the UK economy. 
The DiPP will be the first example of an educational facility that focuses on the removal of fossil fuels from the supply chain and the recycling and reuse of CO2. Not only does this put Sheffield at the forefront of research-led teaching, but it gives students an opportunity to learn skills in a cutting edge technology that is likely to become increasingly crucial in the fight against global warming.
The third key area of focus for the DiPP is Biotechnology. With the potential to address some of the world's greatest challenges, such as feeding a growing global population, the industry is worth over £17 trillion in the EU alone. Using state of the art equipment, including microorganism fermenters and other bioreactors, our plant will be the core of practical training for undergraduate and postgraduate education in bioengineering, guided by our world-leading research in this field.
Students will learn:

Develop, characterise and reverse engineer new products for high value manufacturing, biotechnology, and clean fuels.
The science and technology of formulated products/ Principles and Hands-on experience on operating an industrial scale Continuous Tableting Line CTL.
The science and technology of granulation and tableting processes. 
Core skills in mass and energy balances, reaction engineering and separation process.
Process control system: process simulations of each pilot plant in the control room.
Practical training in biological engineering.
Scaling up production.

What equipment is in this lab?

GEA ConsiGma™-25 Continuous Tableting Line CTL
Labline P series Semi-automatic Tablet Hardness Tester
Pharmatron Multi-Test 50 Tablet Hardness Tester
Full control room to monitor and control the ConsiGma 25 CTL
Solaris S Series Sterilise In Place Pilot Scale Bioreactors (5L & 20L)
Power-to-X pilot plant to convert CO2 and water to a high energy liquid fuel. (soon?) 
Thermo Scientific Trace 1300 GC-FID with TraceGOLD™ TG-WaxMS A Column
Sartorius MA35 Infrared Moisture Analyzer
Ohaus PA124C Precision Balance (4 Decimal Place, 120g Max)
Ohaus Defender 5000 XTremeW balance
Inversina 20L tumbling mixer
SevenCompact S230 conductivity meter
Fulton EP54 Electric Steam Boiler

Who uses the lab? / Links to other Departments:

Which staff are in this lab?

Request Use of Equipment:

Please complete this Google Form and allow 3-5 working days for your initial request to be processed.
A world top-100 university
We're a world top-100 university renowned for the excellence, impact and distinctiveness of our research-led learning and teaching.