(Room 3.06 - Third Floor)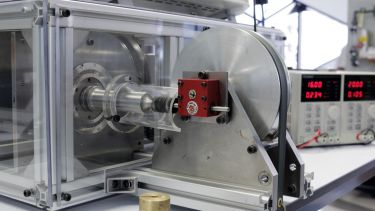 Overview:
With the requirement for improved energy efficiency becoming an increasingly key component of modern engineering, The Diamond's Thermodynamics and Mechanics Laboratory offers learners the opportunity to investigate all aspects of this process. The laboratory is also home to a number of dynamics experiments where the impact of movement on mechanical systems is examined.
A central aspect of the study of thermodynamics involves measuring the efficiency of energy transfer by testing calculations and theories against devices such as compressors, heat exchangers and engines within the laboratory. The apparatus is often based on actual industrial equipment, providing students with an insight into its application. They also get to look at the impact of energy transfer on gas and fluids and as their studies progress, students examine heat transfer processes and thermodynamic cycles. Boiling and condensation apparatus provide an understanding of the energy implications of heat transfer, phase change and the impact of temperature and pressure on these processes. Gaining an understanding of these issues is essential if improvements in energy efficiency in both commercial and industrial devices are to be achieved.
Forty unique machines have been designed and constructed to allow students to investigate the effects of force, friction and momentum. Not only can they observe the fundamental principles of dynamics in action, but they will also see the instrumentation that is essential to industrial applications, such as torque sensors, accelerometers and load cells. This leads on to projects focused around the effects of vibration on various materials, from simple rulers and beams to power station steam turbine blades.
Students will learn:

The thermodynamic analysis of engineering systems such as heat exchangers and vapour compression devices (e.g. fridges).
how both the first and second laws of thermodynamics influence the performance of engineering systems.
The characteristics of boiling and condensing.
the measurement of static and dynamic friction.
how acceleration of the slider varies with crank speed.
detailed measurements of the vibrational response of a single degree of freedom system (a beam) under free and forced excitation.
Frequency analysis of a turbine blade with a tap test.

What equipment is in this lab?

Hilton Heat Exchanger Rig
Band Brake & Gearbox Apparatus
Slider Crank Apparatus
Gunt Condensing rig
Gunt Boiling Rig
Acoustics
Vibrating beam
Tap testing of steam turbine blades

Equipment in this lab is for teaching purposes only - equipment is not available for student use outside of teaching sessions.

Who uses the lab? / Links to other Departments:

Which staff are in this lab?

Request Use of Equipment:

Please email shahid.mohammed@sheffield.ac.uk with:

Your name
Your degree & year of study
What equipment you want to use and why

Please allow 3-5 working days for a response.
A world top-100 university
We're a world top-100 university renowned for the excellence, impact and distinctiveness of our research-led learning and teaching.