The environmental fate of resin-based dental restoratives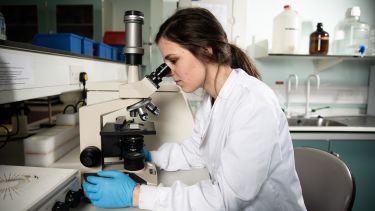 On
School of Clinical Dentistry:
Barry Gibson
Nicholas Martin
Steven Mulligan
Groundwater Protection and Restoration Group:
Andrew Fairburn
Gabriella Kakonyi
Steven Thornton
---
Materials used as dental restoratives have considerably changed during the past decade.
Nowadays resin-based plastic compounds, polymerised and set within the tooth, are encouraged as they are believed to have less of an impact on human health and cosmetically more desirable than amalgam-type fillings.
With the progression of new materials being used we must look at how they may affect the surrounding environment – inside and outside the human body.
We know that these restorative materials contain organic chemicals, which if leached could reach critical levels that may present a health risk.
This will therefore determine and quantify the potential release of these organic compounds in dental restoratives to the environment through various routes (chemical analysis study).
It will also investigate the views and perceptions of society and the dental profession to these materials as potential environmental pollutants (sociology study).
The potential routes to release of these organic chemicals to the environment are considered to be
the manufacturing process of resin-based dental restoratives
waste disposal into landfill sites
direct exposure into water ways from human waste
CAD-CAM milling of composite blocks 
burial of cremated bodies containing these dental restoratives
The outcome of the project is a risk assessment of potential environmental pollutants arising from resin-based dental restoratives, which provides more thorough knowledge base and awareness for sustainable decision making.
---
The Shirly Glasstone Hughes Trust Fund, British Dental Association
A global reputation
Sheffield is a research university with a global reputation for excellence. We're a member of the Russell Group: one of the 24 leading UK universities for research and teaching.