Laboratory analytical and experimental services
An extensive range of analytical and experimental services is available for the investigation and testing of environmental media.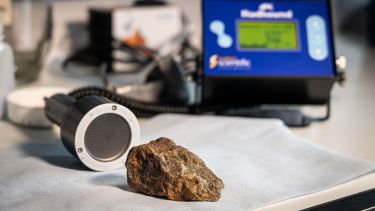 Laboratory analytical and experimental services includes the measurement of organic, inorganic and microbiological deteminands in water, wastewater, soil, sediment, rock and gas samples, using both traditional and state-of-the-art methods and instruments.
This is complemented by a fully equipped laboratory and experimental facilities to undertake materials testing and analysis, specialised research and longer term studies related to specific client interests.
Examples of services we provide are
chemical analysis of specific organic compounds, such as aromatic and aliphatic hydrocarbons, halogenated organic compounds, ether oxygenate compounds, phenols, PAHs, pesticides, fatty acids
chemical analysis of major inorganic ions and metals
chemical analysis of gases
Our main commercial services are outlined on this page.
---
The following techniques are available for the chemical analysis of organic, inorganic and gaseous constituents in water, wastewater, effluents, soils, sediment, rocks and other earth materials:
Gas Chromatography-Mass Spectrometry (GC-MS)
Gas-chromatography (GC-FID)
High-Pressure Liquid Chromatography (HPLC)
Ion Chromatography (IC)
Inductively Coupled Plasma Mass Spectrometry (ICP-MS)
Atomic Absorption Spectroscopy (AAS)
UV, Visible, Fluorescence and Infrared Spectroscopy
Total Gas Analysis of H2, CH4 and CO2 (TGA)
Total Inorganic Carbon and Total Organic Carbon (TIC/TOC)
Thermogravimetric Analysis (TA)
Flow Injection Analyser (FIA)
---
Our facilities include a Class II laboratory for microbial physiology, molecular ecology and biosensor analysis and testing of microorganisms and pathogens in natural and contaminated media.
The following techniques are available for the microbiological analysis of water, wastewater, effluents, soils, sediment, rocks and other earth materials.
Standard methods for the analysis of microbial community composition and diversity:
Total and culturable bacteria.
Most probable number (MPN).
Cell counting using optical and confocal microscopy.
Isolation of degrader bacteria.
Molecular-based methods for the analysis of microbial community ecology and function:
Fluorescence Insitu Hydridisation (FISH).
Polymerase Chain Reaction (PCR).
Denaturing Gel Electrophoresis (DGGE).
Stable Isotope Probing (SIP).
Single cell genomics of unculturable microorganism identify and function.
Functional gene screening.
Biosensor-based methods for the analysis of environmental responses to contamination:
Contaminant detection and toxicity.
Environmental screening and monitoring.
---
The chemical composition of water and other aqueous samples from natural and polluted environments can be analysed for the following constituents:
Organic pollutants and their organic breakdown products (e.g. BTEX, chlorinated solvents, PAHs, phenols, pesticides, herbicides, fatty acids).
Inorganic cations (Ca, Mg, Na, K, NH4).
Inorganic anions (Br, F, Cl, NO3, NO2, SO4, PO4).
Metals (heavy metal cations and anions, rare earth and transitional species, isotopes and speciation).
Dissolved gases (H2, CH4, CO2).
Dissolved oxygen and redox status (Eh).
Alkalinity and pH.
Total Organic Carbon and Total Inorganic Carbon.
---
The following services are available for the analysis of soils, rocks and other naturally occurring or manufactured earth materials, as appropriate:
Grain-size analysis.
Cation exchange capacity (CEC).
Particulate organic carbon content.
Metal oxide content.
Adsorbed metals.
Oxidation capacity.
Calcium carbonate content.
---
We offer our clients the opportunity to undertake commission laboratory-based research or more detailed experimental studies and testing related to a specific need.
Usually this involves a longer term programme of work, which may combine a number of analytical services. This is always undertaken in consultation with experienced academic and technical support staff to ensure an appropriate and cost-effective programme of work is designed for the client.
Typical studies where such work is undertaken include:
Microcosm experiments to assess biodegradation processes for organic contaminants.
Batch experiments to assess and quantify sorption processes for organic and inorganic chemicals.
Incubation experiments to characterise microbiological activity and processes in natural or polluted environments.
Immersion tests to characterise interactions between chemicals and natural or artificial materials.
Column tests to evaluate solute transport and biodegradation processes in porous media.
If you do not see the specific service listed above or would like more information on these, contact our Commercial Services Manager, Mr Andrew Fairburn. We respond quickly and professionally to the specific requirements of our clients and can tailor a programme of analysis to suit your individual needs.
Flagship institutes
The University's four flagship institutes bring together our key strengths to tackle global issues, turning interdisciplinary and translational research into real-world solutions.