What to expect in the ceremony
What will happen in the ceremony?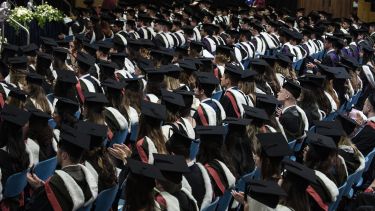 Before the ceremony
Graduands need to be seated in the hall 40 minutes prior to the ceremony start time. This is because University marshals will undertake student registration from their seats. Ceremonies last between 45-90 minutes.
Graduands sit in the two front blocks, seat numbers are on all tickets.
Guests have seats in the remainder of the hall.
University staff stewards will be in the hall to assist graduands to their seats.
Graduands must sit in the correct seat. There will be University staff marshals who will come round to check students are in the right seats before the start of the ceremony.
There will be a keepsake graduation programme on all graduands seats. Programmes for guests can be found in the dispensers around the hall.
---
In the ceremony
Everyone in the hall will stand for the staff and officers processions. The two processions will make their way on to the stage.
The Presiding Officer will declare the congregation open, ask graduands and guests to be seated and give a few words of welcome.
University staff marshals will pull graduands out of their rows and re-check names. As graduands leave their seat they must ensure they follow the graduand immediately in front of them. Graduands must not change position in the queue.
Once graduands are at the bottom of the stairs their names will be checked again. There will also be a member of the Edes and Ravenscroft robing team to check robes.
Graduands will ascend a short flight of steps on to the platform. Names will be checked again and then read out by the Presenter. Graduands will walk across the stage, doff the cap to the Presiding Officer and descend the steps at the other end of the stage.
Once off the stage, graduands will be given their certificate (if they have not already received it).
University staff stewards will direct graduands back to their seats.
Some ceremonies will have a senate award, honorary degree or both. This is usually presented in the middle of the ceremony.
---
After the ceremony
After all students have been presented, the Presiding Officer will deliver a short closing speech.
Following the speech, the Presiding Officer will declare the congregation closed and ask graduands and guests to stand for the exit of the staff and officer's processions.
Once the staff and officer's processions have left, the University marshals will lead a graduand procession.
The graduand procession will lead out to the Octagon Foyer or Octagon Bar area depending on the block. Once in the Octagon Foyer and Octagon Bar area, graduands must leave the Octagon via the main doors and meet guests outside on the concourse.
A world top-100 university
We're a world top-100 university renowned for the excellence, impact and distinctiveness of our research-led learning and teaching.