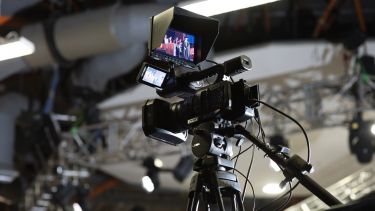 Relay link to auditorium
Each graduation ceremony is relayed live to the Students' Union Auditorium, to enable family and friends without allocated seats to see the ceremony.
This facility may be particularly useful for guests with young children who may not be able to remain seated throughout the ceremony. Seats in the Auditorium are not allocated or ticketed and are available on a first-come-first-served basis.
It should be noted that whilst the Auditorium seats 400 people and does not normally reach capacity, the Events Office cannot be held responsible should seats be unavailable at busy times.
Please note: The Auditorium has tiered seating and 10 spaces for wheelchair users.
---
Live online stream
The graduation ceremonies will be streamed online. This is a great facility for anyone unable to attend your graduation ceremony.
The stream will go live 30 minutes before the start of each ceremony and you should note that this is a live broadcast and will not be able to be accessed following the ceremony.
A recording of each ceremony will be available to view on our Digital Media Hub for a limited time and those wanting a recording of the ceremony will need to purchase one in DVD or USB format. 
---
The January 2021 ceremonies will be streamed live during graduation week. 
If you are having problems viewing the stream please make sure you have the latest version of Flash player installed. The live stream will begin around 30 minutes before the start of each ceremony. 
Playback features
Pause and rewind playback
Rewind the live stream to watch any moment you have missed. Simply hover your mouse over the stream, and use the playback slider control.
Sharing
Share the stream with your friends and family via Twitter and Facebook.
---
Important to note:
These facilities are provided by the University as 'extra' services. Although we endeavour to provide a full, unbroken link from the ceremony venue, unfortunately, on occasion, we may experience a break in service. Guests using this facility should be aware that, should a break in service occur, the University cannot be held responsible.
A world top-100 university
We're a world top-100 university renowned for the excellence, impact and distinctiveness of our research-led learning and teaching.