Basic English for Teaching Korean - a new open textbook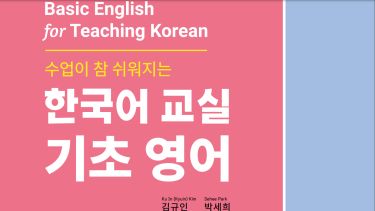 The book is aimed at Korean language teachers around the world, and is published with a Creative Commons CC-BY-NC-SA Licence. It is free to download from ORDA, a University of Sheffield repository for sharing reports, datasets, presentations, posters, and other scholarly outputs.
The primary audience for the book are Korean teachers whose native language is not English and who plan to work in an English-speaking country. Given the increasing global demand for learning the Korean language, many individuals aspire to become Korean instructors. Among these future Korean educators, there are those who lack confidence in their English speaking skills and seek guidance on effectively teaching the Korean language using clear and fluent English. They are also interested in acquiring the appropriate terminology and expressions for conveying aspects of the Korean language and culture when instructing in the classroom. The book provides a comprehensive, step-by-step guide on how to teach the Korean language in English. 
The University of Sheffield has an Open Educational Resources (OER) policy that actively supports and encourages the use and creation of OER. Additionally, the Library Content Strategy supports initiatives that enable open scholarship and dissemination of knowledge, and the Library was able to provide Kyuin with a grant to support the production of the book. Reflecting on the experience of publishing an open textbook with support from the Library,
I have learned so much from our collaboration. This project would not be accomplished without your support and professionalism

 Dr Kyuin Kim 

Further information about University Library support for OER is available on the Library website.
A global reputation
Sheffield is a research university with a global reputation for excellence. We're a member of the Russell Group: one of the 24 leading UK universities for research and teaching.