The Joyful Learning Project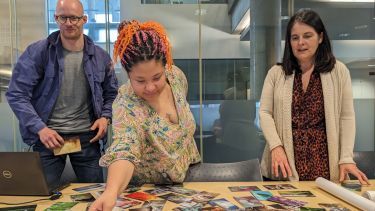 The joyful learning project responded to a call for funding from the Faculty of Social Sciences Education lead who asked for a commitment to themes of:
Student voice
Building engaged, inclusive and joyful learning communities 
Using our buildings and physical space to support innovative teaching and/or foster a sense of belonging for students 
Decolonising our curriculum, fostering inclusive learning environments and supporting widening participation. 
The emphasis for the funding was on co-producing with students and collaborative working across academic and professional services teams. Our project was led by Dr Lauren White in partnership with Dr Will Mason, both from the Sheffield Methods Institute, together with Dr Vicky Grant from the University Library and Alison Romaine, Grace Cleary and Shona Tulloch, all former Student Union Officers.
Our project question was: How might we rethink learning as not solely about educational achievement or a predetermined output, but as a joyful journey? Inspired by bell hooks, our creative workshops focussed our efforts to 'look, live, find and create spaces of joy' (hooks, 2003: 169). To date we have hosted two events, one in the Digital Commons (in the Information Commons) and one in the Wave, our new Social Sciences building. Students used a battery of joy, picture jolts and their own creative artefacts to share their experiences of joyful learning. We have started to collaboratively analyse the outputs and are now working with an artist to share our findings (more on this to follow).
Initial reflections were shared by Lauren at the July 2023 All Library Staff event. Alison Romaine, former SU Education Officer, reflected on what the project means for the Library.
"Our workshops were small and simple, but from the feedback, they enabled moments of transformation for students."

Alison Romaine
Alison also reflected that "it was just really valuable to engage in embracing this unpredictability" and that she will "really look forward to the future of the University Library, the Digital Commons, and all the amazing things that can happen here"
Find out more about the project by visiting the web site.
A world-class university – a unique student experience
Sheffield is a research university with a global reputation for excellence. We're a member of the Russell Group: one of the 24 leading UK universities for research and teaching.