Mark Firth's 'The Ingots' Sculpture: University Heritage Collection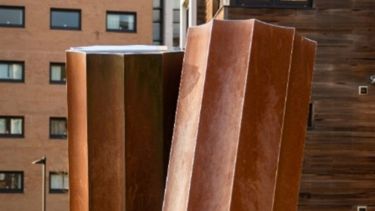 Researched and written by Murray Wood, MA History.
Ingots by Mark Firth
Date: 2009
Medium: Steel
Measurements: 294 x 277 x 120 cm (HxWxD)
Heritage ID: 1433
Location: Endcliffe Student Accommodation, External
The Ingots are part of the University Heritage Collection and were commissioned when the Endcliffe Student Village was built in 2009. This blog will detail information about the artist and highlight some interpretations of the sculpture, as well noting how it was made and installed. It will also delve briefly into the history of Sheffield's steel industry and discuss the work of the artist's great-great-grandfather, who is of huge significance to the city of Sheffield and this university.
The sculptor: Mark Firth (1952)
Mark Firth turns engineering into an art form, working with various metals and producing geometric abstractions of the industrial world. Firth uses hand-operated rather than computer-programmed machines to complete his works. 
Although working in London, Firth has a strong connection with the University of Sheffield and this city's past. His great-great-grandfather was a renowned steel manufacturer and philanthropist and was also named Mark Firth (1819-1880), who became the Mayor of Sheffield in 1875. In 1879, he founded Firth College, which is now the University of Sheffield. Firth embodied the synergy between industrialism and education. The University is widely heralded as a truly civic institution due to the gestures of Firth and his townspeople, with his legacy still being central to the University's ethics and success. 
Firth College's first purpose-built building was Firth Court. This building is now home to another instalment of Firth's work, On the Primacy of the Square, as well as a bust of his great-great-grandfather, made by Albert Bruce-Joy (1842-1924). Information on those can be found here.
The sculpture: Ingots
At almost three metres tall, the Ingots serve as a striking visual asset of the student village, with the green of Endcliffe student village being complemented by Sheffield's steel foundations. As the sides have oxidised to give the work its rusted appearance, they have developed a brown-orange exterior that plays into the industrial aesthetic. The top surfaces are polished and reflect the sky, offering a different experience when viewed by those in flats above ground floor. At ground level, each step around the sculpture affords a new perspective thanks to purposeful asymmetry.
In his initial proposal, Firth commented that the piece serves as a metaphor to the University process, that being the forging and tempering of intellect, as the Ingots themselves were forged and tempered. Other possible interpretations change with the viewing angle. 
With their fluted exterior and gap between them, the Ingots could be seen as reminiscent of columns, perhaps signalling the steel pillars on which Sheffield was built. Or maybe it indicates that the surrounding inhabitants are the future pillars of academia.
When seen from an angle that does not reveal the gap, their closeness could indicate mechanical purpose, likening them more to cog wheels than columns. Firth had in mind the plurality of interpretations of his artwork and he noted the degree that each student studies will impact their perspective.
The location: Endcliffe Student Village
Ingots serve as a landmark in the Endcliffe Student Village, existing with practical significance as a meeting point as well as being a visual spectacle. They rest next to a pathway making the sculpture easily accessible for all. As a part of the landscape, they look architectural, and they were installed by digging up the surrounding area.
The landscape includes a pond, a grassy bank and lots of trees. Adding a piece of art to this area has made it look like a park. 
There is another site-specific sculpture at Ranmoor Student Village. Hedge of Friendship by Jo Fairfax (active 1995-) is also built into the landscape, and more information can be found on it here. Having sculptures in the student villages makes them feel like more than just halls of residence; they become communities with a culture and atmosphere.
The steel industry
Ingots are blocks of metal, usually of pure material, and can be either solid or hollow depending on what they are used for. They are cast into an oblong shape so that transportation and handling of the material is made easier. The techniques used today are not far removed from those of nineteenth-century industrial Sheffield.
Sheffield was known globally for its steel industry, and steel casting has remained a highly skilled operation. The heaviest recorded single cast ingot at the time was achieved by Mark Firth's company, Thomas Firth & Sons, in 1871. The company stands today as Forgemasters International, after coalitions with various companies in the twentieth century led to rebranding. Firth researched their operations when he was invited to submit his proposal to the University, and that inspired him to create this piece.
Mark Firth encapsulates the city's past in a phenomenal homage to Sheffield's industrial roots.
More information about the sculptures mentioned in this blog and others in the University Heritage Collection can be found here. You can also read more about the Universities Unique and Special Collections here. Click the link to take part in the interactive sculpture tour!
Disclaimer: Images are courtesy of the University of Sheffield. © All Copyright belong to The Artists respectively.
Sources:
'Precision as a State of Mind: Sculptures by Mark Firth', Graves Gallery, https://www.museums-sheffield.org.uk/museums/graves-gallery/exhibitions/precision-as-a-state-of-mind-sculptures-by-mark-firth, [accessed 11/02/22]
'The Armaments Past of Mark Firth', History Matters, (2018), http://www.historymatters.group.shef.ac.uk/armaments-mark-firth/, [accessed 11/02/22]
Collingwood, Frances, 'Mark Firth-Steelmaker Extraordinary', Steel Times, 197:4, (1969), p. 231
Corten Steel Project, http://www.cortensteel.co.uk/sheffield.htm, [accessed 11/02/22]
Firth, Mark, 'Proposal for a sculpture at Endcliffe Student Village, University of Sheffield', (2008), pp. 1-2
Mathers, Helen, Steel City Scholars: The Centenary History of the University of Sheffield, (James & James, 2005)
Smithurst, Peter G., 'Thomas Firth and Sons – Steelmakers to the Arms – Industries. Part 2: Heavy Armaments', Arms and Armour, 15:2, (2018), pp. 149-162
Tweedale, Geoffrey, Steel city: entrepreneurship, strategy, and technology in Sheffield 1743-1993, (Oxford, 1995)
A world top-100 university
We're a world top-100 university renowned for the excellence, impact and distinctiveness of our research-led learning and teaching.