Virtually There: Summer 2020 for our Postgraduate Students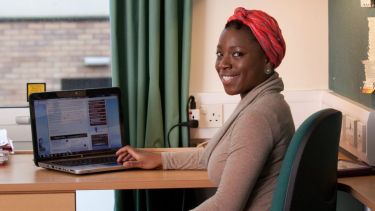 At the University of Sheffield, we're addressing some of the world's most pressing challenges, from developing new treatments for life-threatening diseases to solving the problem of feeding a world of 10 billion and driving low-carbon technology.  Studying as a postgraduate student is about being part of this academic community, and getting involved in research that, in a rapidly changing world, is responding to some of the biggest global challenges we face today.
And that's why, as a research-led university, we have a strong reputation for attracting some of the brightest minds from all over the world – and it's our job as a library to help enable our students to do their best work at all times!
At Sheffield, we offer a range of challenging taught and research-based postgraduate programmes where students have the opportunity to develop advanced specialist knowledge of a particular subject, get involved in specialist interest groups, contribute to talks and conferences, take advantage of the broad range of opportunities there are to gain new skills.
The University of Sheffield Library prides itself on being an integral part of this postgraduate experience – by providing access to rich resources, inspirational spaces, and the specialist support our students need to thrive.
The outbreak of the COVID-19 pandemic has posed a serious challenge to our health and economic well-being. It's a time when we all need to adapt in one way or another – and the University Library is no exception.
But, could the library, without providing access to its vast array of physical resources and spaces, continue to be a supportive, nurturing and inspirational space for our postgraduate community?
The answer is a resounding, yes!
The Library is so much more than a place to pick up books or read in silence. It always has been! We enable world-class research, provide access to the world's knowledge, rich digital resources, and support to enhance research or develop new skills.
Our digital offer is an indistinguishable part of what we do, therefore during these unprecedented times it has been important to not only raise awareness of our existing digital support, but to adapt to the changing environment we have all become part of, and to further enhance our offer.
We recognised that our postgraduate community would have unique requirements to support their research throughout the summer. It was critical for us to develop and deliver an added-value virtual offer for this creative and collaborative community at a time when they would most need it.
With this aim in mind, we began taking steps to implement the following:
A Virtual Library Commons, with an initial focus on supporting postgraduate students through their dissertations.
A Library Guide for Dissertations, to share essential library information, services and to support for dissertations.
To add to our existing portfolio of online webinars and masterclasses, with a focus on skills to support dissertations
Promote the full range of digital skills training provided by The University Library.
The Virtual Library Commons
Study spaces within The Library has long been an important part of the student experience. It is widely recognised that students generally receive informal peer support from one another while working in library spaces. Whether that support comes in the form of time management, essay planning, referencing or general motivation from collective study, the benefits of communal study areas are numerous.
We quickly recognised that by recreating an informal collaborative student environment as a virtual space, we could create an invaluable new resource for our postgraduate community.
Facilitated by two librarians, to offer students friendly, professional support and advice, the Virtual Library Commons was established.
To promote the offer, regular sessions titled 'Come Together, Write Now' were advertised and students could sign up in advance to secure themselves a place.
These brand new sessions provide the perfect opportunity for our postgraduate students to work on their dissertations or projects in an academic environment, to make a commitment, free from distractions and keeping in touch with their peers.
We use Blackboard Collaborate to deliver the sessions online. We begin with short introductions, who we are, which part of the world we're tuning in from, and what we'll be working on – whether that be academic reading or write-up. We have two 50-minute blocks of focus time with a break in between. We end the session with a short discussion about what we've achieved and an opportunity to socialise.
We run two sessions per day (Monday – Friday) with a capacity of 24 students per session. Following an email to all postgraduates, all sessions in the first two weeks were fully booked. The feedback from students was incredibly positive, with sessions frequently becoming fully booked.
Feedback from the students:
"I feel this helps! There were a few moments when I thought I'd go play with the cat or have a nap but I soldiered on!"
"Definitely signing up for more of these. I get a lot more done"
"I am aware that we are coming to the end of the session, and just wanted to say thank you for taking the time to facilitate this session. It has been useful, and I do feel more focused. I have been able to take a couple of hours, without any distractions to focus on my dissertation. In a strange way, it is like being in a silent study area of a library, but in our own environments, knowing we have the presence of library support and other students around us. It is a much-needed connection and boost to the start of the week. It is a brilliant idea and I hope to join the sessions in the coming days and weeks. Thank you"
Library Guide for Dissertations
We know that working on a dissertation can seem like a daunting task. So to help our postgraduates make the most of what the Library can offer, we created Your Library Guide for Dissertations.
In this guide, we highlight resources for research methods, sources of reusable data, available digital archives or primary sources as well as, more generally, our extensive online collections and services.  We signpost our digital learning objects to support research projects – from discovering information and producing a literature review to good research data management practices and reference management – and, of course, much more!
With almost 4,500 views, the new guide has quickly become our most used LibGuide – a reassuring stat that provides some evidence that the content of the guide, the timing of the release, and the communication we used to share the word was just about right!
Online Webinars and Masterclasses
Following the success of our fully booked 'Digital Skills for your Dissertation Masterclass' webinars, we increased the number of webinars available over the summer – these popular masterclasses are designed to help students to develop the essential information and digital literacy skills for successful dissertations. Each session includes tips and tricks for discovering and evaluating information, referencing, and writing for your dissertation, plus a lot more.
Feedback from the students:
"Was very good, super useful, really appreciated the work that went into it. Downloading Mendeley straight away!!"
"The workshop opened my eyes to online resources for my dissertation I did not know about before.  Well organised with very rich content"
Promoting the full range of digital skills
Following recent UX projects and working closely with Student Associates to embed digital literacies into select modules, students praised the usefulness of our information and digital literacy offer, yet many felt they were not aware of the tutorials and workshops available until late into their student journey.
So, promoting the full range of digital skills to our postgraduate community would be an effective way of providing extra support during the summer. Social media campaigns to promote the range of information and digital literacies were initiated as part of a clear and comprehensive communications plan.
Conclusion
Virtual services and digital resources are an essential part of what academic libraries do to support education and research at all times – and throughout the COVID-19 outbreak we have continued to expand.
We are extremely proud of the contribution our postgraduate students make to the University, including their engagement in life-changing research. By adapting to the current climate, we continue to provide our postgraduate community with a supportive, collaborative and engaging environment in which all students continue to have the opportunity to achieve their best work.
Alison Little – Associate Director, Learning Strategy and Student Engagement
For more like this, visit our Student Experience pages!