Unleash your data and software: bid for an award of up to £5000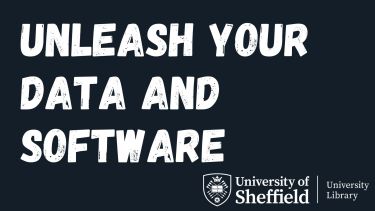 Off
Research students and staff at the University of Sheffield can now apply for an award of up to £5000 for a project to make their research data or software more visible and reusable.  
The funding competition is open to all researchers at the University of Sheffield, including postgraduate research students and those in research-related roles.
We strongly encourage applications from researchers from a diverse range of backgrounds, identities and communities. In order to facilitate inclusion and eliminate the possibility of implicit bias, applications will be judged on a name-blind basis.
---
What data and/or software are eligible?
Data and/or software projects proposed for the competition might include, but are not restricted to:
Legacy research data currently unavailable for reuse, that could be made available through ORDA or another data repository with the use of these funds. 
Innovative projects for promotion of existing datasets in ORDA (or other data repositories) using visualisations or events (such as symposia/expos) that increase the profile of the dataset and increase understanding of its potential for reuse.
Holistic approaches to making entire research projects more FAIR (see below for guidance) and, where appropriate, open.
Enhancing the visibility, reproducibility, and reusability of research code & software by: making it open source and publicly contributable; adding documentation, tests and citation metadata; refactoring to aid in usability.
---
What can I use the funds for?
Awards will be made of up to £5000 to support projects. Funding can be used for any reasonable cost (i.e. to support researcher time or purchase/create enabling software/technology) but this should be indicated in the application and all funds must be spent by the end of July 2024. More information and guidance regarding some of the potential costs you can bid for are detailed below:
Research Software Engineering (RSE) time: Guidance on costing the time of the University's RSE team can be found here. The internal RSE "service" day rate of £384 would apply. 
Data stewardship time: It is possible to bid for the time of the University Library's Research Data Steward, who can advise and assist with the process of rendering research data suitable for sharing. The day rate for this is £185. 
Data Analytics Service time: The internal "service" day rate of £384 would apply. You can find more details about the data analytics service here. 
Please note that if the number of shortlisted applications requiring RSE, Data Analytics Service or Data Stewardship time exceed the capacity of the team in question, limits may need to be placed on the number of these projects which can be supported.
Employing students to conduct work: Guidance from the University's myJobshop can be found here. 
Staffing costs: We recommend speaking with your department's HR team and/or department administrator in order to ascertain:
The appropriate grade level of any work you are proposing.
The complete costs (as opposed to just the wage) for the level and period of the work you are proposing.
Other costs you may choose to apply for might include, but are not restricted to, software licences (you may wish to contact the Research IT team for guidance); the time of a research associate (which may include yourself) or statistician; time of the Bioinformatics Core team; dissemination costs (e.g. workshops/conferences); equipment costs (please check the equipment is not already available from the University to use for free).
In addition, researchers will have the usual routine support from the Library and ITS with metadata, visualisation, curation, advice and planning. If you have any questions about the competition, or would like more details of the support that is available, please contact the Library's Research Data Management team (rdm@sheffield.ac.uk).
---
Drop-in session
Two drop-in sessions for any potential applicants who would like to explore the feasibility of their proposed project with colleagues from the University Library, Research Software Engineering team and Data Analytics Service will be held on;
15th November, 09:15 - 11:15, Students Union View Room 6
21st November, 11:00 - 13:00, Students Union View Room 6
If you would like to attend the drop-in, please complete this form in advance of the session (at least 24 hours before) so colleagues can offer relevant input on your project. If you have not completed the form, please note that colleagues may be unable to advise you.
---
How to Apply
The deadline for applications is 10am on 1st December 2023 - submit your application using the webform here. The judging panel will be chaired by co-leader of the University's Open Research Working Group, Dr Claudia von Bastian, and will include representatives from the Library (Anna Grigson and Ric Campbell), IT Services (Gemma Ives) and Research Software Engineering (Neil Shephard). 
Recipients will be asked to complete a post-project survey to gauge the effectiveness of the received funding in achieving the stated objectives. Recipients will also be expected to contribute a case study and/or a bitesize 'How to share…' webinar to the Library's resources for other researchers following the completion of the project. 
Successful applicants will be informed by 22nd December 2023.
---
Assessment Criteria
Applications will be assessed according to the following criteria:
The extent to which the data or software will meet the FAIR principles (see below for more information)
Whether the work proposed is feasible within the budget given
Whether the size/ambition of the work is realistic for the time available (6-7 months)
Whether they could be used as templates or examples for other researchers (note, projects do not have to be relevant to researchers in other disciplines to be eligible)
The anticipated impact of the proposed work, which may involve, for example, impact on the general public or specific cohorts as well as on the research community, potential policy impacts, and practical use cases.
When assessing applications, we will take into account the career stage of the researcher or research team.
---
More information about the FAIR principles - key principles for the visibility and reusability of research data and software
FAIR is a set of principles created with the intention of making data and other outputs more available to, and reusable by, others. The FAIR principles - Findable, Accessible, Interoperable and Reusable - often seek to enhance data's ability to be machine-discoverable and usable.
More information on factors to consider when making research data or software FAIR can be found in the University's FAIR guidance resource. The University's FAIR video case studies may also be of interest to potential applicants. 
---
Examples of previous projects
Below you can find details of some of the previous projects funded under the 2022 version of this competition:
Living With Data dataset – Helen Kennedy (Sociological Studies)
The Living with Data dataset contains expert and everyday people's opinions and perceptions of data systems and processes pre-COVID-19 and across the first two years of COVID-19 and its management. This project sought to ensure the dataset meets the highest technical standards of findability, accessibility, interoperability and reusability, archiving the dataset in ORDA as well as presenting it innovatively on the Living With Data website. 
3D polygon models of 5 Cistercian abbeys in Yorkshire – Michael Pidd (Digital Humanities Institute)
This project sought to make publicly accessible existing 3D polygon models of 5 Cistercian abbeys in Yorkshire, including Fountains Abbey, creating an immersive 3D environment to give users the experience of being able to walk around a medieval monastery. The project aimed to provide an educational resource for schools and colleges as well as supporting new collaborations with researchers, heritage organisations and video game companies.
Data from working memory training study in young adults – Claudia von Bastian (Department of Psychology)
Reformatting, documenting and sharing data from a study which assessed the cognitive performance of 121 young adults before, immediately after, and 6 months after completing 20 sessions of working memory training.
TopoStats software for microscopic data – Alice Pyne (Materials Science and Engineering) and team
The open-source TopoStats software automates the extraction of essential information from the world's highest resolution microscopes. This project aimed to increase the software's fulfilment of the FAIR principles by adding tests, better documentation, better packaging, more trustworthy dependencies and refactored, more readable code.
CUREd database – aggregated Emergency Department attendance data – Joanna Sutton-Klein (SCHARR)
CUREd is a large database of linked routine health data from Yorkshire NHS emergency care services. Annual Emergency Department attendance rates for small geographical areas have been calculated from the data, allowing exploration of health inequalities between areas. This project sought to make the aggregated attendance rates and their associated metadata, protocol and code, readily available to other researchers, creating opportunities for future research as well as presenting the data visually to local stakeholders and the public.
---
Flagship institutes
The University's four flagship institutes bring together our key strengths to tackle global issues, turning interdisciplinary and translational research into real-world solutions.